At first glance, the Canon RF 70-200mm f/2.8L IS lens looks like every lens you see at a sports game or photo-op. It has the distinctive white/beige color and red ring. But Canon have embraced the opportunities offered by mirrorless cameras and their RF-mount. The result is a completely new lens.
The question is, can it live up to the well-deserved reputation of Canon's previous telephoto zooms? Read this review to see what we think of the Canon RF 70-200mm f/2.8L.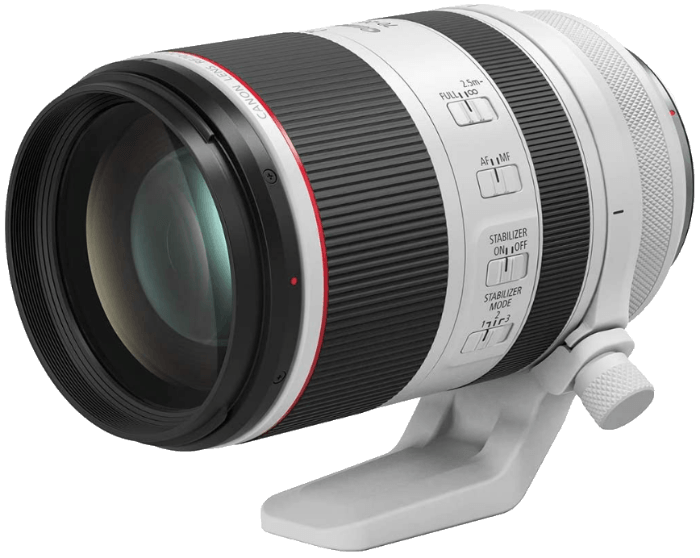 Canon RF 70-200mm f/2.8L IS USM Zoom Lens
The f/2.8 max aperture is super fast for a telephoto. And the smooth AF and 5-stop IS make it a high-performance telephoto zoom lens.
Buy from Amazon
[ExpertPhotography is supported by readers. Product links on ExpertPhotography are referral links. If you use one of these and buy something, we make a little bit of money. Need more info? See how it all works here.]
Canon RF 70-200mm f/2.8L IS USM Overview and Specifications
Canon RF 70-200mm f/2.8L IS USM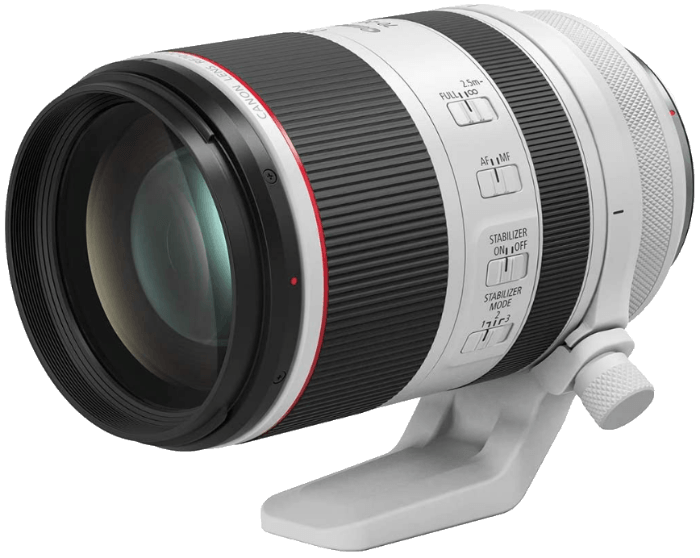 Image Stabilization
The
Canon RF 70-200mm f/2.8L IS USM,
released in 2019, was the first zoom lens to cover this focal range on the RF mount. It promises to keep all the great properties of the EF L-series equivalents while significantly smaller and lighter. Ironically, this is the first Canon lens to fulfill the
mirrorless
promise of smaller gear—all other RF lenses are larger and heavier than their EF counterparts.
It's Canon's top offering for professionals needing a portable telephoto lens. It features a high-speed autofocusing motor, class-leading stabilisation, and an extending design.
In the box, you'll find the lens itself, a white lens hood, front and rear caps, and an L-series leather pouch. The zippable, old design has been dropped because of the smaller-sized lens.
I received this lens for a testing period of three weeks from Canon UK, along with the EOS R5.
Who is the Canon RF 70-200mm f/2.8L IS USM for?
The primary market for this lens is professionals and passionate amateurs. The 70-200mm f/2.8 is one of the most-used lenses of press, event, sports, and portrait photographers, but you can use it in a wide range of different situations.
The RF 70-200mm f/2.8L IS USM's price puts it towards the top of the market, and it's in line with previous versions of the lens.
I highly recommend using it with one of Canon's newest R-series bodies—the R5 or the R6—to fully utilise the autofocus system.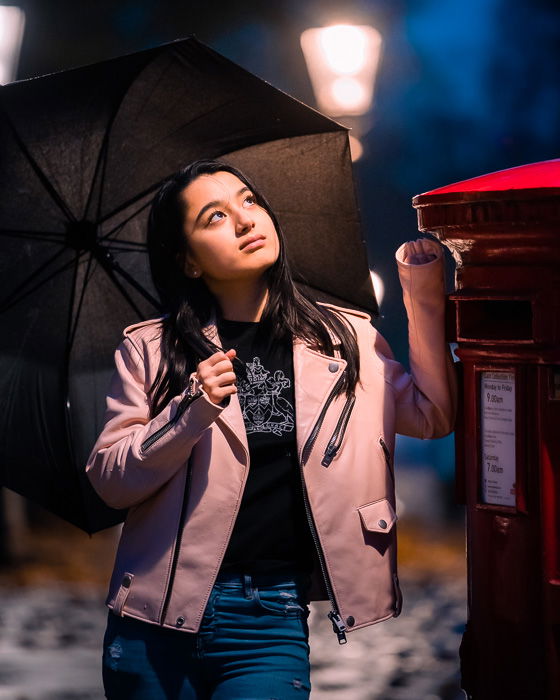 Key Features
Mount and Compatibility
The 70-200mm f/2.8L IS USM is made for Canon's RF-mount and attaches to mirrorless R-series cameras. At the time of writing, there are five of these on the market: the EOS R, EOS RP, EOS Ra, EOS R5, and EOS R6. This lens will not work on EOS DSLRs, such as the 5D and 1D series, or any other mirrorless system.
The RF system of mirrorless-optimised lenses has been continuously growing in the past two years, and many more new lenses are expected this year.
The RF mount is an advanced, modern construction. Similar in size and design to the older EF mount, it offers a much shorter flange distance, allowing for this lens's particular optical design. It also increases communication bandwidth between the lens and the camera, enabling more detailed metadata, better AF, and new features such as the control ring.
What's annoying, especially for professionals, is the rearrangement of bayonet pins. These are placed equally on the EF mount, so you can twist on the lens caps in three different positions without looking.
With the RF mount, you have to align the lens and the cap carefully before attaching it, and it's nearly impossible to do so intuitively or in the dark.
Image Quality
The predecessors of the Canon RF 70-200mm f/2.8L IS USM are regarded as excellent optical performers. They offer the best sharpness and characteristics seen in zooms, in part because the general telephoto optical design doesn't require extreme elements or alignments.
The RF 70-200mm f/2.8L IS USM keeps up this tradition. It offers outstanding all-around performance, which would have been a great achievement for prime lenses just a few years ago. This is thanks to new coatings and the shorter distance between the rear element and the camera sensor.
Its sharpness is excellent, giving outstanding results straight from f/2.8 and peaking around f/8.
Vignetting is not really an issue—it's only noticeable at 200mm at f/2.8, and even then, it's fine. Distortion is also not an issue.
The only potential deficiency I found is chromatic aberration, which is more apparent here than in previous versions. It's more noticeable in both in-focus and out-of-focus areas than I'd like on a lens at this price point.
The quality of out-of-focus backgrounds—the bokeh—is beautiful as usual. You can achieve an incredibly blurred background at 200mm at f/2.8. Throughout the entire focal range, it's clean, smooth, and not distracting.
Overall, the image quality of the Canon RF 70-200mm f/2.8L IS USM seems to be on par with the previous EF-mount version, especially the EF II.
Stabilisation
The Canon RF 70-200mm f/2.8L IS USM has a built-in optical stabilisation module, which moves some of the lens elements to achieve stabilisation. This is rated to reduce hand-holdable shutter speeds by 5 stops. I couldn't test it independently because the EOS R5 body can only use it in conjunction with its own sensor stabilisation.
Not that this is a problem—quite the opposite, in fact. The two together can achieve a mind-blowing 8-stops of stabilisation, which is unlike anything I've seen before. This is the official claim, but during my testing, I was able to replicate it consistently. I could easily hand-hold shutter speeds of around 1 second at 200mm!
There are three different stabilisation modes, which you can choose with a switch on the side of the lens. The first is normal, general-purpose stabilisation, which initiates when you start to focus. The second mode is similar, but it's only active on the horizontally oriented axis, allowing for panning shots. The third is aimed at action photography and only initiates stabilisation when you take the shot, allowing you to frame it up more freely.
Focusing
Autofocusing on the RF 70-200mm f/2.8L IS USM is as great as it gets.
It's among the fastest Canon lenses I've used, and due to the closed-loop nature of autofocusing with mirrorless cameras, it's nearly always accurate. It works smoothly with the eye and face detection and tracking systems of R-series camera bodies. It can track test subjects running towards the camera with a tack-sharp hit rate of well over 95%.
Moving the focusing elements in this lens are two linear-drive ultrasonic (nano-USM) motors. These are optimised for use in continuous focusing on mirrorless cameras, particularly video and stills tracking.
As with all RF lenses, the manual focus ring is not mechanically coupled to the focusing elements. This means there is no full-time manual override. Instead, you need to half-press the shutter or use the back focusing button to activate it, depending on your settings.
Still, the manual focusing ring is smooth and precise. You can choose whether it responds linearly (equal turn = equal change) or not (the faster you turn it, the more it adjusts) from the camera menu. Video shooters will greatly appreciate the former.
There is no focusing distance indicator or DoF-scale on the lens. This information is digitally displayed in the viewfinder and on the LCD if you choose so.
By default, the lens switches to idle (presumably infinity focus) when you switch off the camera. You can turn this off in the menu if you want to keep your focus when you switch the camera back on.
This lens's minimum focusing distance is 0.7m—this translates to a magnification of 0.23, a relatively good value among comparable optics.
Handling and Build Quality
The phrase 'built like a tank' is often mentioned when describing previous versions of this lens. The RF 70-200mm f/2.8L IS USM is a very different construction. Its build quality is excellent, even though it doesn't resemble the aforementioned vehicle so much anymore.
It's built on a metal frame and covered in plastic. The barrel extends outwards as you zoom in from 70mm to 200mm.
It's fully weather-sealed, allowing you to continue shooting in the toughest conditions of wetness and dirt. The collapsable design might suggest that water could leak between the barrels. But there's reason to trust Canon's claims: the EF 24-105L, 24-70L, and 100-400L lenses are similar constructions. They are tried and tested and don't have sealing issues.
This is the smallest and lightest 70-200mm f/2.8 ever produced. At the 70mm setting, it's only 146mm long, extending to 205mm at the telephoto end and 90mm in diameter. It weighs 1070g, which definitely feels light.
It has a 77mm filter thread, which is made of plastic. A large, white lens hood can be attached to the front. There is an access window on the side of it to allow for adjusting filters—an ingenious design I haven't seen before.
On the side, there is an AF/MF switch, the focus limiter, the stabilisation on/off switch, and the stabilisation mode selector.
The manual focusing ring is smooth as precise. There is a control ring towards the front. This has a click mechanism and can be used to adjust a range of settings, such as aperture or ISO. Canon service centres can de-click it (for a fee) for smoother aperture adjustments.
An important disadvantage of the back-dominant optical design is that this lens cannot accommodate teleconverters.
Alternatives
The Canon EF 70-200mm f/2.8L IS II USM is perhaps the most popular version of this focal length among professionals. It was designed for DSLRs, but with an adaptor, it works flawlessly on the R system. It focuses almost as quickly, and it's on par in image quality with the RF version. Its size and weight, though, are from the previous era—this lens is much bigger, and you also need to add the adaptor. There is also a newer, III version of the same lens, nearly identical to the II version, but the II version is significantly cheaper.
The RF 70-200mm f/4L IS USM is a very similar collapsable design to the RF f/2.8 lens, but it's even smaller. The image quality of this model is also quite incredible. If you don't need f/2.8 for short shutter speeds in low light, I recommend this over the f/2.8 version. It's way cheaper, and on modern mirrorless cameras, there is little difference in autofocusing between f/4 and f/2.8. This lens will also benefit from the outstanding stabilisation technology Canon has implemented in new R cameras.
There are several other lenses made for Canon EF mount that you can easily adapt. These include Canon's EF 70-200mm f/2.8L USM, the non-stabilised version, an old model still in production. You can find the non-stabilised EF 70-200mm f/2.8L USM at excellent prices on the used market. Tamron offers the excellent 70-200mm f/2.8 VC G2, and you can also get Sigma's 70-200 f/2.8 S, both very popular, modern optics.
Conclusion
Canon has provided its professional audience with a general-purpose telephoto lens that's up to the new decade's challenges, but at the same effectively builds on the legacy of previous models. I'm sure it will find its way to many keen hands.
Scores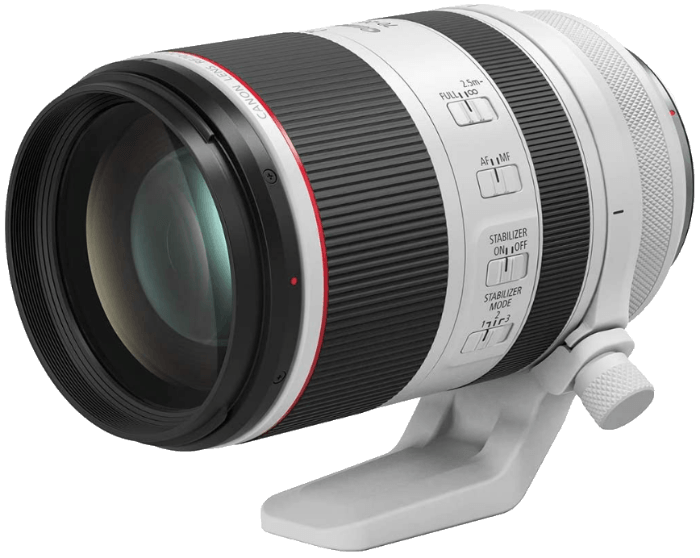 Canon RF 70-200mm f/2.8L IS USM Zoom Lens
The f/2.8 max aperture is super fast for a telephoto. And the smooth AF and 5-stop IS make it a high-performance telephoto zoom lens.
Buy from Amazon