The Leica M6 is a classic of photographic design and excellence. I fell in love with it from the moment it sat in my hand. In the modern world, it might seem odd to have a camera with no autofocus and an optical viewfinder.
But if you read this review, you'll find out why I love my Leica M6 and why so many people think it's the best 35mm camera ever made.

Leica M6 35mm RangeFinder Camera Body
Capture stunning photos with this 35mm rangefinder camera body, perfect for experienced photographers.
[ExpertPhotography is supported by readers. Product links on ExpertPhotography are referral links. If you use one of these and buy something, we make a little bit of money. Need more info? See how it all works here.]
Leica M6 35mm RangeFinder Overview and Specifications
Leica M6 35mm RangeFinder
Manufactured from 1984 – 1998, the
M6
was made by hand by Leica in Germany. The idea was to offer a compact, hand-held camera that used 35mm movie film. 
From a photojournalist's point of view, the Leica M6 is the best 35mm film camera ever made. If you don't believe me, just google "best 35mm film camera." It is now referred to as "The M6 Classic" and not be confused with the M6 TTL its fatter younger brother.
What makes it special is its build quality. It's a sleek, perfectly designed, manual film camera with through-the-lens metering. 
The M6 features a crystal clear viewfinder, a durable M mount bayonet which is compatible with the best lenses in the world. 
With this machine, you can expect all controls to be smooth, quiet, and satisfying to the touch. To rangefinder aficionados focusing is a dream, especially in the dark. The M6 has also an intuitive and bright light meter, which is very important when your pictures are on film!
Who is the Leica M6 for?
Young film photographers, street photographers, photojournalists, backstage photographers, and dentists-over-fifty-on-vacation, are the audience for Leica M6. 
A Leica M6 naysayer would be a wildlife photographer, who needs long lenses to rule the plains.  The body is so small that this really is the photojournalist's choice.  It hides well under your coat and is very discreet. 
The Leica M6 has been designed for a lifetime of use but you have to pay the price for it. It's amongst the most expensive cameras on the market. It's quite obvious that a small group of people can afford its superiority.
But the price comes with service. Any well-looked-after M6 that gets a CLA ("Clean, Lubricate, Adjust") every 10 years could easily outlive its owner. Maybe these additions make Leica live up to its fame.
Key Features
Let's dive into the specifics of this wonderful rangefinder camera.
Mount and Compatibility
Are Leica optics the secret to the Leica camera's success? 
In a word, YES. 
The 35mm camera manufacturers routinely cut corners when it came to lenses. 
Leica lenses are fast, sharp, prime, and costly. Leica has manufactured over fifteen different 35mm M lenses and 50mm lenses since 1959. Not to mention, all of them are excellent.
The Leica M6 is compatible with every Leica M lens ever made. This fact is true even for the digital Leica models such as the M10. They all share the same mount system which is without precedent in the history of cameras. One mount, more than 50 lenses, and no adapters needed.
Leica M lenses are all prime lenses. The exception is the unique long and heavy Tri-Elmar-M 28mm-35mm-50mm lens with click stops for three focal lengths. 
The widest Leica lens I own is a 21mm. It requires a separate viewfinder that slides into the cameras hot shoe.
Generally speaking, photographers who use the M6 find themselves between 5 and 15 feet away from their subject.  
Says Leica director, David Bell: "Our lenses are for intimate environments, where a photographer might catch the emotions on someone's face."— I call it the storyteller's distance: close enough to the subject, but not obtrusive. Perfect for a photojournalist.  
Image Quality
Sharp is the word.  
The lenses and the camera with no vibration make for crisp photos. It's worth noting that image quality in analog photography is highly dependent on the lens and the film you use.
But you can expect a greater range of tone and contrast with Leica. And your subject matter will mature as you get in tune with this camera. These are the kinds of photos that you can't take with any other SLR.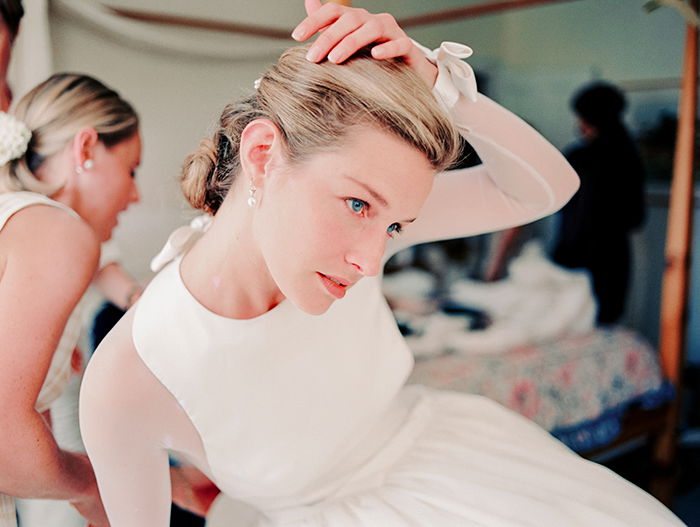 A great contributor to the tack-sharp images is the lack of flipping mirrors. Because of this camera shake is more avoidable due to lack of vibration. In practice, you can shoot with slower shutter speeds without worrying about motion blur. No to mention that you won't miss the decisive moment.
Focusing and Burst
A rangefinder camera is a camera fitted with a built-in viewfinder with split image focusing. Instead of focusing through the lens, you have to use zone focusing. 
Whilst focusing, you should also look through the viewfinder. You'll see a double image in your frame, right in the center of the view. This is for achieving the perfect focus but it's also crucial for the right metering. 
The Bright-line illumination window is your frame. After adjusting the focus you can press the Shutter Release Button slightly to activate the light meter. Merge the right arrow with the left arrow so both are showing simultaneously and you have perfect exposure.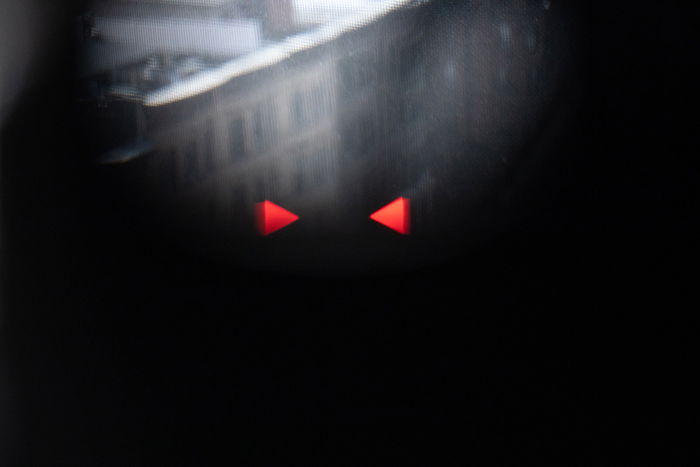 Rangefinder cameras allow for more precise focusing on wide and normal lenses. With a rangefinder, lenses can be designed with the back of the lens very close to the film plane (SLR's need to account for a flipping mirror), allowing lens designers to make lenses with rear elements set close to the image plane which makes them sharper, smaller, lighter, and have less distortion than an SLR lens. 
To focus a rangefinder, you focus on your subject in the center of your view. Then you have to recompose your image with the focus set. 
A rangefinder allows you to compose and shoot with both eyes since the bulk of the camera does not obstruct your left eye view. Lens shades for Leicas have been adapted with a corner cut out. In this way, the viewfinder is never blocked. 
Things to remember:
    You pick the focus point – not the camera
    Even in the darkest places, the bright rangefinder allows you to fine-tune your focus
    Combine focusing with your thumb on the lens while pressing the index finger on the shutter. A great tip for stealthy and intuitive photography
Body and Handling
Leica has always produced elegant cameras, with the small details of the logo and effortless design. The Leica M6 body design alone makes it clear it's hot. 
In form and function if the Leica M6 were a car it would be a Porche 911 for power,  a Lamborghini for speed,  a Tesla Model X as its whisper silent, and a Mercedes 450 SL convertible because its a head-turner. 
The M6 is a camera built to last. With a modicum of TLC, enough 35mm film, and CR batteries, it will last two lifetimes. 
Don't look for an "on-off" switch on the M6. The camera is purely mechanical. The meter is activated by depressing the shutter slightly. 
The film loading is easy as it could be. You should remove the bottom, insert a roll of 35mm film on the left side, drag the film end across to the right and feed it into the three teeth of the take-up spool. After wind the film advancer with the camera's Single Stroke Rapid Advance lever to advance the film. 
The rewinding process is also user friendly. The Film Rewind Lever is located on the front of the camera, under the Leica M6 engraving. You have to flip it towards the "R" then flip the film rewind lever 180 degrees. If you turn it to the direction of the engraved arrow, the film winds back into the cassette. Then you can remove the bottom and have your finished roll.
Standard edition M6 cameras came in black or silver. Speciality editions were not as common for the M6 series. It is more relevant to the newer models like the M7. But surely, there are plenty of unique designs on the market.
Value
After 40 years of buying cameras, I recently moved out of a 3,000 square foot photo studio in NYC's Flatiron District.  
I sold a palette of cameras, strobes and accessories of vintage equipment. All of my Leica equipment brought in fair market prices. Whereas my Canon and Nikon cameras did not level up to their market value. 
The M6 (body) in 1984 was under $2,000. That was a high ticket. (Compare it to a new Nikon body 1/3rd of that). 
Adjusted for inflation an unopened Leica M6 today can be worth the same as a Fujifilm GFX 50R. And that's a digital medium format camera. 
With an average eBay price of a used M6 in "excellent" condition coming in at the same value as a new full frame DSLR camera. It clearly shows how the M6 has retained its value over 36 years.
Accessories
There are plenty of accessories for this camera. My personal choice, the Soft Shutter button, innovated by Tom Abrahamsson. 
This smooth, convex milled, aerospace aluminum alloy shutter extension screws into the shutter and quadruples the size of the shutter to 15 millimetres. It increases the hair-trigger shooting accuracy while shooting. 
You gain as much as 1.5 stops in slow speed shooting. It is possible to shoot at 1/8 sec with a 50mm lens and get sharp images. 
Wider lenses work even slower, down to ½ sec. It is available in Silver, Black, Red, Blue, and Monogrammed. 
Another accessory I like is the M grip. You can easily take off the bottom plate and replace it with the grip which. It provides a rounded surface to hold the camera with your fingertips perpendicular to the ground, alleviating fatigue and offering you a more secure grip.  
The Leica brand price is steep, but there are off-brand options. An expansion on the M grip and replacing the need for it is the Leica M Motor Hand Grip. 
Basically, it is the M grip with a motor drive. At every event, there are moments like the wedding dip or the ceremony kiss. There a flurry of photos can help to nail the moment. 
Lastly, if you like a challenge opt for an AUFSU Leica's waist level finder. This was designed for the candid shooting. It mounts in the hot shoe and has an adjustable feature. Using the right angle, you can set your target in a split second and shoot from waist-level. This allows you to shoot totally unnoticed.  
Alternatives
There are a few somewhat comparable rangefinders to the M6, like the Voigtlander Bessa.
The Bessa is almost entirely plastic, making it less indestructible and feel cheaper and less sophisticated than the M6. But it is still a quality rangefinder. 
For more of a price drop, there is a Canon 7. The Canon 7 did not perform as well as other rangefinders due to design faults; no hot-shoe, and no frame selector lever. Both cameras are compatible with Leica M lenses.
Verdict
If you like to shoot film and you like to be unobtrusive while shooting, the M6 is a classic choice among pros, amateurs and film enthusiastic. 
Its form and function, weight and feel, ease and quietness will make you an ecstatic Leica shooter. 
Once you join the cult of Leica users you are certain to become emotionally attached to your M6. Your images will be sharper and edgier than ever. Your challenge will be finding subject matter fitting of this camera. The only sacrifice to make is to pay the price for it.
Check it out here on Amazon.
| | |
| --- | --- |
| Measurement | Score |
| Main Features | |
| Extra Features | |
| Construction and Durability | |
| Handling and Ergonomics | |
| Value for Money | |
| Total Score | |
Leica M6 35mm RangeFinder Camera Body
Capture stunning photos with this 35mm rangefinder camera body, perfect for experienced photographers.