Our Top 3 Picks
Are you looking for less expensive but comparable alternatives to mainstream camera companies? Pentax digital cameras could be the choice for you.
Pentax is usually in the back of our minds as a less-known, less-capable competitor to Canon and Nikon.
The line-up of Pentax products is nowhere near as broad and diverse as of the competitors. Still, when Pentax releases a new camera, it always comes as a pleasant surprise.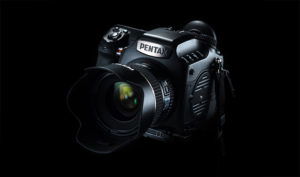 [Note: ExpertPhotography is supported by readers. Product links on ExpertPhotography are referral links. If you use one of these and buy something, we make a little bit of money. Need more info? See how it all works here.]
Our List of the Best Pentax Cameras in 2021
Best for: travel, outdoor
Pentax K70
24MP APS-C sensor
Durable and well-built
Hybrid autofocus in live view
Good high ISO
2 control dials
If you are an enthusiast, who is looking for more at a lower price, the K70 may be your choice of Pentax DSLR.
This camera has got many of Pentax's professional features. Like almost any other device from the brand, it's weather-sealed and well built. It is also rather heavy.
You can control the camera with two dials, allowing for much quicker use. The button layout is intuitive and quite extensive.
ISO capabilities top the competition with 2 full stops, reaching up to 102400. This camera, coupled with a fast lens, is a champion of low-light in its category.
Sensor stabilization helps hand-hold low shutter speeds.
If you want to experiment with astrophotography, enable Astrotracer. This option tracks the movement of stars and moves the sensor. The result is a long-exposure photo of the night sky without star trails.
Pixel Shift technology moves the sensor a tiny bit to create a composite of 4 images. This results in more detail and bigger files.
The K70 has only 11 autofocus points. Some may find this a barrier, but in reality, the points get scattered enough to have good coverage of the frame. The autofocus system is fast and accurate. You can also micro-adjust the lenses to calibrate them with the body.
Composing your image is easy, thanks to the big size of the optical viewfinder.
If you turn on live view, a hybrid AF-system will help you grab and keep focus. It consists of phase and contrast-detection points. Currently, the K70 is the only Pentax camera to feature this.
Best for: street, adventure
Pentax KP
24 MP APS-C sensor
Top-notch sensitivity
Multiple shutter options
Best control layout
Interchangeable grips
The KP is Pentax's top APS-C camera, a successor to the K3-II.
It inherits much of its features from the K1 line. Build quality is fantastic. Along with the weather-proofing, it makes up for a massive, rugged camera.
If you like to adjust the settings as efficiently as possible, you won't be disappointed. This Pentax DSLR has among the best control layout of any DSLR in its class. With the three dials, you can alter all three elements of exposure. You can also map these to other settings.
To increase your comfort of use, the manufacturer includes three different grips. You can choose the one that best fits your hands.
Like the K70 and the K1-II, this camera has in-body stabilization, Pixel Shift and Astrotracer.
Low-light possibilities are excellent. The sensor has a sensitivity of ISO 819200. That is the second-best on the market, only topped by the sensor found in the Nikon D7500 and D500.
With this camera, you can shoot with fast lenses in bright sunlight. An electronic shutter allows for shutter speeds up to 1/24000. It even works when using the optical viewfinder.
Best for: professional use, landscape, adventure, astro
Pentax K1-II
The K1-II follows the popular K1 as Pentax's top-of-the-line DSLR. You can see at first glance that this is a professional camera. It feels solid in the hands, the grip is tight, and the controls are intuitive.
Its 36MP sensor gives you plenty of resolution. And if that wouldn't be enough for you, turn on Pixel Shift. The result is an even sharper photo.
The sensor has 5-axis stabilization, which works well. If you struggle to hold your camera at longer shutter speeds, this will save you from blurry shots.
The K1-II offers dual SD-card slots. You don't have to worry about losing your data if one card fails.
If you're into outdoor photography, you'll love this camera. The extensive weather sealing protects it from rain, dust, and cold.
Pentax offers some unique features for astrophotographers. The K1-II boasts an incredible ISO range of 819200, 13 stops of a boost from ISO 100!
Thanks to the stabilization system, you can hand-hold slower speeds. Astrotracer allows shooting for much longer without getting into trouble with star trails.
And Pentax didn't forget about the little things either. You will find tiny lights on the camera that will help you pop out the screen or change lenses in the darkness.
GPS embeds location data to your images so that you can categorise them later. Also, the Wi-Fi connection helps you to control the camera and view or manage your photos remotely.
The areas in which the K1-II lacks a bit are burst shooting and video. Its other features and the price make up for that.
Best for: high-resolution works, landscape
Pentax 645Z
51.4MP medium-format sensor
Weather-sealing
Rugged construction
Dual card slots
Ultra-long battery life
The 645Z is the latest medium-format offering from Pentax. Aside from its predecessor, the 645D, it is the only medium-format DSLR under 10000 USD.
You'll find impressive build quality and extensive weather sealing in the 645Z. It also fits two SD cards that you can use at the same time. Battery life is an outstanding 1230 shots with one charge. These qualities allow you to work outdoors on the field, along with working in a studio.
In this camera, the 51.4MP sensor provides you huge resolution and detail. The medium-format sensor means pixel size is larger than on the 36MP K1-II — this difference results in improved sensitivity, better colours, and wider dynamic range.
The Pentax 645Z faces competition. The Fujifilm GFX 50S and 50R, and the Hasselblad X1D II all come in around the same price point.