After posting your images on social media accounts, you might find you want hard copies of your favorite shots.
Our post today looks at how to print Instagram photos. Online is fine, but in an album where you can show people in the flesh is much more classy.
You can even leave them as souvenirs.
The Do-It-Yourself Method
If you're looking for a no-hassle way to print your Instagram images, then try PrintStudio. This is a free app that allows you to select photos directly from your Instagram feed or your iPhone's camera roll.
The app is easy to navigate, keeping the learning curve to a minimum. Select the images you want and order them easily.
If you're looking for photo books, framed prints, greeting cards or magnets, this is the place.
There are many more options to choose from, and they don't cost the earth, a 10 x 10 cm square Instagram print will cost $12 for the first 12 you order.
After that, they drop to $10. A large 50 x 76 poster will set you back $25.
Live outside of the US? No problem. They have an international flat-shipping fee.
If you are in the US and spend over $50, then you'll get your delivery for free.
If you like the idea of photo magnets or retro greeting cards, then Origrami is the place to go. This service runs through their free app. You select images from your Instagram account or iPhone image library.
Here, you get to choose from many different sized square format prints, which match Instagram images perfectly.
If you're looking for awesomely cute gift ideas, this place has a bunch! Want 36 4 x 5″ premium prints in a rangefinder styled box? No problem. it costs less than $23.
Most of the options are packages, making it perfect for gifts. Even for yourself.
Perfect for those photographers who can't choose individual images easily.
You won't find anything larger than 5.5 x 5.5″, but for smaller prints -0 this place wins. Plus, they offer free shipping worldwide.
If you are looking for a more design orientated service, then Artifact Uprising is a great choice. If you're a fan of minimalism, not too unlike what you get from VSCO's editing app, then you'll love using this printing app.
There is a huge range of products to be found, from simple images to thank you cards. If you're looking for something a little more special, try the wood calendar.
It showcases 12 images with calendar dates, all on a wood-finish clipboard.
Expect the prices to be heavier than other printing services. Here, you're paying for quality rather than ease.
High-quality basic prints on cardstock with a matte finish are the cheapest. The calendar costs just under $30.
Rather than acting through a free app, you'll need to visit their website if you want images printed by CanvasPop.
What you can do here that you might not find elsewhere is canvas printing. Now you know where they got their name from.
The websites allow you to connect your Instagram account. On top of this, Facebook is also a possibility, as is gathering images from your computer.
For large, albeit subtle wall flairs, look no further.
Square canvas prints start from 12 x 12 " all the way to 38 x 38 ". You'll understand that they cost more than poster prints, but are far more professional. Expect to pay between $65 and $225.
The only difficulty you'll have is choosing the images you want to display.
Outsource
One of the best, easiest and fastest ways to get your prints is to print them yourself. All you need is the Instax Printer and an app.
This little gem comes from Fujifilm and will print out your favorite snaps in a jiffy.
Measuring in at 7.4 x 5.8 x 5.4 inches means you can place it in your pocket, camera bag or handbag for portability. It's only 1.15 pounds, so you'll hardly notice it.
Printing an image takes only 10 seconds, meaning its the perfect thing for speed.
Usually found at weddings, it works wirelessly, allowing many photographers to jump in and print their own work. It is a great thing for giving people high-quality souvenirs immediately.
Why would you use an Instax printer rather than an Instax camera?
Well, first of all, we are printing images that are already on one's phone. Secondly, replicating images exactly isn't easy with an Instant camera.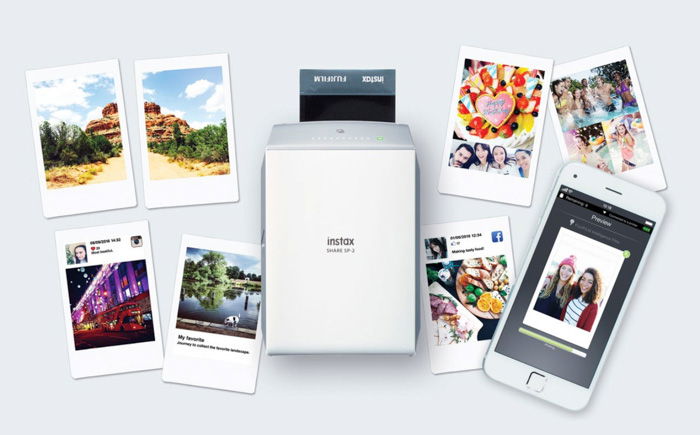 1. Send to Your Printer
If you are looking for the cheapest option, then you'll need to do most of the work yourself. It's pretty easy once you get the hang of it.
It involves downloading your images, setting up the correct sizing, color profiles, file types and then sending to your local printer.
Once you have the images you posted to Instagram, you need to send them to a location where you can use image editing software.
You can use your phone, where apps such as Snapseed, VSCO or Lightroom CC Mobile can help.
From there, you can tweak them as you see fit. Black and white, or other themes can be selected at the click of a button. From there, save them to your camera roll or photo library, or send them to your desktop.
If you prefer to work from your desktop or laptop computer, send the images to a place you can retrieve them. Rather than emailing, use Wetransfer or Airdrop if you're on iPhone. From your computer, you can use any number of programs.
Lightroom CC works great for me as I can resize them as I wish. Photoshop CC comes in handy if I want to add sharpness or change the color profiles.
This is important. Each printer requires a different preset that matches their hardware.
Email the local printer beforehand to get all the information. They can also help you choose different paper or card stocks, depending on the image's purpose.
You might need help on what size image you can get from your image's resolution. If so, see our Top 7 Tips for Enlarging Photos for Printing article.
The biggest benefit here is you might get them back the same day. Collection, not delivery.
Check out our post on how to transfer photos from your iPhone to computer or using Live Photos next!