Posting photos to Instagram can be great fun. All your friends can see and interact with your fabulous photos. But a photo on social media isn't the same as a physical print. You can't put it in a frame and hang it on your wall.
Nothing beats printed photos, so we're going to tell you how to print Instagram photos from your phone.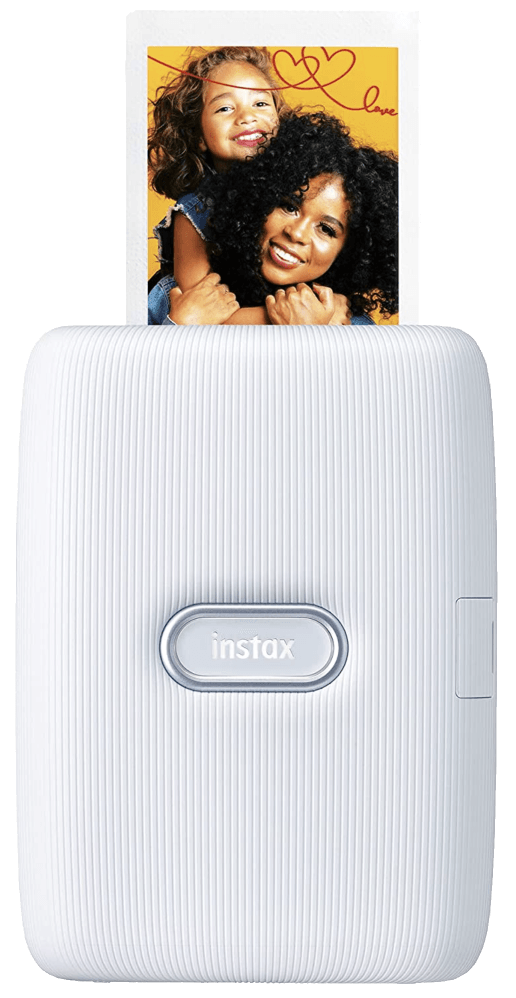 Fujifilm Instax Mini Smartphone Printer
Easily print Instagram photos from your iPhone with a compact and lightweight wireless printer. Add frames, filters, and stickers for creative solutions.
Best Options for Ordering Print Instagram Photos Online
Have the best of both worlds with a stunning Instagram account AND some fabulous photo prints.
If you want to print Instagram photos, Social Print Studio is one of the easiest solutions you'll find. All you have to do is download the free app, select your favourite images, and place your order.
You can access images from your Instagram feed or the camera roll on your phone in the app. You select the photos you want to be printed, then choose how you would like them printed.
You can choose classic prints, like the photos you had from your disposable cameras in the old days. Or you can go for large format prints with a gloss or matte finish. Or you can have extra fun with their photo booth-style photo strips.
The print options are near limitless. You can have your Instagram photos printed on stickers, magnets, and buttons. Print Studio can frame your photos or enlarge them as full-sized posters to go on your wall.
The Social Print Studio print shop is based in California but ships products worldwide. Check the prices before ordering from outside the USA because things can get pricey.
Origrami is another app-based solution for printing Instagram photos. If a few clicks, you can turn your favourite Instagram pics into fridge magnets or retro greetings cards.
Like Print Studio, Origrami lets you select photos from your Instagram feed or your iPhone library. Then you choose the type of print you want and place your order.
There are several sizes to choose from, but they are limited to the smaller side of the scale. The largest prints Origrami does is 5.5×5.5 inches. But the print quality and value for money are excellent. And the orders come in a fun camera-shaped box.
The Origrami app is free to download. And even though their print shop is in Sydney, Australia, they have free worldwide shipping. The only problem is the shipments can take a while, especially if you don't live down under.
Artifact Uprising is another excellent option if you want to print Instagram photos directly from your iPhone. It's another app that's easy to use and free to download. But best of all is the quality of the printed photos.
Artifact Uprising will turn an Instagram photo into a beautiful physical print. They have gloss and matte finishes in a variety of sizes. And you can choose the images straight from your Instagram account.
It's not just square prints. Artifact Uprising will transform your Instagram images into a high-quality photo album. They offer a standard photo book with fabric binding, hardcover, and paperback options.
Their selection of print products is superb. They have a wide range of frames, holiday cards, and calendars. These Instagram prints make excellent gifts for friends and family.
They ship worldwide, but the prices vary depending on where you are.
Canvas Pop offers something a bit different. Rather than turning your Instagram images into classic prints, they create fabulous canvas prints. They don't have an app but rather a user-friendly website.
The canvas prints come in all shapes and sizes. You can create a small canvas for the intimate areas of your house. Or perhaps you'd rather have a large wall art triptych for your living room.
Canvas Pop make lovely framed pictures from your Instagram images if canvas prints aren't your thing. There are also collage options and personal gift cards.
The canvas prints don't come cheap, but the print quality is excellent. You can create something truly unique and wonderful for your family home.
Sincerely Postagram turns your Instagram photos into postcards. You can use their free app or their website. No matter which method you use, you'll be able to select your favourite images from social media.
They have plenty of fabulous designs to choose from. And it's a fun and personal way to stay in touch with loved ones overseas. You can have Postagram send the personalised postcard anywhere in the world. The shipping isn't free, but it's very reasonable.
Postagram is a great idea if you want to print someone else's Instagram photos or print them for family and friends. It makes a great change from the standard gift cards and messages.
Best Options to Print Instagram Photos at Home
Ordering photo prints online is hassle-free. But sometimes, waiting can seem unbearable. The days go by, and all you can think about is your order of Instagram photos. Thankfully, that isn't your only option.
With the Instax Printer, you can print photos at home. There are no days of waiting. You download the app and press a few buttons. Then enjoy your freshly printed photos in no time.
The printer is small enough to put in a handbag. And the photos are small Polaroid-style prints. It wirelessly accesses your Instagram, so you can print from anywhere once you have the app.
The print quality is great. The only problem is the price of the printing paper. It's an ongoing cost that adds up over time if you print a lot.
The HP sprocket is another mini printer that allows you to print directly from your smartphone. You connect the two devices using the HP app, and it prints your Instagram photos in seconds.
It's a pocket-sized printer, and the prints are only 2×3 inches big. But you can connect multiple devices, so it's great fun with friends.
The print quality is excellent. But much like the Instax printer, the cost of the paper adds up over time. Despite the price of the paper, the HP Sprocket is great fun if you want to print Instagram photos.
If you're looking for something a little more professional for your Instagram photos, the Canon SELPHY photo printer could be what you need.
You can print photos up to 4×6 inches. They can be full-page, with borders or square prints. And the Canon SELPHY prints with a resolution of 300×300 DPI, giving you clear and sharp images.
It's Wi-Fi connected and wireless. All you need to do is download the Canon print app, and you'll be able to select your favourite social media pictures.
When you use a printer like the Canon SELPHY, you might need to edit your images before printing them. Photo editing apps like Lightroom, Snapseed, or VSCO are perfect for the job. They help you make adjustments before printing photos.
Canon is a reliable brand, so quality isn't an issue. But you will need to buy photo paper and ink to keep it running. The Canon SELPHY is an excellent option for printing Instagram photos at home.
Conclusion
We all love our Instagram photos. We can share our memories with friends and family on social media. But nothing beats a printed photo. It's something you can touch, hang on your wall, or give to a loved one.
You can order Instagram prints online with apps like Print Studio and Origrami. Or, if you want instant results, you can print Instagram photos at home with the Instax or Canon SELPHY.
Check out our Social Success Strategies ebook to get your Instagram photos seen by an even greater audience!