Canon is one of the oldest and most established camera manufacturers. They have been producing optics for almost a century, and the quality of the lenses is constantly getting better.
Whether you looking to upgrade your Canon lens, or just want to find out which the best options are, this article is for you.
We've put together a list of the 12 best Canon lenses you need to try. Whether renting or buying, this list should be your go-to!
[ExpertPhotography is supported by readers. Product links on ExpertPhotography are referral links. If you use one of these and buy something we make a little bit of money. Need more info? See how it all works here.]
Best Canon Lenses for DSLRs
Prime Lenses
Canon has quite the arsenal of fast lenses – or lenses that have a very wide aperture. These are all prime lenses, which means that they have a fixed focal length. A prime lens provides sharper and higher quality images than a zoom lens.
The f/stop, also known as the aperture, tells you how wide the lens can open.
The wider the aperture (smaller number), the more light it lets in and the shallower the depth of field.
The smaller the aperture (larger number), the less light it lets in and the deeper the depth of field.
We have collected the best prime lenses from Canon.
The 'nifty fifty' is likely the most iconic camera lens of all time. It's been used since photography's inception.
The fifty-millimetre lens has continued to entice and dazzle photographers to this day. But with its popularity comes the tedious task of determining which 50mm to use. There are hundreds to choose from!
However, Canon's supersedes all. The Canon EF 50mm f/1.2L USM is the sharpest 50mm at a faster aperture than f/1.4.
The colours and contrast are dazzling, and for creamy bokeh lovers, this lens delivers!
Built very solid, the lens does have a substantial weight to it. But that is easy to overlook once you take a peek at its image quality. Intended for full-frame bodies, the Canon EF 50mm f/1.2L USM has extremely fast autofocus. This is not very common for wide aperture lenses.
The lens also rocks an ultrasonic motor with a silent focus motor. This is great for photographing animals.
I've always preferred lenses that give me a range to play with. And you can always bump this baby up to f/1.8 if the f/1.2 is too shallow for you. But it's better to have the option of doing so than not!
The other benefit to this particular 50mm is the lack of chromatic aberration.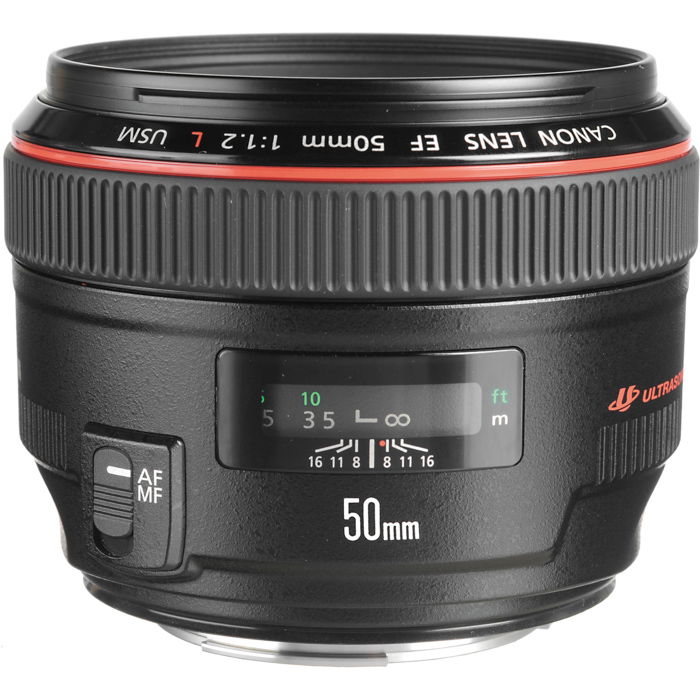 Just as much a celebrity in the photography world as the 50mm. The 35mm grew to fame with its multitude of applications and videography use.
As such, every camera brand on the planet has a hundred different versions of this same lens. Canon has a rather memorable one.
The Canon EF 35mm f/1.4L II USM is an updated version of its predecessor with notable improvements. This lens is not small or light, but it is an impressive performer.
It delivers remarkable image quality at an extremely wide aperture. We guarantee it will make any low light photographer weak in the knees.
The lens focuses to 11 inches, impressive for a 35mm. This lens is very sharp, especially for being so wide open.
There is a big jump in clarity from other models. Especially when compared to the Tamron or Sigma equivalent.
You'll get the best quality photos when shooting at f/1.4 with the company's most demanding image sensor, the 50MP full-frame.
No 85mm lens stands out as much as the Canon EF 85mm f/1.2L II USM.
With an aperture as creamy as their Canon EF 50mm f/1.2L USM lens, the 85mm delivers at a much longer focal length.
It's ideal for a variety of distance shoots, such as pets or candid portraits. And the low light capabilities due to the wide-open aperture just add to the list of things this lens is a beast at.
This lens is all metal, and can definitely survive some drops and hits. Canon's L quality glass makes this lens a must-see for professional photographers. You'll notice the difference in sharpness, colour, contrast, and vignetting.
The Canon EF 85mm f/1.2L II USM is not a lens for beginners. It comes with a steep learning curve. But it will change your world once you try it.
If you haven't quite figured it out yet, Canon has a great repertoire of wide-aperture lenses. The company has figured out the perfect formula for beautiful, soft bokeh and incredible sharpness at an extremely wide aperture.
Along with the 35mm f/1.4 L, this Canon EF 24mm f/1.4 L II USM is one of Canon's two fastest wide-angle lenses. It's a favourite among night sky photographers.
This lens is notable for having very little distortion, and a slew of applications as a result.
Zoom Lenses
Not everyone gravitates towards fixed lenses. Sometimes what you really need is a zoom lens!
All lenses have different focal lengths and f/stops. The focal length is the distance between the lens and its focus. It affects the perspective (for example, a focal length for a 16mm lens will show a much wider frame than a 200mm lens).
Zoom lenses are very adaptable. You can go from a wide shot to a tighter shot in seconds.
These are my favourite zoom lenses from Canon that you have to check out.
Wide-angle lenses, as the name implies, have a much wider view than normal lenses. You can get super creative and play with angles and compositions.
Wide-angle lenses distort perspective significantly, which makes for a cool effect.
The Canon EF 16-35mm F/2.8L USM III is the sharpest f/2.8 ultrawide ever from Canon. There is a reason they keep releasing new versions of this same lens. And they're constantly updating it for even more drool-worthy performance!
For sports, action, landscape, interior, and anything else for which you need extreme performance at f/2.8, there is nothing better.
This f/2.8 lens is for action and when you need ultimate performance. A memorable improvement in sharpness among the entire frame, even at 2.8.
Your corners will now be just as crisp as the centre points, something you have to try for yourself!
Fondly known as the "walk-around lens" by professionals and hobbyists alike. The 24-70mm lens is the staple of any photography kit!
It's a lens that offers diversity and functionality. Its range makes the 24-70mm lens a remarkable companion for a vast array of photoshoots.
From wide captures to close-up portraits, and everything in-between.
This lens has landed itself as Canon's most popular lens. The EF 24-70mm f/2.8L II USM features improvements to image sharpness, vignetting, and AF speed.
When pairing with a camera body that features advanced auto-focus systems, version II is significantly faster than its predecessor.
Version II also features weather-sealing with a front filter in place.  And it's significantly lighter and easier on the arms.
I've used this particular lens for years. I can attest to its durability and hardy built. I have had this specific model knocked out of my arms at a metal concert I was photographing. It still lived to tell the tale.
For those that have used 24-70mm in the past, you'll have a great frame of reference for this version II. It's worth trying out.
The 70-200mm is a lot of photographers' favourite telephoto lens.
A telephoto lens is a long lens that allows you to photograph distant subjects easily. This is due to how long their focal length is. A lens is considered a telephoto lens if it has a focal length of over 60mm.
A telephoto lens is extremely useful for action photography. They are also popular in portrait and macro photography.
They produce a natural perspective free from the distortion caused by using a wide-angle lens.
Canon's version of this lens is optically impressive. The excellent autofocus performance ensures that the full optical impressiveness is realized.
Image stabilization adds to the already-great versatility. And, on top of that, a great build quality makes this lens reliable and fun to use.
Canon has always knocked it out of the park by ensuring their L line of lenses is nicely weather sealed.
The first 70-200mm Canon L lens is the first lens I ever purchased for my camera ten years ago. That is when I fell in love with L glass forever.
The sharpness, colour, and quality are absolutely unbeatable. I dare anyone to find me a better equivalent piece of glass than Canon.
Once I updated to the f/2.8 II version, there was no going back. This version III is absolutely worth a try, and I know for a fact you'll fall in love with it.
Tilt Shift Speciality Lenses
Possibly one of the most unique lenses ever created. A tilt-shift lens is a lens in which the optics can be tilted and/or shifted in relation to the image sensor.
You can tilt up and down and shift side to side individually.
The cool thing about a tilt-shift is that it allows you full control over the perspective. Tilt allows one to tilt the plane of focus to allow perfect focus along any plane, not just the plane of the sensor as with a normal camera.
By tilting the lens, we can bring the ground, a wall or a table-top all into perfect focus, from inches away to infinity. Shift allows one to keep parallel lines parallel, even if you need to look up, down, left or right instead of directly at a subject.
You can fix the perspective with a tilt-shift or alter it to be even more imaginative. Make big objects small and small objects big, fix crooked walls, and so much more.
Many architectural photographers love a good tilt-shift for this reason. Canon has two very unique tilt-shift lenses that have become all the industry talks about.
For those that know how to use tilt-shift lenses, these two are a dream. What is revolutionary about these two lenses is that both allow independent rotation of the tilt and shift axes relative to the camera and to each other.
Canon has outdone itself on optical design. And used high-precision aspherical front elements to keep distortion to a minimum. And multiple UD elements to reduce chromatic aberration.
Furthermore, there is no fringe appearing on any of the photos!
Both lenses are superbly built and deliver outstanding image quality. The different focal lengths allow for a variety of uses.
The wider lens will work well for architecture and the longer focal length will find itself at home in a portrait studio.
With macro focusing and tilt, shift and rotate features, the lenses can produce incredible and highly-differentiating results.
Best Canon Lenses for Mirrorless Cameras
Even though DSLRs have several advantages -such as the wide range of lenses or the sturdy build-, mirrorless cameras keep getting more and more popular.
In the past years, Canon has started producing optics that are specifically for mirrorless bodies. Let's look at the best Canon mirrorless lenses!
We have previously described Canon's amazing 85mm 1.2 lens for DSLRs. Luckily, it has a mirrorless version as well.
This lens embodies everything that a high-quality lens should be. It's tack-sharp even at the widest aperture, throughout the whole frame.
The wide aperture gives you the opportunity to shoot in low-light situations without having to bring the ISO up. The lens also includes fast and quiet autofocus, which makes it perfect for both action and event photos.
The focal length is most suitable for portraits, where you can also bring the most out of the aperture capabilities. The f/1.2 results in dreamy bokeh that separates the subject from the background.
Since the lens is part of Canon's L series, the quality is guaranteed.
This 15-35mm lens is the mirrorless equivalent of the previously mentioned 16-35mm. It is one of the zoom lenses that are relatively wide even at their longest focal length.
The 15mm is perfect for landscapes, while the 35mm is more suitable for environmental portraits. When you combine these focal lengths, you get a range that comes in handy in many situations. You can fit the whole scene into the frame, but you can also take closer shots. These include events, such as weddings, street, and travel photos.
The f/2.8 aperture ensures that the lens is usable in low-light situations. It also gives you a somewhat blurred background- although not as blurred as it would be with a longer focal length.
This lens has fast, accurate and quiet autofocus, as well as a built-in optical stabilisation system. Quality comes for a price. But when it comes to this lens, it is definitely worth it.
Just like with the previous lenses, this one has a DSLR equivalent as well. There is a slight difference in the focal length, as this zoom lens starts at 28mm, not at 24. However, the bigger change is the aperture value. The f/2 provides reasonably more light than the f/2.8 that the DSLR model has.
This results in better low-light performance and softer bokeh. The lens also gives you sharp images at every focal length.
As an extra, Canon has included vibration shock resistance, which helps you maintain focus and reduce camera shake for sharper images.
Furthermore, the lens has a water and dust resistant coating. This makes it great for shooting outdoors, no matter the conditions.
Conclusion
It is difficult to choose one best Canon lens that wins over all the others. Wide-angle, zoom, and prime categories each have their own winner. Read our list when you are looking for the best DSLR or mirrorless Canon lenses.
Take your time to go through the descriptions of the lenses before deciding to buy one. You can also try all of these lenses and plenty more at Canon Experience Centers all over the country.
We hope that this article has helped you with choosing the best Canon lens for you.
Looking for more great tips? Read our post about the best Canon camera options!