Fujifilm makes excellent cameras. They have done so for decades. For beginners and professionals, there's a Fujifilm camera that makes the grade. But sometimes, it's not just about the camera. You need the right lens too.
Fujifilm makes some of the best cameras in the world. But if you don't have the right lens, you can't always get the shots you need.
When you're looking for a new Fujifilm lens, you need to think about the style of photography you enjoy. The best lens for you is the lens that meets your needs as a photographer.
Thankfully, Fujifilm has an excellent selection of lenses to choose from. And in this article, we'll take you through the best lenses for Fujifilm cameras. We'll explore prime and zoom lenses before looking at more specialist Fujifilm lenses.
[Note: ExpertPhotography is supported by readers. Product links on ExpertPhotography are referral links. If you use one of these and buy something, we make a little bit of money. Need more info? See how it all works here.]
Best Fujifilm Lens Mounts
Fujifilm are the master of APS-C and full-frame mirrorless cameras. The original X-T1 model was a revelation. And the high standard has been upheld right through to the X-Pro 3 and X-T4 models.
One of the main advantages of Fujifilm cameras is their lens mount. The majority of their mirrorless cameras still use the X Mount for lenses. And all the X Series cameras have interchangeable lenses. It gives you a huge selection of lenses to choose from.
The X Mount has been around for a long time, which is great if you mix and match. Second-hand shops can be a gold mine for X Mount lenses. You can find some bargains.
The first part of this article will focus on the best X Series lenses. Then we will move onto the best fuji lenses for Fujifilm's GFX Series cameras. There are fewer lenses in this series, but there are still some excellent options.
Best Fujifilm Lenses for X Mount Cameras
This section will look at the best Fujifilm XF lenses available for Fujifilm X Series cameras. The list is broken down into categories, such as prime and zoom, so you can find the lens you need.
Best Fujifilm XF Prime Lenses
The Fujinon XF 16mm f/2.8 is an excellent prime lens. It's a wide-angle lens that's lightweight and compact. And it's affordable.
It may be small, but thanks to its ten glass elements, its image quality is brilliant. It gives you a wide-angle image with no chromatic aberration. The resolution is clear from edge to edge.
The stepping motor gives the autofocus system a reliable and near-silent performance. And the lens is weather- and dust-resistant.
The Fujinon XF 23mm F1.4 is another superb wide-angle prime lens. It has a focal length of 23mm, equivalent to 35mm on a full-frame camera.
The wide aperture range also makes this a versatile lens. You can use it for street photography and landscapes. You can get a lovely bokeh effect when you go for a shallow depth of field. This is a great quality XF lens when used in portrait photography.
The optical image correction reduces distortion to an absolute minimum. You can expect excellent image quality throughout its full range.
The Fujinon XF 27mm f/2.8 is so light and compact you could put it in your pocket. Although, I don't recommend keeping in there!
Don't be fooled by the size of this pancake prime lens. The optical design and lens coating ensure excellent image quality. The angle of view is similar to that of the human eye. This makes it great for capturing candid moments.
There's a built-in autofocus system. Its coreless motor makes it fast and precise.
The Fujinon XF 18mm f/1.4 is optically brilliant. And the build quality is great too. It's lightweight for its size, and mechanical components have an excellent feel.
The focal length is equivalent to 27mm on a full-frame camera. It's an XF lens you can use in narrow streets or wild expanses. And aberration is rarely a problem with this fast wide-angle lens.
There is no image stabilization system, but the autofocus is fast and sharp. The Fujinon XF 18mm f/1.4 is a great all-around lens.
Best Fujifilm XF Zoom Lenses
Sometimes your subject is too far out of reach. And your prime lens can't get the shot. So let's turn our focus to the best Fujifilm zoom lenses.
The Fujinon XF 16-80mm f/4 is the best all-around zoom lens for Fujifilm cameras. It has a focal length of 16-80mm and a 5x zoom range.
The lens is a bit big for APS-C cameras. But the optical quality is excellent, with minimal distortion right through the focal range.
One of the major positives of this zoom lens is the built-in image stabilization system. It has 6-stops of stabilization to ensure image quality is maintained. And the autofocus is good too.
The XF 10-24mm f/4 is one of Fujifilm's older lenses. But it's a classic and still one of their best. And its age means you can find the lens at bargain prices.
Unfortunately, it isn't weather-sealed. So you have to consider your conditions before taking this zoom lens out for a shoot. But treat it right, and you'll get stunning images.
It can maintain its full f/4 aperture throughout its zoom range, making it a versatile lens. And the excellent image quality is assured with the built-in optical image stabilization system.
The Fujinon XF 8-16mm f/2.8 is the widest of wide-angle lenses. Its focal length of 8-16mm makes it perfect for landscapes and architecture. It's great for real estate photography too.
It's a professional-grade lens. And you'll feel it in your hand and your wallet. It weighs over 800g and isn't cheap. But wide-angle image quality doesn't get much better than this.
There are 20 glass elements for crystal-clear resolution. It includes a 5-stop image stabilization system and linear, motor-powered autofocus.
This ultra-wide lens has edge-to-edge sharpness and definition. You won't experience any aberration.
With a focal length from 18-135mm, standard zoom lenses don't get much more powerful than this.
Its minimum focal length is wide enough for landscape and real estate photography. And the zoom has an excellent reach for tighter compositions. It's a great lens for nature and wildlife photography.
The 5-stop image stabilizer allows you to shoot without a tripod. It adds extra versatility as you can travel light when on the move. And, at under 500g, it's lightweight for a lens of this power.
Best Fujifilm XF Telephoto Zoom Lenses
For some photographers, a standard zoom lens isn't enough. They need a super-power telephoto zoom. Here are our picks for the best Fujifilm telephoto zoom lenses.
The Fujinon XF 70-300mm f/4-5.6 is a versatile telephoto zoom lens. For its size and power, it's lightweight. It has an excellent build quality and is weather-sealed.
The zoom range is quite impressive. The lens has superb resolution throughout its focal length. And its 17 glass elements provide edge-to-edge sharpness without distortion.
It's the perfect lens for landscapes and wildlife photography. You won't need to leave your hideaway to get the animal close-ups you want.
The built-in optical image stabilization system has 5.5 stops of image correction. There's no need to slow your adventure down with a heavy tripod. It's a versatile and affordable telephoto zoom lens.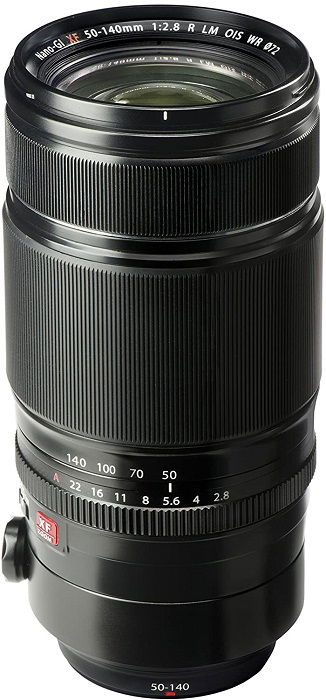 The Fujinon XF 50-140mm f/2.8 is a professional-standard telephoto lens. It's not ideal if you're on a tight budget. But the image quality is second to none.
The focal length is equivalent to 76-213mm. This gives you a fabulous zoom range to work with. It's great for landscape and portrait photography. And it'll get you into the action for sports and wildlife photography.
The autofocus system is powered by a triple linear motor, a first for telephoto lenses. And it gives you a fast and sharp focus. The optical image stabilization will also ensure stunning image quality.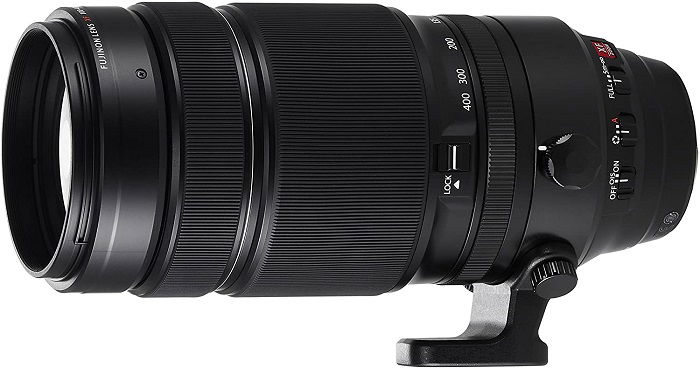 This lens is not for the faint-hearted. It's a super-telephoto lens with the power to knock your socks off.
It has a mammoth focal length range equivalent to 600mm. This lens will redefine the possibilities of your photography. It changes the rules and gets you to where you need to be.
It has all the features you'd expect from a lens of this standard. There's the rapid and precise autofocus and the 5-stop image stabilizer. The quality of the glass elements means you won't experience any distortion or aberration.
But it's big and bulky. You'll need a tripod with this one. Thankfully, it comes with a tripod mounting ring.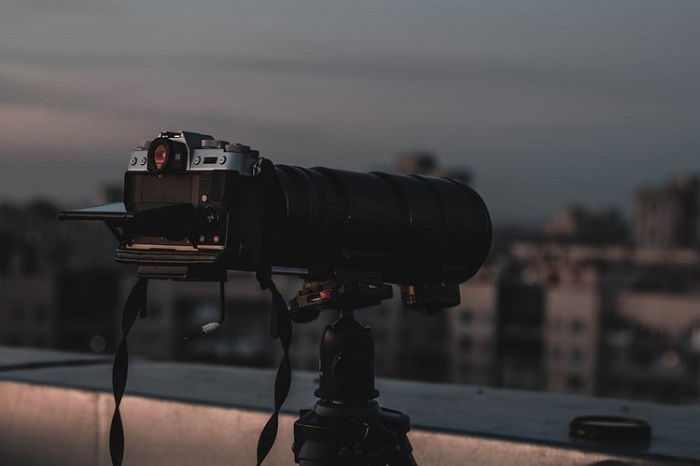 Best Fujifilm XF Macro Len
If your subject is far away, you need a telephoto lens. But that won't do if your subject is tiny. For that, you'll need a macro lens. And Fujifilm has an excellent macro option.
When it comes to Fujifilm macro lenses, there's only one to consider. It's the Fujinon XF 80mm f/2.8.
It has an excellent build quality with 16 glass elements. Its images have a high resolution, and you can capture exquisite detail. And, with a shallow depth of field, you can produce a beautiful bokeh effect.
Its Floating Focus AF system is state of the art. It divides the lens groups into front and rear, then drives them depending on the shooting distance.
The image stabilization system combats angle shake and shift shake. It's a benefit if you're not using a tripod.
Best Fujifilm Lenses for GFX Cameras
The GFX Series is Fujifilm's range of medium format cameras. And when it comes to digital medium format cameras, Fujifilm is leading the field.
The only snag is that their X Series lenses aren't compatible. Due to the GFX cameras' larger sensor sizes, Fujifilm had to introduce the GF lens series.
If you have a GFX camera or are looking to get one, we're here to help. We've got our pick of the best Fujifilm lenses for GFX cameras.
Best Fujifilm GF Prime Lenses
The GF 63mm f/2.8 is the best standard prime lens for Fuji's GFX cameras. It has a fantastic build quality. And it's lightweight and small for a medium format lens.
The 65mm focal length is equivalent to 50mm in 35mm format. The aperture range isn't great. But the quality of the glass elements provides excellent image resolution.
It has a standard-angle view and is a great all-rounder. You can try your hand at street, landscape, or portrait photography without changing the lens. With the right aperture, you can get a lovely bokeh effect on your images.
The Fujinon GF 30mm f/3.5 is a great wide-angle lens. Its wide angle of view makes it perfect for landscapes and real estate photography. You can also use it for architecture and group portraits.
The Fujinon GF 23mm f/4 is a wide-angle alternative. The specs are slightly better, but you'll feel the difference in your wallet. The resolution quality of the GF 30mm f/3.5 is excellent and offers better value for money.
The autofocus is fast and reliable. And it's weather-sealed for brilliant outdoor performance.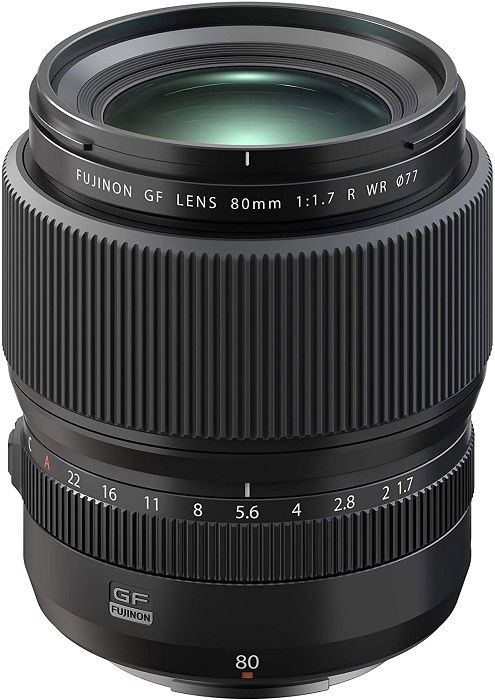 The GF 80mm f/1.7 is a leader in the field of medium format lenses. The super-wide aperture of f/1.7 is a record in this category. It's designed to maximize the quality of the larger GFX camera sensors.
The autofocus functions at full performance even at such a wide aperture. It's an ideal lens for studio portrait photography. But the weather-sealed body means it's excellent on location too.
The quality of the glass gives you high image resolution and edge-to-edge sharpness. It isn't cheap. But the results are outstanding.
The Fujinon GF 120mm f/4 isn't 'full macro'. But the magnification performance is incredible. The focal length of 120mm is equal to 95mm on a smaller format camera.
The image quality is superb. But its finest feature is the image stabilization system, with correction up to the f/5-stop. The autofocus system is also excellent, with an option for 'floating focus'.
Chromatic aberration will be at a minimum. And the front and back bokeh is soft and lush if you're using a shallow depth of field.
Best Fujifilm GF Zoom Lenses
The GF 45-100mm f/4 is a standard-angle zoom lens. The angle may not be the widest, but the zoom range is close to telephoto territory.
The 5-stop image stabilization system upholds excellent image quality. It'll keep your images sharp and correct any problems with camera shake. And the linear motor autofocus system is fast and near-silent.
It's a lens that can get you close to your subject even when it doesn't seem possible. But the zoom will also give you great effects when shooting at a shorter distance.
The Fujinon GF 32-64mm f/4 is a great lens to take out shooting with you. Its specifications make it a great all-rounder for medium format cameras.
The zoom range isn't spectacular. But the lens does offer some excellent wide-angle views. The versatility of shots makes it excellent for street photography and photojournalism.
The optical quality is fantastic. And the lens can cope with sensor resolutions up to 100MP. You won't be disappointed with the images this lens produces.
The GF 100-200mm f/5.6 has a generous telephoto zoom range. You won't find a more powerful zoom for medium format cameras.
It's a specialist lens and versatile too. It's ideal for portrait photography in a studio. And it's more than capable out in the tundra for wildlife photography. It's also weather-resistant.
The autofocus and image stabilizer both work to a high standard. And the optical quality means you won't need to worry about distortion.
Conclusion
The overall quality of Fujifilm lenses is excellent. There's no denying that. The difficulty lies in choosing the best Fujifilm lens for you. Different photographers have different needs.
Portraits photographers and photojournalists are going to need something different. And real estate photography has its own specifications. But no matter what your field, Fujifilm has a lens that will meet your needs.
If you have a camera from their X Series, you are spoiled for choice. And the GFX Series also has some great lens options to choose from.
I hope our list of the best Fujifilm lenses has provided enough information and variety so you can make the right decision.
Are you looking for inspiration to fuel your own creativity in a fun and simple way? Check out The Creative Photography Cookbook for new ways to shoot beautiful images that are not only technically perfect but very unique.