Ever notice that the colors of your favorite images look different from the ones you take? This is where color grading comes in, to help you bring out those shades and make your photos look natural.
Here's how to do this process and why it's so important.
What Is Color Grading?

When you take pictures with your camera, you'll notice that they often look flat and unappealing.
Color grading is the process of enhancing the color, saturation, and contrast of an image. Photographers use it to create specific moods in their photos. You can add blue hues to make a picture appear cold, or try yellow and orange to make it look warm.
You'll need color grading software if you want to enhance your images. The most popular ones are Adobe Photoshop, Adobe Lightroom, and a free program called Gimp. But you can also use online photo editors such as Pixlr and Fotor.
For mobile photography, your options include Snapseed, VSCO, and Afterlight.
Some programs allow you to use presets you can apply to your images. Even if you're still unfamiliar with the process, you can create stunning photos with a few clicks or taps.
In this article, we'll teach you color grading using third-party presets as well as creating your own.
Color Correction Vs. Color Grading
Before you do any color grading, you'll need to familiarize yourself with color correction. The two processes are different.
Color correction involves adjusting the colors to make them as accurate as possible. It's a crucial part of photo editing since your camera doesn't always capture the hues of a scene the way it should.
If a blue sky turns up purple in your image, you'll need to make some adjustments to make it appear natural.
Meanwhile, manipulating the sky to make it look purple is acceptable when you're color grading (if a purple sky is what you're after). But in normal situations, you don't want to go overboard and change the hue of your image too much. You still want your picture to look realistic.
It would help to apply color correction first to make the most out of your photographs. Doing so ensures that your colors are accurate once you start color grading.
Camera Adjustments Before Color Grading
Color grading doesn't start with your editing software but with your camera.
First, switch your format from JPEG to RAW. This is the perfect format for editing.
Another camera feature you need to change is White Balance. Some of the common settings you can use include Auto, Custom, Incandescent, Fluorescent, Daylight, and more.
When you use RAW, you can also change the white balance in Photoshop or Lightroom. So in case you used the wrong setting, you can always change it in post.
Color Correcting Your Photos

Before color grading, we'll show you how to color correct your images first. We'll be using Lightroom to edit the photos for this tutorial.
Every color grading app has a different interface. But most of them share similar adjustment tools.
Open the file and inspect it. If any of the colors look off, change the White Balance within your photo editing software. Try different options from auto to sunlight until everything looks natural.
Feel free to adjust the Temperature and the Tint if you want more control over the tones.
Next, look at your histogram. It's a graph that represents blacks, shadows, midtones, highlights, and whites. Check whether the colors are evenly distributed within the chart. If they're clumped in one section or another, that means you need to adjust your image.
Go to your basic settings panel and adjust your highlights, shadows, whites, and blacks. Move the sliders to the left or right until the elements in your histogram are more or less even.
You can also tweak the individual colors if you need to make changes to specific tones.
Color Grading Your Photos

Now that the colors in your photo look accurate, you can proceed to color grading it.
There are different ways to enhance your photos, but most people like to start with the basic exposure settings. A simple adjustment in Exposure and contrast alone can change the mood of your image.
And if you want to make everything look vivid, all you have to do is change the Vibrance level.
The next step is to fine-tune their adjustments with Tone Curve. By dragging the diagonal line inside the box (pictured above), you get to adjust the highlights, lights, darks, and shadows of your image.


You can enhance your photo further by using HSL (Hue, Saturation, Luminance). By adjusting the sliders of each section, you can influence which colors you want to pop in your images.
When you're color grading, you should always keep an eye on the histogram. Make sure you don't go overboard with your adjustments. You might end up throwing off the colors.
Color Grading With Presets

You can also install presets from third-party sites so you can create the look that you want with a few clicks.
There are plenty of places online where you can buy presets. You can get them from Etsy, Free Market, as well as other photography websites and blogs.
You can also try downloading free presets from Freepresets.com and other sites. Just a word of caution: Before you install anything from the internet, make sure it's safe and virus-free.
To install your presets, download the zip folder and extract the files so you can transfer them later. Next, open Lightroom and go to the Develop module. Right-click on the Presets box on the left side of the screen to create a new folder.
After you rename the folder, right-click on it and click Import. Once the dialogue box appears, go to the folder that contains your presets. Select them all and click Open.
You should be able to see them load into your Lightroom preset folder within a few seconds.
Now, click on a preset and Lightroom applies it automatically to your image. You can use the same preset as many times you want.
But you need to remember that lighting conditions differ from one photo to the next. So make it a habit of tweaking each file until the tones look perfect.
Creating Your Own Presets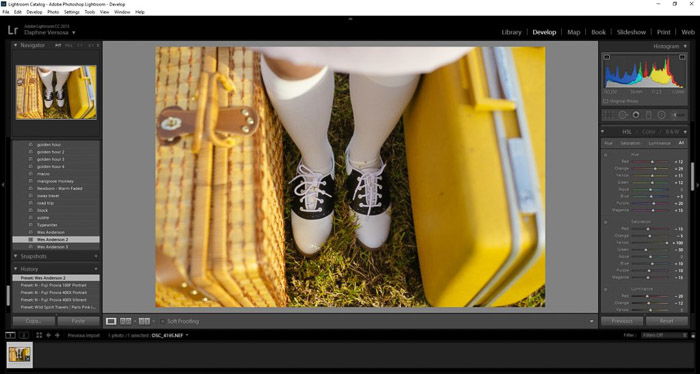 You also have the option to create your own presets if you want your pictures to look unique. It may sound intimidating at first, but it's easy.
First, color grade your photos like you normally would. Make sure you cover simple exposure settings, tone curve, HSL, and other parameters.
If you like how it looks, go to the Menu Bar at the top of the screen and click on Develop. In the drop-down menu, click New Preset to save your adjustments.
You can also create different variations of one preset and place them in one folder. All you have to do is select New Preset to save your new adjustments.
Once you have enough for a collection, go to Develop in the Menu Bar again and click New Preset Folder. Rename it and drag all the files you created under it.
Next time you edit your images, all you have to do is select your personal presets and apply it to your photos. That's it!
Conclusion
So here's the color graded image. What do you think?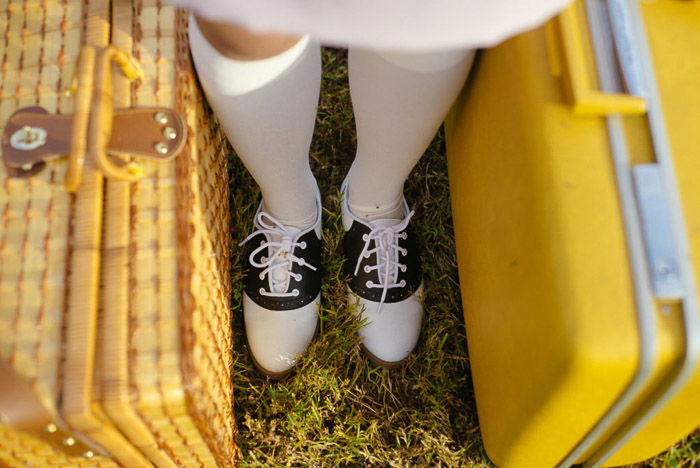 Color grading takes time to master. It's okay if your first few images look too saturated or too dull. After a few tries, you'll start to get the hang of it.
Don't think so much about the technical aspects of the process. Instead, ask yourself what mood you want to convey every time you enhance your photos.
Remember that color grading is more than a stylistic choice. It should be effective at conveying emotions as well.
Looking for more tips? Check out our new post about color saturation next!