The ShootProof vs Smugmug comparison is an interesting one. They are both popular online photo services. And you'd be forgiven for thinking they offer the same thing. But while there is some overlap in what they offer, there are differences to consider. That means Shootproof might suit some photographers. And Smugmug might suit others.
SmugMug is our winner in the Shootproof vs Smugmug debate. But it's a narrow victory. And that doesn't mean Shootproof isn't worth your time. Both websites have their positives. And you might find that Shootproof better meets your needs.
We'll take you through both programs in this Shootproof vs Smugmug comparison review. Then you'll have all the information you need to make the right decision.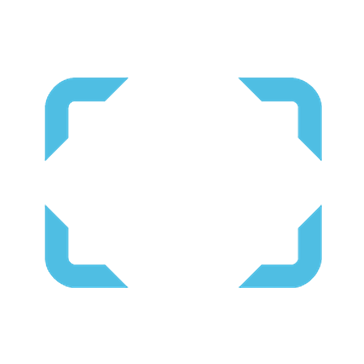 If you're comparing shootproof vs smugmug, consider a software that streamlines your business and helps you make more money. This web-based platform offers photo organization, beautiful galleries, promotions, and payment processing.
ShootProof vs SmugMug: What Do They Offer?
ShootProof prides itself on being a one-stop shop for professional photographers. It has all the tools to organize, promote, and sell your photography. It's a portfolio and photography website with custom design galleries. And it has options for sharing and downloading your work. And you have options to sell photos in digital and print form.
It's more than just an organization space. Shootproof makes your life easier by taking care of different parts of the process. They provide invoices on sales through their platform. And they arrange printing and delivery of physical media sales. It's not just a gallery. Shootproof allows you to run your business online.
SmugMug has a similar objective to ShootProof. It offers a safe storage space to organize and share images. It gives you professional gallery features. And you get integrated sales tools for selling prints and digital files.
SmugMug clients have access to the free mobile client application. You can monitor sales and make changes to your portfolio on the go. Smugmug also takes care of the printing and delivery of print sales.
We have two websites offering similar services for photographers. We'll need to dig a little deeper to find some distance in the Shootproof vs Smugmug comparison.
ShootProof vs SmugMug: Features and Functions
Now we'll take a closer look at both photo services. We'll take you through the key features to see which is the best host for your photography website.
User Interface
We prefer the Smugmug interface. While the Shootproof interface isn't bad, we found the Smugmug website account more agreeable and intuitive. And I know looks aren't everything, but the Smugmug website is more pleasing to the eye.
The Shootproof website is easy to use. The interface is clear and well-organized. Nothing is hidden in a maze of menus. And the tools and functions are easy to find. Signing up and creating a gallery is straightforward. And the account page layout is good and easy to use.
The trouble with the Shootproof working view is that it looks dated. I'm not saying it looks like Windows 95. But the use of outlined boxes makes it look a bit stuffy and passé. It's a superficial problem. And we may not have noticed if we weren't comparing it to SmugMug.
The interface of the Smugmug account is sleek and modern. It's easy to follow. And navigation is straightforward and intuitive. Smugmug also helps you navigate the site on the account holder side. There are more information windows and control panels. And many of the controls are simple on/off switches.
The interior interface looks good. Again, that's a superficial point. But this is going to be the basis of your photography business. And you'll be spending a lot of time looking at the interface. Having a clean and clear interface allows you to enjoy your work. You can work for longer without mental fatigue. And you'll make better decisions. Smugmug looks sleek and is smooth to operate.
Creating a Gallery
We found Smugmug to be the clear winner for creating a photo gallery. It's the better gallery creation tool for many reasons. But we'll look at ShootProof's galleries first.
Creating a Shootproof gallery is straightforward. It's easy to add individual photos or folders. You create a gallery name. And the upload time is next to nothing. You can then organize the images how you like.
The first issue is found when you set a cover image. If you want to select an image from that gallery as the cover, you're only given four images at a time. That means you have to ask for more if the one you want isn't one of those four. And it displays them out of sequence. Finding the image you want can take a while if it's a big gallery.
Then we have the look of the client galleries. The photo galleries look professional, with well-organized arrangements and sleek layouts. But it looks basic. Professional photographers don't want a website that distracts the viewer from their work. But we feel that ShootProof's basic approach does nothing to enhance the photographs in the gallery. And the options to customize your gallery are limited.
SmugMug's better gallery options are clear from the start. Before you upload any photos, you're given a selection of stylish templates to choose from. You can preview each template to see if it suits your work. Then you upload your photos. The upload speed is fast. But it also gives you the option to complete other tasks while you wait. They know time is money for professional photographers.
SmugMug also gives you better customizable gallery editing features. There's one control panel for settings. It has more options than ShootProof. And the settings window puts all the controls in one place. You can add or remove watermarks. You can add keywords. And you can tinker with the security settings. Smugmug gives you sophisticated online galleries with very little sweat or tears.
Selling Photos and Business Management
This category gives us a close call in the Shootproof vs Smugmug debate. Both websites make it easy to set up and manage your online store. They both offer a professional experience. And everything is sensible and meets the needs of professional photographers.
In theory, Shootproof gives you more price lists to choose from. You select your price lists in relation to the print labs available in your area. I'm sure there are plenty of photo lab options if you're in America or Canada. But I was only offered one lab option when setting prices in the UK.
The integrated studio management tools make setting prices easy. You don't need to contact the photo studio to negotiate for on-demand printing. Everything is done through your account.
Setting prices on Smugmug is also tied to a photo print lab. And again, they only have one lab option in the UK. Creating a new price list is easy. But customizing the prices and products individually can be a bit confusing. You're hit with a maze of menus when selecting prices and products. You can go for the Smugmug recommendations. That saves time, but you'll want to personalize the prices if you're serious about making money from your photos.
We appreciated ShootProof's invoice tutorial. Experienced professionals won't need it. But it's definitely beneficial for people who don't have experience processing invoices. The Smugmug invoicing is less straightforward. But it's safe and professional when you get the hang of using the account.
SmugMug and Shootproof give you excellent data reports. You can see how many people view your photos. You can see a sales history to monitor your business over time. And you can see which products are selling better than others.
Sharing on Social Media
Both websites give you social media sharing options. This is a fantastic tool for publicizing your online store. You can easily share your photos and galleries on major social media platforms. It's a simple solution for promoting your work and will help you sell prints and wall art.
SmugMug makes sharing on social media super easy. A bot even prompts you to share your photos once your first gallery is set up. The Shootproof social media integration is less helpful. We had trouble finding the tools. But once located, we were able to share images in seconds.
Both websites also offer an Adobe Lightroom plug-in. That's not for sharing on social media. But it's a handy integration for importing photos from other platforms.
Client Support
ShootProof and Smugmug both offer excellent client support. They both have 24/7 email support. Smugmug has a 24-hour chat service. I was worried it would be a chatbot with pre-determined answers. But I was pleasantly surprised to find it's a chatline manned by humans. And very helpful humans, at that.
ShootProof has gone the old-school support route with a phone helpline. It's also manned by humans, not robots. So you'll be able to get to the bottom of any problem with client galleries or invoices.
Support might not seem as important as other services. But you appreciate this good support when you need it. Money is involved in both programs. And that can be stressful. It's good to know you'll get the help you need when you need it.
Pricing Plans
SmugMug and Shootproof have a plan-based enrollment system. They have a variety of plans at different prices. And each plan offers more access and different services. The more you pay, the more you get in return. It's simple in theory. But they both have several plans on offer.
Only ShootProof has a free plan. It's limited. It gives you storage for 100 images. But there are no tools for invoicing or payment processing. It's basically a teaser plan so you can try it. You'll need a paid plan if you want to run your business online.
Both websites offer a 14-day free trial. They allow you to test the service before you commit. And neither asks for any payment details until the trial is over.
It's difficult to compare Smugmug plans with Shootproof directly. Shootproof has seven plans compared to SmugMug's four. Each plan has a different monthly fee. And having more plans can help you budget. It also helps you grow your business step by step. That's a positive for the Shootproof plan system.
Many of you are probably wondering how much Smugmug costs. While we can't give specific prices here, we can say their Basic plan offers excellent value for money. It's their cheapest plan. But you get a lot for your money.
ShootProof's cheapest paid plan gives you a storage limit of 1,500 images. But SmugMug's Basic plan gives you unlimited image storage and a custom domain. And you get the free mobile client application. Their plans start strong and increase until you're at the Pro plan. Pro users have access to all the tools, including marketing promotions. You also get free RAW file storage with Smugmug Source.
SmugMug's top plan (Pro) is more expensive than ShootProof's top plan (Unlimited). It's not a huge difference. But every penny counts for professional photographers. Our verdict on price is that you get more for your money with Smugmug if you're looking for the best deal. But you get full access to Shootproof for a lower price.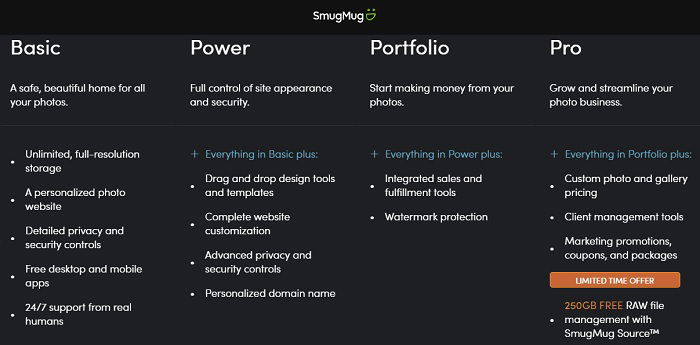 ShootProof vs SmugMug: Our Verdict
The Shootproof vs Smugmug debate was a close one. But Smugmug comes out as the better photo service.
We should say that both Shootproof and Smugmug are excellent services with great features. And many photographers will appreciate both websites. They give you a safe platform to display your work. Pricing and ordering are made easy. And they give you everything you need for invoicing and payment processing. They are the leaders compared to other sites offering similar services.
It's a victory of slim margins for SmugMug. They have a better user interface for clients. And that's not just a superficial problem. It makes the setup process easier. And it helps you run your business. Smugmug does have a complicated interface for pricing individual items. But apart from that, it's the smoother of the two.
ShootProof and Smugmug score highly for business management and support. And it's the same story for social media integration. Both have excellent tools that make sharing easy.
Then it comes to pricing. ShootProof has more plan options. But I felt that made the signup process more complicated. There's more to consider and more to plan. Smugmug has four plans to choose from. And it's clear what you get from each plan. The Basic Smugmug plan is also more generous than the lower plans of ShootProof. Their top plan is cheaper. But we appreciate their generosity at the lower end.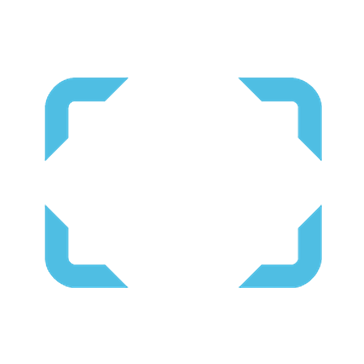 If you're comparing shootproof vs smugmug, consider a software that streamlines your business and helps you make more money. This web-based platform offers photo organization, beautiful galleries, promotions, and payment processing.