Sigma is one of the main third-party lens manufacturers that provide lenses for the big DSLR companies. These lenses have letters and numbers that don't really make any sense. But they must mean something, right?
These abbreviations tell you all the features you'll get from each lens. Not all lenses are made equally, as they all need different attributes to work in capturing your scene. Some have special lens elements and others aim to remove camera shake, for example.
Read on to learn more about Sigma Lens Abbreviations.
[Note: ExpertPhotography is supported by readers. Product links on ExpertPhotography are referral links. If you use one of these and buy something, we make a little bit of money. Need more info? See how it all works here.]
What Are Lens Abbreviations?
Lens abbreviations are very important. They tell you what your lens can do. Since so many lenses have many features, it is beneficial to have them all there, giving you the information you need.
This stops you from having to go through lens or camera manuals to find out what you can achieve from each scene.
Let's look at an example.
Sigma 17-50mm f/2.8 EX DC OS HSM FLD Large Aperture Standard Zoom Lens.
We can see a few abbreviations here: EX, DC, OS, HSM, and FLD. These tell us that the lens is of a professional standard, is designed for an APS-C camera and has optical image stabilization. 
On top of these, it tells us that the lens has a hypersonic motor while employing a fluorite low dispersion lens element.
With a little practice and our article, you will also be able to understand what they mean.
Sigma Lens Abbreviations
A – Art. These lenses place its importance on optical performance and power. Expect these to have very wide apertures across fisheye, wide-angle, zoom and macro lenses.
APO – Apochromatic. These lens elements reduce chromatic and other aberrations. They also bring a stronger contrast, color definition, and sharpness to the image.
ASP – Aspherical. These lens elements are shaped in a way to reduce aspherical aberrations.
C– Contemporary. These lenses feature variable apertures along its zoom focal lengths. These are what you would expect from budget lenses designed for APS-C camera models. An example would be the Sigma 100-400mm f/5-6.3 DG OS HSM Contemporary Lens.
CONV – Teleconverter compatible. This abbreviation shows that the lens can be used with Sigma APO Teleconverters. These allow for a longer focal length while allowing the user to retain Automatic Exposure.
DC – These lenses are specifically designed for APS-C DLSRs. They will not work on full-frame camera models.
DG – These lenses are specifically designed for full-frame DSLRs, and will also work on crop sensor systems.
DN – Lenses with this are specifically designed for compact system cameras such as micro-four-thirds.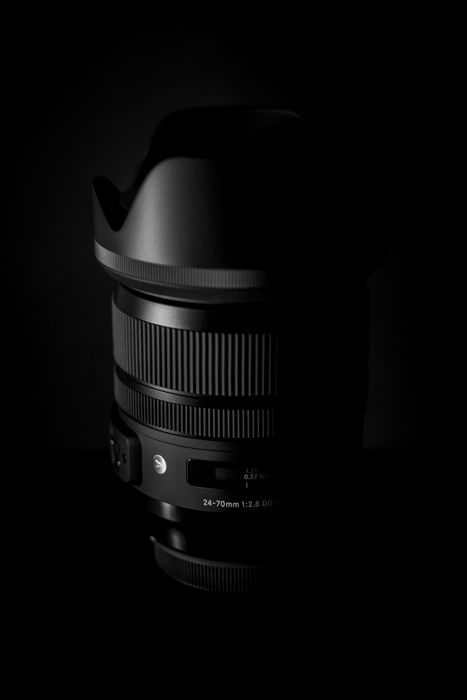 ELD – Extraordinary Low Dispersion. This is the same as SLD, but do a better job with chromatic aberrations.
EX – Professional Prime Lens. These are the high-end lenses that were first employed, yet, now have been replaced. They are similar to Canon's 'L' series.
FLD – Fluorite, Low Dispersion. Low dispersion glass elements reduce chromatic aberrations, and currently the best available.
HSM – Hyper Sonic Motor. This feature allows for silent and fast autofocusing. It is similar to Canon's Ultra Sonic Motor and Nikons' Silent Wave Motor.
IF – Internal Focusing. Here, front elements inside the lens move to focus, instead of all the elements. Expect the focal length to change slightly when you focus.
MACRO – Macro lenses. These lenses are designed to provide a macro magnification of the scene. True macro photography needs a magnification of 1:1, so make sure you check the specifications of macro lenses. They also allow for a closer minimum focusing distance.
OS – Optical Image Stabilization. This feature is the stabilization found in longer lenses and aims to reduce camera shake with handheld shots. It also allows the photographer to reduce the shutter speed in such situations.
RF – Rear focusing. These lenses focus using the rear elements, making it faster and quieter than front focusing lenses.
S – Sport. You'll find this on fixed and zoom telephoto lenses, which are designed for action photography. They are expensive and will host fast apertures.
SLD – Special Low Dispersion. These elements aim to remove or reduce chromatic aberrations.
TSC – Thermally Stable Composite. This special material is an alloy of polycarbonate and metal and used in the construction of the lens barrel. It offers elasticity, meaning that lens elements will not warp in adverse temperatures.
Check out our guide to Nikon, Canon, Tokina, Sony or Tamron lens abbreviations next!