Street light photography can be a lot of fun, and it can also produce some stunning results. In this article, we'll discuss the best street light photography tips for better photos. We'll provide tips on how to use each setting effectively, and we'll show you some stunning examples of photos that were taken with these settings.
Versatile Lighting Skills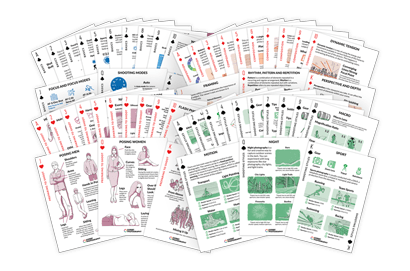 Quick Capture Cheat Sheets
Learn the tricks of the trade to create stunning street photography lighting with our easy-to-follow cheat sheets.
Planning for Street Light Photography
If you're working with sub-optimal light, there is some gear that will make your life easier.
And your street photos better!
I always bring a:
I didn't start out with all these. I started with an old camera restricted to ISO 100, and I lugged a kitchen stool around as a tripod.
But they are useful pieces of equipment that reduce the need for post-production.
They also keep your images as sharp as a tack. And make the difference between a fantastic photograph or a photograph to delete.
Taking Photos on Grey and Rainy Days
Photographing in rain or low cloud is uncomfortable. Low light causes color in your photographs to appear dull and muted. You get distracted by cold feet and wet gear. This is when black and white photography is your friend. Although the light is dull, at least it's even so there are no strong contrasts to worry about.
Black and white reflects the sombre nature of the weather. It's great for showing emotion in faces of passers-by. It also emphasises lines, shadows, and textures. These replace the punch that color provides.
A black and white photograph in gloomy weather can show emotion. Even without people in the frame.
Look around for subjects that include these dynamics. You'll convert to black and white and adjust clarity in post-production.
Street Photography Lighting Options for Overcast Days
Regardless of your color choices, your camera sensor still needs adequate light.
You've got a few technical options for dull weather street photography:
Don't completely disregard color photography in doom and gloom weather. Look for bright colors such as oranges and reds – particularly if they're shiny from rain.
A burst of color in a dull weather photograph can lift spirits and tell a great story.
Photographing in Bright Sunshine
A bright sunny day makes my heart sink. I can expect strong contrast and harsh shadows. Also a demanding white balance that needs regular adjusting, and people blinking.
It's difficult to reveal detail in the shadows without blowing out the highlights. And color is flat and washed out.
But loads of photogenic things happen on the streets in this weather. And I don't want to miss out on them. This type of light allows you to get creative with shadows in photography.
Some tricks I use with bright daytime street photography are:
Consider using a zoom lens in bright weather. Focus on details and small scenes where you control the light.
Explore subjects under shop front verandas or awnings. Try photos in alleyways and doorways, or under the shade of large trees or shrubs.
Night Photography and Low Light
Darkness and semi-darkness (blue light) on city streets at night make for great photos. You can use the artificial light shining around you.
Understanding manual night photography settings is important for low light photography. You need a tripod and a shutter release. That way you can slow the shutter speed right down without camera shake.
A tripod will also enable you to keep the ISO at 100. This produces clean and noise-free photographs.
Some tips and techniques to try:
Conclusion
Don't feel disheartened with poor weather and light. You can tell a great story through your street photography. Even when mother nature is against you.
Practice in sub-optimal light conditions to increase your skill and confidence.
And when you do have that perfect light day, you'll be even more prepared to capture great photography.

Versatile Lighting Skills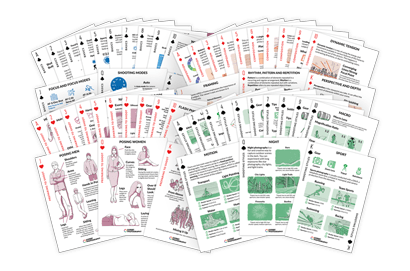 Quick Capture Cheat Sheets
Learn the tricks of the trade to create stunning street photography lighting with our easy-to-follow cheat sheets.