If you love photography and the ocean, you should definitely try marine life photography. While it may seem intimidating, with a little knowledge and preparation you can capture some stunning photos of the ocean's inhabitants. Here are seven tips to help you get started.
eBooks and Courses for Everyone
Marine Life Photography Tips
7. Photograph Underwater Life to Draw Attention to Environmental Concerns
Under the surface of the water is incredible life, vibrant colors that can bring you into a world removed from the noise.
Photographing this world is an incredible experience. It'll help you improve your technical photography skill. But it'll also make you appreciate the world we swim in.
Some artists create stories surrounding the current topics of the environment. They do this in order to help raise awareness of these concerns.
Christine Ren teamed up with Brett Stanley to tackle trawling on the ocean floors.
Starting with a storyboard created by Joe Hoddinott, the team spent time in the Bahamas to photograph a powerful concept.
Their behind the scenes video is an amazing way to understand how we can contribute to help save our oceans.
Photography has always been a great way to draw emotion and support for many causes.
If you are new to ocean or open water photographer think of all the possibilities in which you can help.
6. Keep Your Gear Protected During Marine Wildlife Photography
Photographer Dave Block travels for his work and recently started shooting below the surface.
Block suggests creating a routine for yourself for O-ring maintenance. This is crucial as one slightly pinched O-ring will cause flooding in your housing.
Tasks like this can be done in a quiet place free from distractions, where you check/clean/lube your O-rings at the beginning of your dive day.
Patience is key to shooting marine life. Rushing a shot may lead to you missing out on an amazing possibility. It can also endanger your life.
Below the surface, red is one of the first colors that can be lost. This can be alarming to
new photographers
when they get back to work on their edits and see all blue.
It works in some images, like the ring of fish above. Other times you will want to capture those vibrant sea life colors.
5. Personal Safety Tips for Underwater Photography
Planning an underwater photo shoot should always start with safety.  Shooting in this environment, whether a pool or open waters, can be dangerous for both you and your models.
Some important tips to keep in mind are outlined below.
Shoot with a designated person as a spotter/safety diver. They can keep an eye on your model and move faster than you if needed.
Do not do something unsafe just to get the shot! This is true anywhere but doubly so in open water. There are just too many things that can go wrong.
If you are in a new location, check with the locals if there are any dangers you cannot see from the shore.
Check if your model is getting tired or cold.
Photographer Sarah Teveldal offers a great visual for the types of safety precautions she takes during her dives.
Other safety concerns are regarding if you are photographing models.  Remember that although the shot may look amazing with a long flowy dress, it can also mean difficulty swimming.
Some models are experienced with underwater photography and the types of restrictions clothing can put on them.
But there have been far too many cases where a photographer takes a bride to the ocean for a shot in her dress and she becomes entangled.
Work with professionals when attempting this type of shot. They also are experienced in free diving allowing for longer and better breath holds.
4. What to Bring on a Marine Photo Shoot
Ocean photography can be harsh on you as the photographer. The currents can move you around, scraping and pushing you against the ocean floors.
Having a wetsuit, or dive skin will help reduce the damage on your body.
Have suitable housing for your camera and know that housing well.
If you are not familiar with your gear above the water it will be a disaster under the water. You'll have minimal time to get the shot.
Research the housing that works best for you, and then learn it inside and out. If you are prepared prior to your ocean session you will be more comfortable when an issue arises.
Bring a GoPro or similar to attach to your camera. Getting behind the scenes footage is great for your website.
While getting lost at sea is uncommon on these shoots, currents can be dangerous. SMB (Surface Marker Buoy) and dive lines are important. They'll help the diver find the boat after the shoot.
Most dives for ocean photography are done on shipwrecks. Attaching the dive line will help you find your way back.
3. Ensure Models Are Comfortable When Photographing Portraits Underwater
Use flotation devices to allow the models to rest.
Supply them with goggles so they can clearly see the area when resting. This will help prep for the next shot.
Consider all angles when shooting so as not to limit yourself.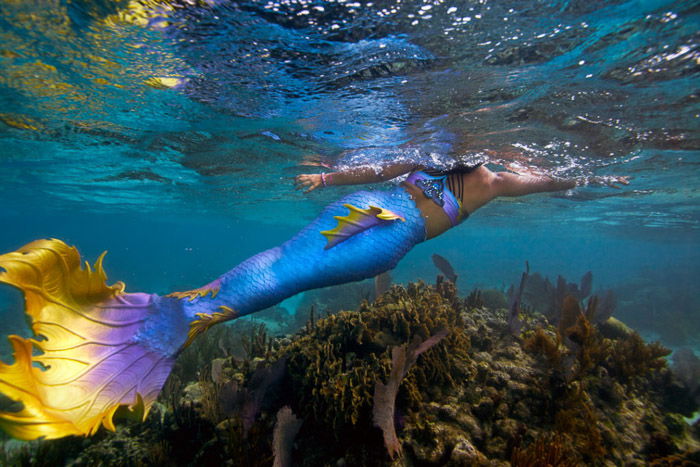 2. Use a Wide Angle Lens to Capture the Environment
If you are shooting in a pool, a wide angle lens set at one spot is great. It will give you more control over the situation.
When you travel to open waters and depths requiring scuba gear or free diving, you will want a zoom lens.
This will give you more options when the current is working against you towards or away from your subject.  
In pool portrait photography, once you have your background set up you generally tend to stay put.
In open water, you are photographing not only the model but the entire environment surrounding them.
A last important tip is to understand the water body in which you are working. Salt water is more buoyant than fresh. You might need more weights to help with control.
Most underwater photographers agree early morning and late afternoon with the possibility of backlight is the sweet spot for this work.
The closer you are, the less water between you and the subject. Water reduces clarity, color, and sharpness so your position and the option of zoom will be helpful.
Many underwater photographers will use strobes or some light source to reduce backscatter as well.
Twenty feet or less below the surface will allow for ambient light to help your shot.
1. Photograph in Fresh Water Springs If You Don't Have Access to Open Water
If shooting in the ocean is not a possibility but a pool concept is not what you desire, freshwater springs are a great alternative.
Visibility for your client or model is sometimes easier than ocean photography. It does not require a boat but can be limiting if there are swimmers in the area.
Boudoir clients love this location as they can work above and below the surface for great shots.
When photographing portraits rather than sealife, create more impact with your angle to show the depth of the area.
Most springs will have either one or more outputs so I tend to find the largest one to photograph.
Research the locations you will be shooting in. Some are state parks and have rules to abide by when photographing the area.
In the picture below, we were not allowed to dive. The depth we were able to shoot at was limited.
Placing my model just above the spring created a dramatic shot.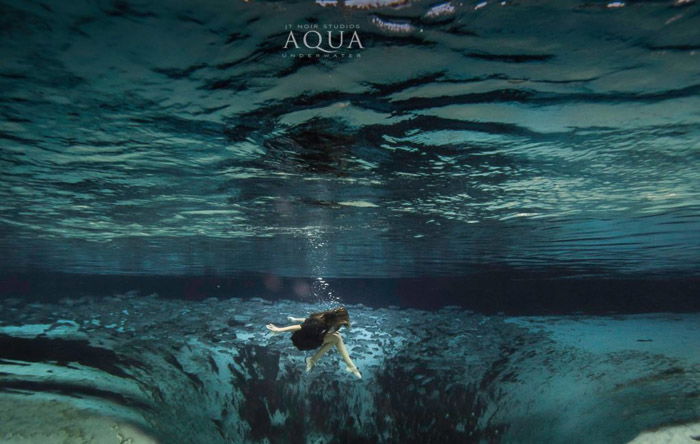 Conclusion
In any genre of underwater photography, whether springs, oceans or another, always remember you are in their world.
Be mindful to sea life, coral, and all other aspects of the water. There is no shot worth destroying nature under the surface.
Make sure models are never posed touching or harming the wildlife. Our job as underwater photographers is to bring respect to the world we photograph in.
You can also edit your underwater images after taking them.
Why not check out our new post on mermaid photography next!


eBooks and Courses for Everyone