Whether you are a beginner or a professional, you've definitely heard of Canon cameras. They are one of the biggest and most popular digital camera producers. They are one of the biggest and most popular digital camera producers.
But which Canon camera is the best for you?
Tricky. There are many factors to consider, such as sensor size, autofocus abilities, and price range. Besides, Canon has plenty of models to choose from.
Looking for a Canon camera? Our list of the best Canon cameras makes your decision easier.
[ExpertPhotography is supported by readers. Product links on ExpertPhotography are referral links. If you use one of these and buy something, we make a little bit of money. Need more info? See how it all works here.]
What You Need to Know About Canon Cameras
The company was founded in 1937 by Takeshi Mitarai. Canon has made several breakthroughs in the early years, such as introducing the first zoom lens for television broadcasting.
They have been known for creating rangefinder and SLR (single-lens-reflex) cameras. They have introduced the Canon Electro-Optical System (EOS) in 1987, which is the base of their digital cameras ever since.
If you are a professional photographer, you are familiar with the Canon DSLR and mirrorless cameras. Among these, you can find many of the leading products of the photography market. It is no accident that Canon has climbed its way to the top and maintained its leading position for decades.
So, let's dive into our detailed list of the 14 best Canon cameras and find the one that fits you the most!
Best Canon DSLR Cameras
DSLRs for Professionals
This 26.2 MP full-frame camera is the best option if you are looking for an affordable Canon full-frame. Its Dual Pixel autofocus and 45 cross-type AF points ensure accurate focusing in every situation.
The camera also allows you to create 4K time-lapses, automatically combining the taken images in sequence.
The camera is pretty lightweight (765 grams), which makes for a portable and easy-to-use camera body. It is also dust and water-resistant, making sure you can shoot in bad weather or the middle of nature.
The GPS, Bluetooth, and Wi-Fi compatibility allow your camera to connect with other devices, resulting in an easy image transfer.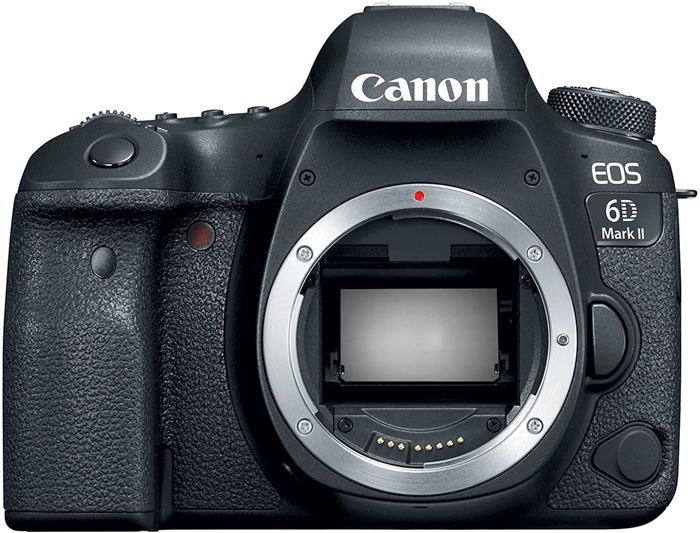 This is one of the most advanced cameras on this list. It offers a 30.4 MP resolution and a widely expandable ISO range of 100- 32 000 (50- 102 400). This means the camera will handle low-light situations perfectly.
The Dual Pixel AF combined with the Touch AF result in a highly reliable and accurate autofocus system. It also offers 4K video shooting, with a built-in frame capture option. This will allow you to freeze videos and save high-quality images.
The body is a lot lighter than you would expect, at less than 800 grams. If you are looking for a prosumer, sturdy and reliable camera with exceptional image quality, you should definitely check out this one!
This camera body is Canon's best and most professional DSLR camera. It has a full-frame sensor providing a 20.1 MP resolution.
It includes a new processor with an ISO range of 100-102400 (expandable to 50-819,200).
The new autofocus system does not only provide 191 focus points. It also uses deep learning technology to identify the subject and track it through the frame. The focus is fast and accurate, making this camera perfect for sport and event photography.
There are other outstanding abilities, such as the 16 fps continuous shooting, the dual card slots, and the built-in Bluetooth and Wi-Fi.
DSLRs for Beginners and Enthusiasts
This is a higher-end crop sensor body from Canon, with a resolution of 32.5 MP and burst shooting up to 10 fps.
The Dual Pixel AF ensures accurate and fast autofocus, alongside 45 cross-type autofocus points. The autofocus system is outstanding for the price range. It also includes eye-detection AF into this model, which is especially useful for portraits.
The 4K video shooting possibilities and the Full HD 120p are good enough for budding videographers. There are also built-in Bluetooth and Wi-Fi, which ensure maximum compatibility and efficient workflow.
The 24 MP sensor of this APS-C camera allows you to take high-resolution images while having a portable and affordable camera body.
The camera includes 4K video capabilities and impressive low-light performance. It provides clear, sharp, and high contrast images in every setting.
The Dual Pixel autofocus system, alongside the cross-type autofocus points, ensures accuracy and speed. In Live View mode, there are 143 focus points available, which is an unusually high number for a mid-range crop sensor camera.
The Bluetooth and Wi-Fi are features that improve the camera's compatibility with other devices, resulting in a smooth workflow.
This is the best entry-level Canon DSLR on the market. The 18 MP crop sensor lets you take well-lit pictures even in difficult lighting conditions.
The intelligent auto modes make the use of this camera easy for those who are just starting in photography. There are also creative filters available that you can apply to your pictures right after shooting.
The Wi-Fi and the Canon Connect app allow you to instantly share images on social media or back them up in a cloud service.
Best Canon Mirrorless Cameras
This is Canon's newest and most advanced mirrorless camera. It includes a variety of revolutionary features that open up new worlds in the mirrorless camera industry.
Its Dual Pixel autofocus system consists of 1053 points and uses Deep Learning to track moving subjects throughout the frame. It has a burst rate of 20 fps.
The video capabilities are also outstanding, and you can shoot 8K video at 30p and 4K at 120 p. This makes the camera a good choice if you want to get into niches that require videography, such as event or wedding photography.
The body is sturdy and weather-sealed and has a fully articulating LCD screen. The dual card slots and the Wi-Fi support are also remarkable features of this camera body.
This body leads the market in the lower end mirrorless cameras without a worthy competitor.
Due to its small size, it is perfect for street photographers and vloggers. The tiltable LCD screen also makes it perfect for making 4K videos.
It is also suitable for action photography to its high-speed continuous shooting. The 26 MP resolution ensures that you are getting quality images in every situation.
The Dual Pixel autofocus and the updated firmware ensure accurate focusing in a fraction of a second. The camera offers eye-detection AF, which is a useful tool for taking portrait photos.
If you want to know more about this camera body, check out our review!
This higher-end mirrorless camera has a 20 MP full-frame sensor and an ISO range of 100-102,400 (expandable to 204,800).
The high-speed continuous shooting allows up to 12 fps with a mechanical shutter and up to 20 fps with an electronic shutter. You can use this feature for sport and action photography.
It also offers subject tracking autofocus of people and animals using deep learning technology. You can choose between eye, face and head detection autofocus.
You can shoot 4K videos up to 60fps and full HD videos up to 120 fps. This, combined with the improved focusing system, makes this camera great for videography. Other extra features include dual card slots, built-in Wi-Fi, and Bluetooth.
This mid-range mirrorless camera body offers an APS-C sensor, shooting in 32.5 MP resolution. It is capable of an impressive high-speed continuous shooting of 14 fps, making it perfect for shooting live-action events.
This camera has 143 focus points, which cover the whole frame, providing more accurate focusing. The Dual Pixel autofocus has an eye-detection option which is especially useful for portraits.
It has many features that will make your photography workflow easier. These include an adjustable LCD screen, Bluetooth and Wi-Fi connection, and even a touchscreen and webcam function. The video capabilities are also outstanding, with the opportunity to shoot 4K 30p videos.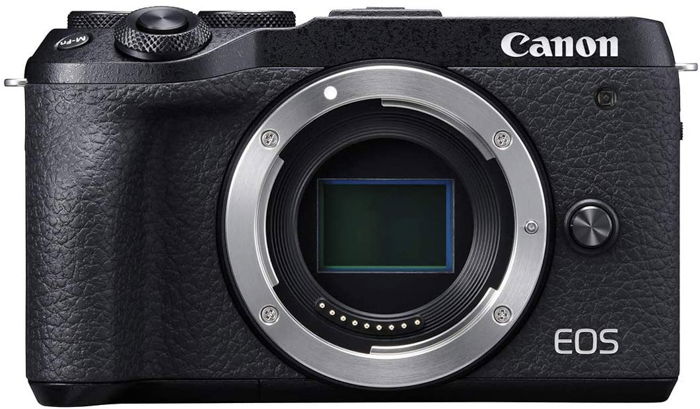 This is a lower range Canon mirrorless camera is a good pick if you're looking for affordable cameras with great optical performance.
The 24.5 MP crop sensor and the Digic 8 image processor ensure that your photos have clear details, accurate colours, and a high dynamic range.
The Dual Pixel technology ensures fast and accurate autofocus, which, combined with the eye-detection AF, make M50 a great portrait camera even in low-light situations.
To improve compatibility with multiple devices, Canon has included Wi-Fi, NFC, and Bluetooth.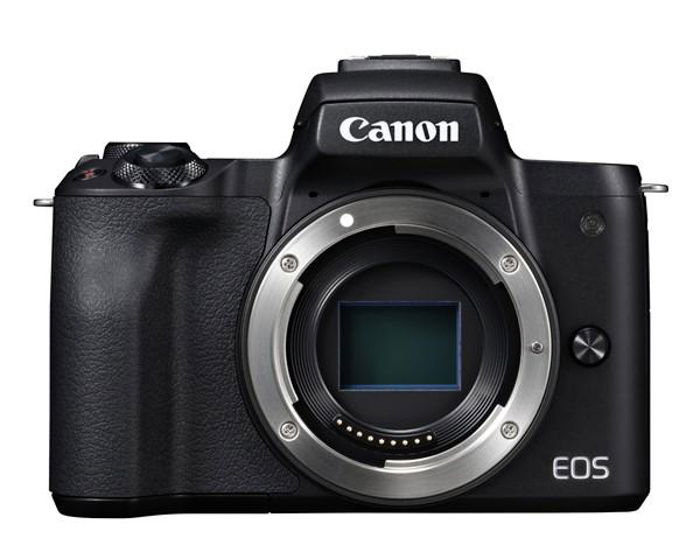 Best Canon Compact Cameras
This is a high-end compact camera whose abilities are similar to the lower-end DSLR bodies.
Canon has updated the sensor and processor compared to the previous model, which results in improved performance. This includes 8fps continuous shooting, 4K 30p video recording, and full HD 180p slow-motion video capabilities.
The sensor is 20 MP, and the camera has a 24-120mm equivalent f/1.8-2.8 lens. The aperture range allows you to delve into various genres of photography, from portraits to events.
One unusual element of this camera is the pop-up electronic viewfinder, which gives the camera a unique look. Additional features include built-in Bluetooth and Wi-Fi.
This camera is aimed at those who are looking for an upgrade from their smartphones.
The 24-100mm equivalent f/1.8-2.8 lens makes this camera highly versatile. The wider end of the zoom range is great for landscape, street and event photography, while the 100mm is better for portraits and action photos.
The 8fps burst shooting could compete with even some mid-range DSLR models. The 4K video capabilities are also worth mentioning. Considering the price of this camera, it is definitely a good value for money.
This camera has a 20 MP sensor which is a relatively high resolution for a compact camera. Other features include a built-in ND filter, a tiltable LCD screen, plus Wi-Fi and Bluetooth compatibility.
This is a higher-end compact camera with a 24 MP APS-C sensor is larger than any other compact cameras out there. Canon has used it's renowned Dual Pixel autofocus system to improve this camera's focusing abilities.
The lens is 24-72mm equivalent with an f/2.8-5.6 aperture. This isn't outstanding, but it still makes the camera suitable for various niches of photography.
The 9fps continuous shooting and the full HD 60p video recording features are also worth mentioning, alongside the tiltable LCD screen.
It offers Wi-Fi and Bluetooth connectivity and in water and dust resistance up to a certain degree.
Conclusion
Canon is a brand that offers cameras for photographers on every level, from beginners to professionals. You can choose between DSLR, mirrorless, and compact options. Whether you decide on an entry-level or a more advanced camera, Canon will definitely have a model that suits your needs.
If you are looking for affordable but professional Canon cameras, EOS R5 and 6D Mark II are the finest choices.
We hope that our article helped you choose the best Canon camera for your needs!
Found the best Canon camera and looking to experiment? Check out our 30-day Wow Factor Photography Course to create mind-bending photos right at home.