Cinemagraphs are one of the latest trends for sharing animation stories on online platforms. If you are familiar with them, you will know they are neither a photograph nor a video, but something in the middle.
You might be wondering how those magical effects are made. The truth is that creating cinemagraphs is very simple, especially using cinemagraph apps.
We have gathered the 15 best apps that make pictures move for you to learn how to create them in seconds.
eBooks and Courses for Everyone
15 Best Cinemagraph Apps
A cinemagraph is a visual art form consisting of a still photo in which one part is animated. The selected area plays in a never-ending loop, forming a short video clip.
Also called 'moving pictures', cinemagraphs have become popular to grab the audience's attention. They are usually found in advertising and social media.
If you are a photographer, cinemagraphs can make a great addition to your portfolio.
If you want to explore this trend and create images in this format, this post is for you. We will help you find the best cinemagraph app to create masterpieces easily!
If you have an iPhone or an iPad, the best photo moving app we can recommend is Cinemagraph Pro for iOS.
This is a great tool for those who are starting in this trend. It provides tutorials on how to use the app and get the best out of it.
Cinemagraph Pro allows you to add filters to every frame of the video, enhancing the visual experience.
Aside, the app offers a large gallery of cinemagraph creatives. You can scroll on this gallery to get inspiration to create the best moving picture.
To use the app, you need to upload your video and select the part you would like to animate. The rest of the video will remain still.
The Cinemagraph app also has a version for Android users. This app is straightforward to use, perfect for those who don't want to spend too much time with complicated software.
The app works exactly like the iPhone version. You need to select the area you would like to animate and the one you would like to maintain still. Yet, for this version, all footage must be filmed with the app's camera, unlike the iOS Pro version.
Still, a great option for those Android users that look for a user-friendly cinemagraph app.
Clipgraph is a photo motion app that features minimalist software. Its interface makes it easy for users to create content in seconds.
The disadvantage of this app is that it doesn't come with any special effects or filters. Also, you cannot share the content directly from the app to social media.
Yet, it is a great cinemagraph software, and it is available for both Mac and Windows users.
One of the best Android apps to create cinemagraphs on the go is Fotodanz. Its simplicity allows you to film images and video directly from the app. After that, you can easily use your finger to select the areas of the video you'd like to animate. As easy as that.
Fotodanz features a great interface for those users new to the technique.

Zoetropic is one of the best cinemagraph apps available for download. It features exclusive overlays for images and videos. Aside, it comes with an audio library where you can pick a soundtrack for your moving picture.
The app works by setting the motion points on a still picture, which you blend to create the motion effect. Once you have done this, you can customize your motions with audio and visual effects.
This app is good for beginners who wish to practice with still images before starting to edit videos.
Draw Motion app is a versatile cinemagraph software. It is available for both Android and iOS users. The app is easy to use and enables you to create cinemagraphs using a video or a Live Photo.
Aside, the app comes with a great video stabilizer feature. This feature allows you to enhance the quality of your videos.
The app offers quick share buttons to publish your content when you are on the go. Aside, you can export cinemagraphs to different formats in desired quality.
The app is free, but you will have to pay a couple of dollars to remove the watermark from your creations.

Motion Stills is a cinemagraph software and time-lapse app created by Google.
This app, suitable for Android and iOS, comes with several editing tools. One of them is a video stabilization feature that will make your videos appear like still images.
Motion Stills offers several features to create great content. Aside, it lets you create movies by combining clips with a simple swipe.
Lumyer is an app that enables you to apply high-quality animated effects to your images. This is a great app to have fun by creating cinemagraphs and sharing them with your friends.
As an example, you can add to your images fireworks, moving lips, or flowing hair.
Lumyer is a great app for creatives. You can experiment with special effects you will not find in other cinemagraph apps.
Vimage is a different kind of app for creating cinemagraphs. It does not take the animation from the original video. Instead, you can choose from a gallery of hundreds of effects, filters, presets, and animations that best suit your photo.
The multi-award-winning tool offers high-quality effects to animate any still picture in seconds.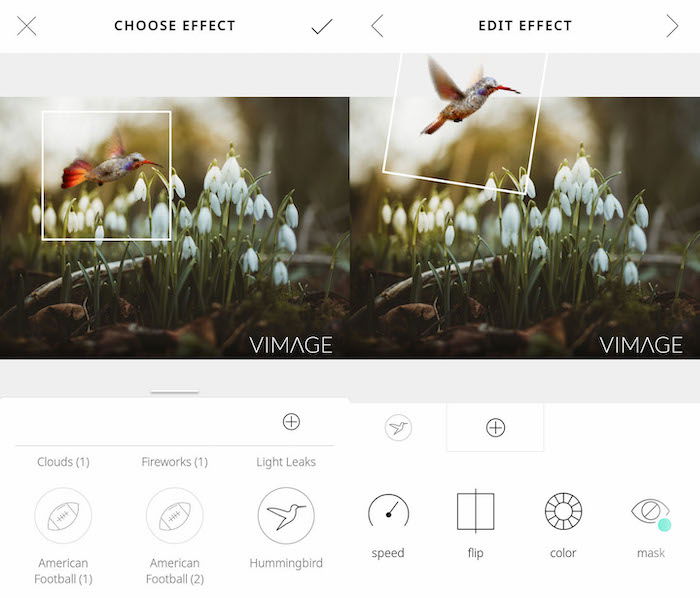 PICOO Camera is a great cinemagraph app if you use an iOS device. This app works by highlighting a topic spot on your photo and then recording dynamic movements in it.
After capturing a living photo, you can add different filters to it. You can also visit the Explore section to get inspired for your next creation.
MaskArt is another iPhone app designed to create amazing cinemagraphs easily.
This cinemagraph animator provides a user-friendly interface. It allows you to select what part of the picture you would like to keep moving by touching with your finger.
MaskArt is one of the best cinemagraph apps at no cost. Yet, it is only available in the App Store for the United States.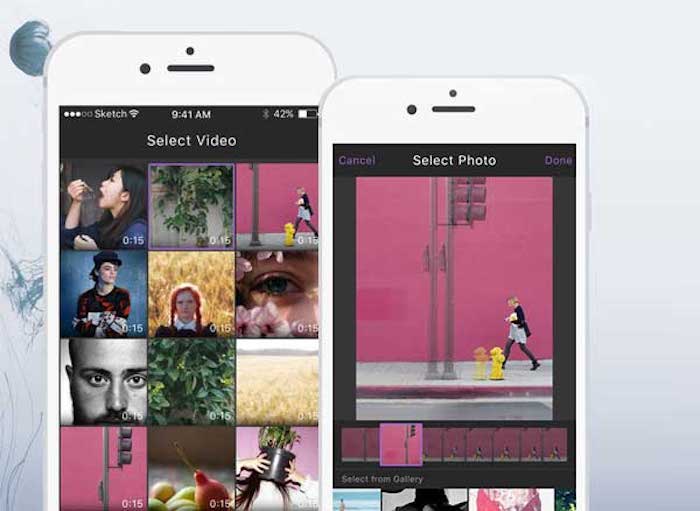 Lumia Cinemagraph is an app designed for Microsoft mobile devices.
This cinemagraph maker comes with intuitive software. Aside, it features on-screen assistance to help you create moving pictures easily. Perfect for beginners.
After creating a cinemagraph, you can export it as a GIF file or share it via social media, email and messaging.
The only disadvantage about Lumia is that it exports GIFs as regular JPG files. Also, such files can only be viewed on Lumia devices.
Loopsie is a unique cinemagraph app available for iOS and Android devices. It is easy to use and comes with a stabilization algorithm. This feature helps you create amazing cinemagraphs without extra equipment.
This cinemagraph maker enables you to edit your photo's depth. Aside, you can apply 3D stickers and add virtual lights and shadows.
Loopsie also comes with 3D photo processing. This estimates the depth of every pixel to reconstruct a 3D environment from a single photo.
You can download Loopsie for free, though it comes with in-app purchases.
BLINK Cliplets is one of the best cinemagraph apps available for Windows 7 devices. It comes with a streamlined interface, allowing users to create cinemagraphs out of 10-second video clips.
The application is easy to use: import your video and use the mouse to cut the element you want to keep in motion. The rest of the video will be static. Once your Cliplet is saved, you can export it in GIF format by clicking on the "Export Cliplet" button.
Liquivid Easy is a cinemagraph software only available for Mac. It features a simple interface design, making it easy for its users to create living photos.
Liquivid Easy Cinemagraph comes in five languages. It works by importing a video and selecting the areas you wish to remain static.
The app features 23 visual effects with six blending modes. In addition, it comes with presets with several aspect ratios. This way, you can share your creations on every social media platform.
Conclusion
Cinemagraphs are a fun, different way to communicate visually. The best part is that anyone can create a cinemagraph, as plenty of apps make it incredibly easy. No doubt why cinemagraphs have become popular on social media in the last few years.
There are many fun cinemagraph examples to get inspiration from. And with one of the apps in this list, you'll have everything you need to get started with your own cinemagraphs.
We hope we have helped you figure out which cinemagraph maker is right for you. We are sure that by using these apps, you will become a cinemagraph pro in no time!
If you want to learn more about making stunning cinemagraphs, check out our Magical Photography Spellbook eBook!


eBooks and Courses for Everyone