I think I'm in love.
Almost every week, I receive an email from a photographer who's trying to promote something new.
Usually an ebook, a Kickstarter, or an event of some sort.
I never share any of what gets sent my way, as it usually doesn't fit in with the purpose of this website (or it's just not very good).
But today is different.
What I'm about to share with you wasn't sent to me (I found it), but it is definitely something I feel you should know about.
And here's why…
If you've been following this site for long, you'll have noticed two things:
I don't process my images all that much
I love shooting on film (that look and feel is unbeatable)
But there's an issue.
I've not shot on film all year because I'm traveling. It's hard to find anywhere that can process the film to a high standard, and then provide me with hi-res scans onto a memory stick.
So I sent my film cameras home, and I've been 'lugging' it out with my digital ever since.
I'd lost the authentic film look that I crave… until now.
Since December of last year I've been using the Mastin Labs presets made by my friend Kirk Mastin, which he sent to me in return for a favour.
I love using them, and recently he's released some new B+W presets, which emulate the classic look of Ilford's B+W film, including HP5, Pan F, and Delta 3200.
And well… I just had to have them.
They're built for both Adobe Lightroom, and Adobe Camera Raw.
The results speak for themselves.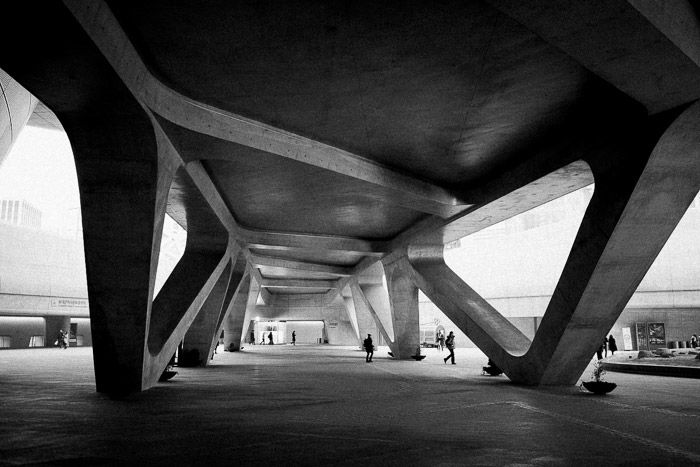 Kirk has been absolutely meticulous in creating these gorgeous presets, which I use to process my photos in as little as three clicks.
(check the image captions to see the settings I chose)
Lets have a look at some of the photos I've processed with these presets…
This photo was taken at dusk, and I particularly like the way the water looks almost metallic.
Shot at a fish market in Busan, Korea, the sheer number of colours makes it a very busy photo to look at. However, when you convert it to black and white, it creates a very interesting dynamic range of tones.
Textures always look more interesting in black and white, which is why the hair in this photo compliments the tone of this photo so well.
Believe it or not, the plant that's occupying the majority of the frame is actually yellow, but the overcast weather meant that it was very soft, which looks great in Black and White with a red filter.
Taken in Shanghai, this photo was shot from the hip, but I could never work out how I should process it.
It didn't really work in colour, but using the Delta 3200 preset, the added grain added a very cool texture to the photo.
When I'm traveling, I do my best to get off a bus in an area I don't know, and just start taking photos.
I came across this indoor market in Ningbo, China and I really like the contrast between the two halves of the frame, and the overall texture which is highlighted by the Pan F preset.
Found in an arcade in Tokyo, Japan…
Ms. Lauryn Hill at a concert in a Roman Amphitheatre in Pula, Croatia.
With so much colour going on at once, it can be a little overwhelming. I decided to take a step back and take a contextual photo of the photographer's pit.
As the sun was very low in the sky (winter), it outlines the ladies on the right, and this looks awesome in black and white.
Shot with my new Olympus EM5 mk ii, I processed this without a colour filter. If I were to change the filter colour, this man's orange jumper would have changed shades dramatically.
[Note: ExpertPhotography is supported by readers. Product links on ExpertPhotography are referral links. If you use one of these and buy something, we make a little bit of money. Need more info? See how it all works here. — Ed.]
A Style That Suits You
When I've shot on black and white film in the past, I've tended to use HP5, as it's the most readily available film.
But as it turns out, I far prefer the look of Pan F as I like my B+W photos to be quite contrasty.
The great thing about presets though is that you're not tied to a particular film.
You can choose between all three film types, depending on what suits your photo the best.
Here's the films you have at your disposal in this pack:
Pan F – high detail, low grain, rich contrast
HP5 – higher dynamic range, softer contrast, faster film
Delta 3200 – very fast film, lots of grain
You can buy them here, and save 15% (applied at the checkout).
Have a look at the comparison I've made below:
Save Time, Save Money
I've said it before, and I'll say it again…
The less time I can spend in front of a computer, the better.
Each of the photos you've seen in this post were processed in 5 clicks or less (minus exposure and vignette adjustments).
It's like having the power of a RAW file over a piece of film – you have total control to make it look however you want.
And lastly, lets not forget how much money you'll save. In England, a roll of B+W film and development can easily run you £15-20 ($24-38) for 36 photos.
It doesn't take long for the economics of these presets to make sense.
You can buy them here, and save 15% (applied at the checkout).
You should also check out our ultimate Mastin Labs review.