The animal world is full of amazing photo opportunities. So we've come up with 30 unique animal photography examples for you.
This is the best place to start if you want to come up with exciting ideas or motivate yourself to improve your animal photography.
eBooks and Courses for Everyone
30 Animal Photography Tips to Inspire You
Bookmark our page so you can come back to it again and again for ideas. It's the perfect number to work through in a month!
1. Take Glowing Photos During Golden Hour
There's a lot you can do with animal photography during golden hour.
Golden hour occurs after sunrise and before sunset. You can use it to take photos from all kinds of angles. All without worrying about overexposing or underexposing your photos.
2. Use Window Light to Take Moody Photos of Your Cat
You don't need a lot of professional equipment to take professional photos of animals. If you have a pet, you can practice by using window light.
Instead of using direct window light, use different angles.
Side lighting, which lights half of your subject's face, can create a beautiful gradient.
3. Focus on the Eyes to Make Your Photos More Expressive
Just like portrait photography, animal photography relies on the eyes.
To take expressive photos, get on the animal's level and focus on its eyes. For the best results, make sure the animal looks directly into the lens.
You can do this by capturing its attention with rewards or harmless sounds.
4. Use a Zoom Lens to Capture Unique Moments
To become a professional animal photographer, you need to invest in a zoom lens.
You can use zoom lenses to take sharp photos of animals from a distance. This will come in handy if your subject is too far away to catch up with or if they're dangerous.
5. Use Shutter Speed to Take Incredible Action Shots
To take detailed photos of your pet in action, you need to familiarise yourself with shutter speed. Shutter speed will determine how quickly your camera takes a photo.
The right shutter speed will allow you to take all kinds of action shots. This is ideal for owners of energetic pets who can't sit still for a photo!
6. Put the Focus on Your Subject Using Aperture
A blurred background like the one above is easy to achieve.
Look for a number on your lens. It might say something like f/1.8, f/5-6.3, etc. This is the largest possible aperture you can work with.
The larger the aperture (the smaller the number), the blurrier you can make your backgrounds. An aperture of f/1.2, for example, will result in a soft backdrop like the one above.
This will help you blur out distractions and focus on your subject.
7. Document the Relationship Between Animals to Make Your Photos More Emotional
No photo is complete without a story. To make your animal photos more emotional, tell stories through your subjects.
The best way to do this is to photograph them interacting. For example, the Atlantic Puffins in this photo seem to be talking to each other.
Finding such moments isn't easy, but it will help you find potential in simple interactions.
8. Find Patterns and Similar Colors in Simplicity
Some of the best animal photos are simple and pleasing to the eye.
Most animals have beautiful patterns that deserve to be photographed in the best light.
Find these patterns, colors, and lines to take breathtaking images.
9. Take Photos of Animals with Their Favorite Things
Every animal has something it loves, be it a specific food or a toy. Documenting this is an easy way to make your animal portraits more personal and interesting.
If the animal is a pet, its favorite item will make it feel comfortable in front of your camera.
10. Take an Epic Group Photo of Horses Using a Wide-Angle Lens
Horses are majestic creatures, especially when they're together.
Take photos of them using a wide-angle lens. This will let you capture as many details and surroundings as possible.
11. Capture an Animal Mid-Yawn for Amazing Results
Yawns can help you take hilarious or impressive photos of animals.
To sharply capture something as quick as a yawn, you need to be familiar with shutter speed. Check out idea #5 to find out more.
12. Take Photos of Animals to the Next Level Using Your Editing Skills
Editing is an essential part of any photography style. Even if you don't like Photoshop, you can still use other editing software to enhance your photos even a little.
Editing is great for restoring shadows in dark photos. You can mute highlights in overexposed shots and correct distracting colors.
13. Take Stunning Detailed Photos of Highland Cattle
You can take amazing photos of highland cattle using a zoom or macro lens.
These creatures are known for their majestic horns and furry bodies. These features are great for taking otherworldly photos.
14. Interact With Animals to Take Unique Outdoor Photos
Why not include yourself in some animal photos? Photos of animals interacting with people or their owners are unique and heartwarming.
Ensure the animals you interact with won't bite your hand off!
15. Take Photos Using Backlight to Create Magical Silhouettes
Sometimes, details aren't that important. To capture an atmosphere, take photos using backlight. This is light that shines behind your subject.
This will create a silhouette that you can use to emphasize specific shapes.
16. Take Perfect Animal Photos Using Foregrounds
Foregrounds are located close to the camera lens. With a large aperture, they usually get blurred out.
This makes them the perfect tools for simple yet eye-catching animal photos.
Use simple foregrounds, like grass and branches. These will add depth to your photos and put the spotlight on your subject.
17. Take Professional Photos of Horses Using Natural Light and a Black Background
A black background can make any photo look professional or moody. One of the best things about black backgrounds is that they're affordable and easy to set up!
This is perfect for horse photography, which often revolves around elegance and strength.
18. Use a Macro Lens to Photograph Your Pet's Eyes
Animal eyes are so detailed. It's impossible not to take unflattering photos of them. You can use a macro lens for your camera or phone to take amazing photos of eyes.
You can even turn this into a project where you photograph animal eyes exclusively.
19. For Sharp Animal Portraits, Use Manual Focus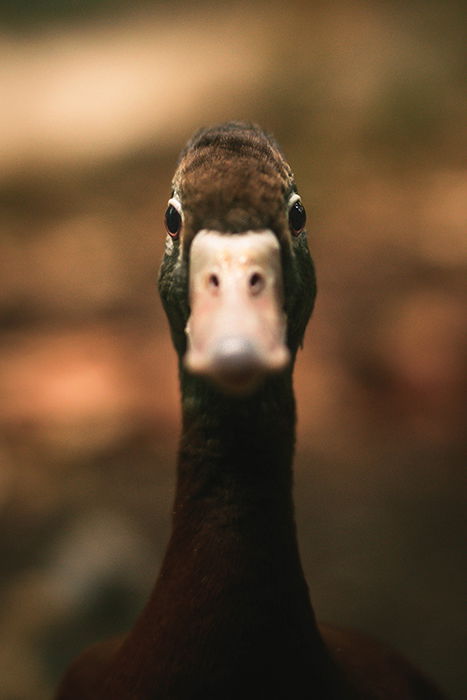 If you used autofocus to photograph the duck in the picture above, your camera would probably focus on the beak.
I recommend using manual focus when you want the sharpest results possible. This is especially important when working with calm animals like ducks and turtles.
20. Have an Adorable Outdoor Photo Shoot With Your Pet
You don't need to go far to improve your animal photography.
If you have a pet, practice by having photoshoots with it as often as possible.
Shoot outdoors to get better at working with a variety of natural light.
21. Use Unusual Angles to Take Outstanding Animal Portraits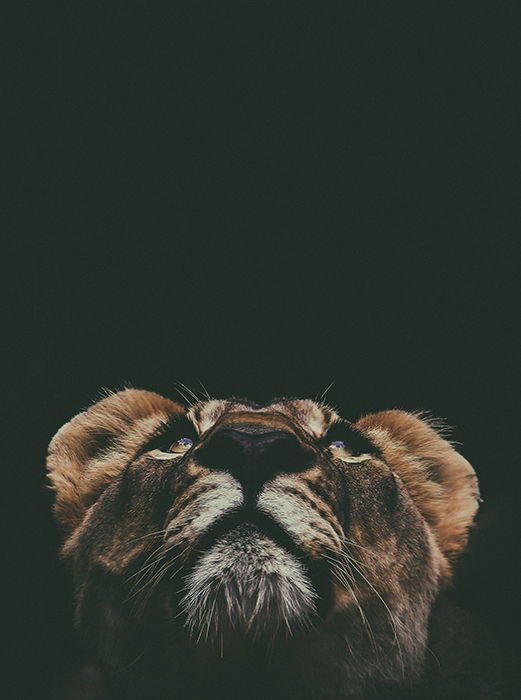 Animals look good from every angle. Feel free to experiment with different points of view.
The more unusual the angles, the more unique your photos will be.
22. Slightly Desaturate Photos to Put the Focus on Your Subject
Some locations are overly colorful. This can make it difficult to make an animal stand out. This doesn't mean you can't shoot in those locations.
You can use your editing program to desaturate your entire image. Or you can make specific colors stand out less.
23. Take Funny Photos of Your Pet Sleeping in Its Favorite Place
Funny animal photos are a necessity. One of the most efficient ways to take funny photos is to use your animal's sleeping patterns as inspiration.
Some animals, especially cats, have unusual sleeping preferences that are the perfect excuse to take great photos.
24. Use a Disposable Camera to Take Amazing Underwater Photos
It's unlikely that you live in a place with constant access to polar bears. But you can still take impressive underwater photos of different animals.
Underwater disposable cameras cost as little as $15. These can quickly improve your analog photography. Or, if you have a bit more money to spend, buy a proper underwater camera.
25. Take Enchanting Photos of Your Dog in an Outfit
Sometimes, all you need is a collection of adorable dog photos. Thanks to the uniqueness of different dog outfits, it's easy to take stunning photos of the same dog.
This will probably not give you photos worthy of publication in National Geographic. But you'll get better at using light and taking cool Instagram images.
26. Take Funny Close-Ups Using a Wide-Angle Lens
Another way to make the most of animal photography is to take funny close-ups.
To do this, all you need is a wide-angle or macro lens. Use one that will capture both an animal's eyes and nose.
Get as close to the animal as possible, ensuring its eyes are focused.
27. Improve Your Candid Photography By Finding Interesting Situations With Animals
Finding unique situations isn't easy, but it's definitely a great excuse to spend more time outdoors.
Observe different animals and their quirks. You might find something as interesting as the sleeping seals in the above photo!
28. Experiment With Different Formats to Make Animal Portraits More Interesting
You can make a simple photo look more interesting by cropping or enlarging it. Some photos look better as panoramas. Others look more appealing when they're cropped.
Experiment with different image formats to find a few that enhance your compositions.
29. Convert Your Photos to Black and White for Eye-Catching Results
If slight desaturation isn't enough, you can shoot black and white (B&W) or convert images to black and white.
High-contrast photos look even more amazing in black and white. If your photos are flat, make sure you add contrast to them before you convert them to B&W to avoid unflattering results.
30. Capture Your Pet's Quirks to Make Photos Both Adorable and Unique
In addition to having weird sleeping patterns, animals have a bunch of unique quirks.
Photograph your pet carrying unusual things or playing with "toys" that aren't meant to be played with. Or take pictures of them running around in their favorite place.
You can take this further by taking a self-portrait with them!
Conclusion: Unique Animal Photography Tips
Animal photography is open to animal lovers of all kinds.
Whether you're a cat person, a dog lover, or a wildlife photography enthusiast, you can enjoy this genre in whichever way you like without missing out.
Why not check our posts on the best adventure photography gear or how to use burst mode for perfectly timed shots?
eBooks and Courses for Everyone