Photography and film making go hand-in-hand. Some of the best cinematographers in the world studied photography.
Some of them, such as Sam Taylor-Wood and Anton Corbijn used to be photographers.
These photography movies are the best movies that reference photography. They include those where photography is a main part of the story, to others where photography plays a small, yet important part.

This war photography drama is set during the last days of the Somozoa regime in Nicaragua in 1979.
Three photojournalists are part of a love triangle while trying to make sense of the revolution through their images an political views.
Nick Nolte as a photojournalist is just one reason why this is one of the best photography movies.

One Hour Photo is a dark thriller featuring Robin Williams as a photo technician at Walmart. He ends up stalking a family, whose photos he regularly takes and develops.
A social commentary on how others enter our lives without our knowledge makes for a great photography movie.

A race track incident leaves the photographer, James Stewart, stuck at home with a broken leg.
His only view of the world is from his open window. He uses this along with his camera, to spy on his neighbours around him.
In one window, he is convinced he witnesses a murder take place. This is one of my favourite photography movies, even without the photography aspect.

In Closer, Julia Roberts plays a portrait photographer who falls into a love triangle between Jude Law and Clive Owen.
While the photography aspect in the movie is at a minimum, the process is accurately presented.

Edward Furlong is the main star in this film about a sandwich shop employee turned fine art photographer.
A big city art dealer discovers his works, and leads him through the photography world.
It is off beat, and one of the best photography movies from the 90s.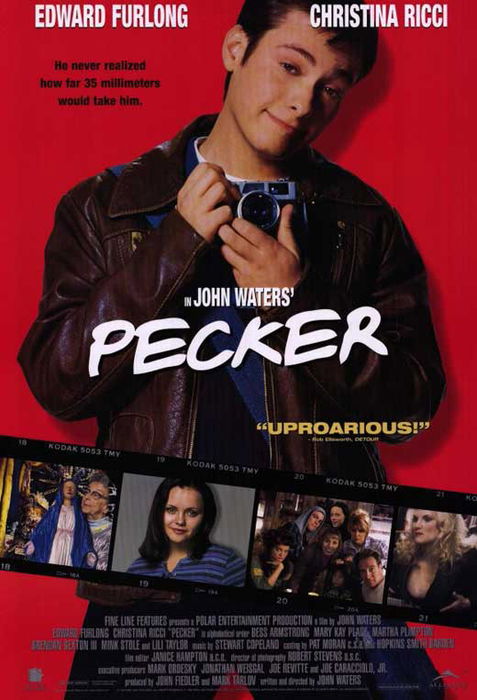 This film's cult status surpasses the quality of the film, and most have heard of it, and not seen it. Even though it won several awards.
It is still one of the most famous photography movies of all time.
Thomas, a fashion photographer played by David Hemmings realised he is the witness to a murder. The scene reveals itself after developing his images in the darkroom.

Andie MacDowell plays a photographer and wife of a missing photographer covering the Yugoslavian war.
She teams up with Adrien Brody and Brendan Gleeson, two photographers who join her search.

Many will forget that Christopher Nolan directed this nonlinear drama. A man with no memory carries Polaroids in search for a man who may have killed his wife.
Those images are the segments of time that he misses.
Not only is the film wonderfully directed and shot, it is one of the best photography movies out there.

Ed Harris plays a famous photographer in this drama, where he and his son have to drive to Kansas to develop the last few rolls of Kodachrome.
This story is similar to Steve McCurry shooting with the last few rolls of Kodachrome film four years prior.
It's a great watch, and no photography movie is complete without Ed Harris shooting a few frames.

Walter Mitty, a negative assets manager for Life magazine, played by Ben Stiller, goes on an adventure in search for a photojournalist.
One of the photographers sought after negatives goes missing, leaving the final cover of the magazine in the balance.
Great photography movie and a great option for a relaxed Sunday watching.

A blind photographer played by Hugo Weaving, has images described to him by pre-gladiator Russell Crowe.
Wonderful acting makes this film one of the best photography movies.

City of God is a gloriously visual story of a young photographer growing up in one of Brazil's most dangerous favelas.
Two warring drug crews set the backdrop as we watch stories of how those part of the conflict came to be.
Not only is this one of the most famous photography movies, it is one of the best.