As visual mediums, photography and filmmaking go hand-in-hand. Some of the best directors and cinematographers have studied still photography. Some, such as Sam Taylor-Wood and Anton Corbijn, used to be prominent photographers. With so many working in the film industry, it is no wonder that there are many photography movies out there.
This article presents several of the best (and our favourite) movies that reference photography. They include those where photography is a prominent part of the story to others where photography plays a small yet significant role.
Photography Movies: Under Fire (1983)
This war photography drama is set during the last days of the Somoza regime in Nicaragua in 1979. War photographer Russel Price captures a photograph of someone he shouldn't have. As a result, he and his friends find themselves on the run. What's more, the three photojournalists are part of a love triangle, trying to make sense of the revolution through their images and political views.

Fur: An Imaginary Portrait of Diane Arbus (2006)
Mother of two and assistant to her photographer husband, Diane Arbus is not in a good place. When a man with werewolf syndrome moves into the building, he opens her eyes to a world full of diverse and exciting people. She starts to photograph her newfound circle of friends and romance blossoms. Whilst a real-life photographer, Fur: An Imaginary Portrait of Diane Arbus is just that. Although she never fell in love with Robert Downey Jr, her real-life story is also worth exploring—as are her beautiful photographs.

One Hour Photo (2002)
One Hour Photo is a dark thriller featuring Robin Williams as a photo technician in a suburban American shopping mall. He ends up developing an obsession with the Yorkin family, whose photos he has been processing for years. One Hour Photo, though disturbing at times, is a social commentary on how others enter our lives without our knowledge.

Annie Leibovitz: Life Through a Lens (2008)
A documentary on the work of Annie Leibovitz—from Rolling Stone in the 1970s to her contributions to Vogue magazine. Her prolific body of work has led even the Library of Congress to declare her a 'Living Legend.'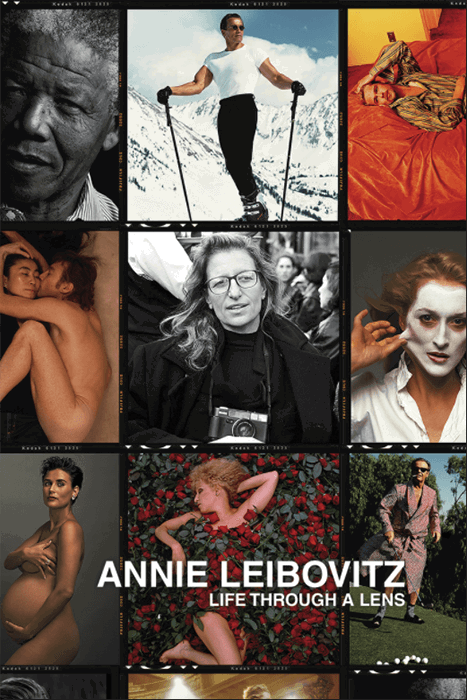 Rear Window (1954)
A race track incident leaves James Stewart stuck homebodied with a broken leg. The now wheelchair-bound photographer has to find other ways to entertain himself. His only view of the world is from the rear window of his apartment, which overlooks a courtyard and several other properties. He uses this, along with his camera, to spy on his neighbors around him, becoming convinced he has seen a murder occur.

The Bridges of Madison County (1995)
Adapted from the best-selling novel by Robert James Waller, The Bridges of Madison County recounts a four-day love affair. They meet when the latter asks for directions to the famous local covered bridges. As a photographer for National Geographic, Clint Eastwood's character is tasked with photographing the historic bridges in Madison County. What he finds with Meryl Streep's Francesca, neither of them expected.
Closer (2004)
In Closer, Julia Roberts plays a portrait photographer who falls into a dangerous partner swapping deceit. The crux of the story revolves around a photoshoot for a book cover, an inappropriate advance, rejection, and angry retaliation. Though the photography aspect in the movie is minimal, its process is quite accurately presented throughout.

Jerry & Maggie: This Is Not Photography (2012)
Jerry Uelsmann and Maggie Taylor create multi-discipline, layered artworks. In combining darkroom processes with modern computer compositing, their work pushes the boundaries of photography. This documentary looks at the artists and their work, following their inspiration-seeking adventures through the Florida swampland.
Pecker (1998)
Terminator 2's Edward Furlong is the main star in this film about a sandwich shop employee turned fine art photographer. He takes photos of his crazy family, people, and places around Baltimore (Director John Waters well-known home city). A big-city art dealer discovers his work, which leads him and a cast of zany characters to an art gallery in New York. His pictures take the fine art photography scene by storm, leading to unforeseen consequences. It is offbeat and one of the best movies from the 90s.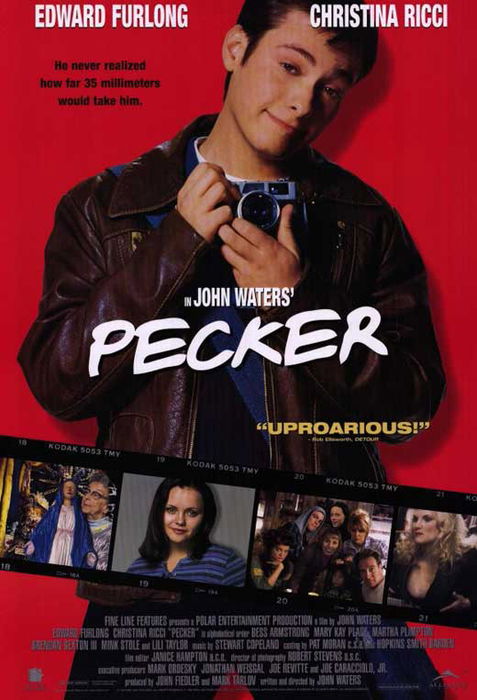 Blow Up (1966)
Thomas, a fashion photographer (David Hemmings), realises he has seen a murder. The scene reveals itself after developing his images in the darkroom. This film's cult status surpasses its quality, and most have heard of it and not seen it even though it won several awards in its day. Regardless, Blow Up is undoubtedly one of the most famous movies about photography.

Harrison's Flowers (2000)
Andie MacDowell plays a photographer and wife of a missing war photographer who supposedly died in a while covering the 1991 Yugoslavian war. She teams up with Adrien Brody and Brendan Gleeson, two photojournalists, to aid her search.
High Art (1998)>
Syd, a young intern at a photography magazine, falls in love with the drug-addicted photographer Lucy Berliner. Of course, what comes next is the two try to exploit each other's career progress.
Smoke (1995)
Smoke revolves around a tobacco shop in Brooklyn and the rich and diverse tapestry of characters who go there. For years Auggie (wonderfully portrayed by Harvey Keitel) has been taking a photograph of the store every morning at 8 am. It's only when he decides to share his 'life's work' that the story really starts moving. With an ensemble cast, this little 90s indie drama spawned a similarly-themed sequel, Blue in the Face, just a few months later.
Memento (2000)
Many will forget that Christopher Nolan directed this nonlinear drama from the early aughts. A man with no memory carries Polaroids searching for a man who may have killed his wife. Those images are the segments of time that he misses, alongside some unique use of tattooing. Not only is the film wonderfully directed and shot, but it is also one of the best and most creative movies out there.

Gregory Crewdson Brief Encounters (2012)
A documentary shot over a decade following the work of Gregory Crewdson. The series of photographs called Beneath The Roses depicts fantastical portraits in elaborate settings. Crewdson stops at nothing to produce his beautiful and haunting images. Gregory Crewdson Brief Encounters shows the man, the vision, and the work that goes into each photograph.
Kodachrome (2017)
Ed Harris plays a famous fictional photographer in this drama. He and his son have to drive to Kansas to develop the last few rolls of Kodachrome film. This story is like Steve McCurry's shooting with the last few rolls of Kodachrome film four years prior. Kodachrome is a great watch, and no photography movie is complete without Ed Harris shooting a few frames—it just works!
In No Great Hurry: 13 Lessons in Life with Saul Leiter
A beautiful documentary that follows photographer Saul Leiter as he clears his apartment of memories. Featuring Saul's massive archive of work and his rise to fame in his 80s. If you are not familiar with Saul's work, you will be a fan by the movie's end, and deservedly so.
The Secret Life of Walter Mitty (2013)
Walter Mitty, a negative assets manager for Life Magazine, goes on an adventure searching for a specific nature photojournalist after a sought-after negative goes missing. If Mitty does not undergo this adventure, it leaves the magazine's final cover in the balance. With a globe-trotting setting, The Secret Life of Walter Mitty is a light-hearted option for relaxed Sunday watching.

The Salt of the Earth (2014)>
The Salt of the Earth is a documentary about the life and work of Sebastiao Salgado. He has been capturing major historical events for forty years. Many consider his images as some of the most haunting ever caught on film. This film sees him turn his camera toward the tribes, flora, and fauna of uncharted territories, capturing the beauty of the world before it is gone.
Manufactured Landscapes (2007)
This 2007 documentary follows Edward Burtynsky as he visits waste dumps in China and a ship recycling center in Bangladesh. Capturing these evolving Manufactured Landscapes has become Burtynsky's mission. In the meantime, he shows the exploitation of mass industrialisation.
Proof (1991)
A black comedy about a blind photographer, played by Hugo Weaving of The Matrix fame. To understand his work, he has his images described to him by a pre-Gladiator Russell Crowe.
The Bang Bang Club (2010)
This drama follows the story of four war photographers and their true life experiences of covering the apartheid in South Africa. The film is an adaptation of the book The Bang Bang Club: Snapshots From a Hidden War, which two of the photographers portrayed in the movie co-wrote. Movies about photography don't get more real than this.
City of God (2002)
City of God is a visual story of a young photographer growing up in one of Brazil's most dangerous favelas. Two warring drug crews set the backdrop as we watch stories of how three young kids grow up to be a criminal kingpin, a henchman, and a photographer. Not only is this one of the most famous, but it is also one of the best movies about photography ever made.

Conclusion
Movies about photography can be informative and inspiring. Documentary movies offer insight into artists and their work that you would otherwise never get. Whether you are a budding fashion photographer or want to travel the far-flung unseen reaches of the world, photography movies open a window on the lifestyle, the art, and the trials that go with it.
You don't need to be a famous cinematographer to master powerful composition. Find out how with our Intuitive Compositions course!