The best teleconverters are the ultimate camera accessory if you need a longer focal length. With the added magnification, even distant subjects are within your reach.
There are some downsides to using teleconverters, like a loss of wide apertures. But they are a fabulous tool if you need extra magnification from your lens. You just need to find one that's compatible with your camera and lens.
The Canon EF 1.4x III Telephoto Extender is our top choice. It gives you more magnification when paired with a Canon EF-mount lens. And there's barely a drop in quality when using a lens with the extender.
This one is compatible with Canon DSLR cameras. But if that doesn't match your setup, we have teleconverters for all the major camera brands. So keep reading to find the best one for your camera.
What Is the Best Teleconverter?
The best teleconverter gives you more reach and magnification without having to fork out money for a new lens. They are simple accessories that increase, and sometimes double, the magnification power of your lens.
Teleconverters are also known as telephoto extenders or multipliers. That's because they extend or magnify the focal length of your camera lens.
The first thing to consider when buying a teleconverter is lens mount compatibility. Each teleconverter is compatible with a specific type of lens mount.
For example, if you have a Canon DSLR camera, you need a Canon EF telephoto extender. And you need a Nikon Z teleconverter if you have a Nikon mirrorless camera.
You also have to think about how much extra magnification you need. Teleconverters come in two types. You have 1.4x and 2.0x versions. 1.4x extenders increase the focal length by 40%. And 2.0x extenders double the focal length of your lens.
We've separated the list into two sections. The first section looks at 1.4x teleconverters. And the second part of the list looks at 2.0x extenders. And if you need more information on teleconverters, there's an FAQ section at the end.
Navigate the article using the links below:
Best 1.4x Teleconverters
A 1.4x teleconverter boosts your lens when the subject is just out of reach. As mentioned, with a 1.4x converter attached, the focal length of your lens increases by 40%.
If you use a 150mm lens with a 1.4x teleconverter, the new focal length is 210mm. When used with a 70-200mm telephoto lens, you get a 98-280mm focal length.
This is the most common type of teleconverter. And it means you can find one for nearly any camera system. There are 1.4x teleconverters for Canon, Nikon, and Sony. And you can even find them for Panasonic and Pentax cameras.
Here's a quick overview of all the best 1.4x teleconverters. Scroll down a bit further to see each teleconverter in more detail.
The Canon EF 1.4x III Telephoto Extender is a brilliant piece of equipment. It gives you an extra 40% of magnification. And thanks to the high-quality glass elements, you lose very little image quality.
The glass also has a fluorine coating for lasting quality. It protects against scratches, smudges, and finger marks. It's also a rugged unit, as it's dustproof and splashproof. That's good news for wildlife photographers.
The Canon EF 1.4x III only reduces the maximum aperture by one stop, so it's still viable in low-light situations. And it's compact and lightweight enough for any camera backpack. It's a must-have for Canon users.
If you're using a Canon mirrorless camera, the Canon RF 1.4x Telephoto Extender is what you need. The low-dispersion glass means chromatic aberration is kept to a minimum. So the overall image quality remains high when using this teleconverter.
It's also a robust piece of gear, as it's dust- and splash-resistant. And it even has an exterior coating that stops it from overheating in hot conditions.
You do lose one stop at the wide aperture end. But that's not too much of an issue if you work in daylight.
The RF 1.4x Telephoto Extender is compatible with Canon mirrorless cameras. And it works with the following lenses (it might also have compatibility with new RF telephoto lenses):
Nikon users will love the AF-S FX TC-14E III (1.4x). It's a fantastic teleconverter that's lightweight and compact. And it increases your focal length without losing quality. It does reduce your widest aperture by one stop. But you still get sharp images.
As with most Nikon lenses, there's no question about the glass quality. And the dustproof and splashproof design lets you work outdoors without worry. The outer glass also has a fluorine coating to protect against scratches and smudges.
The Nikon AF-S FX TC-14E III is a great way to get more reach when using a Nikon DSLR camera. And this teleconverter is compatible with a wide range of Nikon F lenses. You can see Nikon's full compatibility chart for more information.
The Z Teleconverter TC-1.4 is exactly what you need if you have a Nikon mirrorless camera. It reduces the widest aperture of the lens by one stop. But unlike with many other teleconverters, you don't lose any autofocus points.
You get edge-to-edge AF coverage. You get that AF coverage down to f/11. And you don't lose any optical quality. The fluorine coating protects the glass. And you have one aspherical element that reduces aberrations and distortion.
The Z Teleconverter TC-1.4 doesn't interfere with the Vibration Reduction (VR) system on many Nikon Z lenses. So you get extra magnification and image stabilization.
You can use the teleconverter with the following lenses:
Third-party gear often has a bad reputation. But Sigma lenses are a cut above the rest. And the 1.4x Teleconverter TC-1401 is a top-quality item.
Sigma has used Special Low Dispersion (SLD) glass to keep chromatic aberration to a minimum. And the overall construction of the glass gives you optimal optical performance.
It's splashproof and dustproof, making it a durable piece of kit. So you can use it in tough outdoor conditions. You do lose one stop from the wide end of your aperture range. But it's still a good option for daylight shooting.
The Sigma version highlighted above is for Canon EF-mount cameras. But you can also use the Sigma 1.4x Teleconverter TC-1401 for Nikon cameras.
The Sony FE 1.4x Teleconverter is a handy extender for Sony mirrorless cameras. It has an FE mount, so it's only compatible with full-frame cameras. But the optical quality is excellent.
It has five perfectly shaped glass elements. And one of the five is an aspherical element that reduces distortion, giving you extra reach with no dip in quality.
The widest aperture is reduced by one. But it's dust- and moisture-resistant, protecting against Mother Nature in wild conditions.
The FE 1.4x Teleconverter is compatible with several Sony FE lenses. But you are restricted to manual focus with some older lenses. Here are the specifics.
No autofocus (AF) restrictions:
Manual focus only:
Fujifilm cameras have excellent features for photography and video. And the best Fujifilm lenses help you shoot all kinds of photography.
But Fujifilm doesn't have much in the way of super-telephoto lenses. That's why the Fujifilm XF1.4X TC WR is such a handy piece of kit for Fujifilm users.
The optical quality is excellent. And there's no noticeable drop-off in quality from using a lens without the extender. It also does not affect the AF performance. The autofocus is just as fast and accurate as standard use.
You have to sacrifice one stop of aperture for the extra magnification. But it's weather-sealed for outdoor use.
Check the full XF1.4X TC WR compatibility chart to see which lenses you can pair it with.
The Fujifilm GF1.4X TC WR is a more niche product. It's a teleconverter with excellent optical quality. But as a GF-mount lens, it's compatible with Fujifilm's medium format cameras. And this converter only works with two Fujifilm GF lenses:
If you're a fan of Olympus (OM System) cameras, you need the MC-14 1.4x Teleconverter. It only has a limited list of compatible lenses. But you can use it with some of Olympus's best lenses.
There's no significant dip in optical quality when using the teleconverter. It does reduce the widest aperture by one stop. But there's no negative effect on the autofocus system. You still get fast and reliable focusing from your Micro Four Thirds camera.
You can visit the MC-14 1.4x specs page for extensive lens capability information. The Olympus MC-14 1.4x is compatible with the following lenses:
You need the Lumix DMW-STC14 S 1.4x extender if you have a Panasonic camera. Your lens retains good options quality when attached. And it has a dust- and splash-resistant build for outdoor use.
Panasonic makes excellent Micro Four Thirds cameras. But this teleconverter is only compatible with its S-series full-frame cameras. Also, it's only compatible with the following Panasonic Lumix lenses.
Best 2.0x Teleconverters
If a 1.4x teleconverter doesn't give you enough reach, you can try a 2.0x teleconverter. They cost a little more than the 1.4x options. And you do lose more fast aperture stops. But you're still making saving by not having to buy a new lens.
A 2.0x teleconverter doubles the lens's focal length, so they are often called doublers. This means a 200mm lens becomes 400mm when the 2.0x extender is attached. Or if you pair it with a 400mm lens, you get an 800mm focal length. That's incredible magnification!
Here's a rundown of the best 2.0x teleconverters. Keep reading to see each extender in more detail.
If ultimate magnification is what you're after, you need the Canon EF 2.0x III Telephoto Extender. You do lose two stops of your maximum aperture. But the glass quality means you still capture stunning images with one of Canon's fabulous L-series lenses.
It's dust- and splash-resistant for outdoor use. And the glass elements have a spectra coating that reduces lens flare and ghosting.
This converter is only compatible with Canon EF L-series lenses. These include the Canon EF 70-200mm f/2.8L IS III USM and Canon EF 100-400mm f/4.5-5.6L IS USM.
Nikon users needing maximum magnification should consider the Nikon Z Teleconverter TC-2.0X. It deprives you of your two fastest aperture stops. But it makes up for that with crisp and clear optical quality.
Picture quality is retained to the highest level. And there's no loss of autofocus speed or functionality. You still get fast responses and accurate tracking. And you can still use Nikon's Vibration Reduction (VR) system.
It also scores high for durability. It's dust- and splash-resistant. And the outer glass has a fluorine coating that protects against scratches and smudges.
Go to the TC-2.0X specs page for the list of compatible Z lenses.
The 2.0x Teleconverter TC-2001 is a great option if you have a mix of Canon and Sigma lenses. It's compatible with lenses from both brands. And it's on the more affordable end of the 2.0x teleconverter spectrum.
The build quality is excellent, which is why there's no noticeable dip in lens performance. The extender even uses Special Low-Dispersion (SLD) elements to minimize chromatic aberration. The images are consistently clear and sharp.
The lens listed above is compatible with Canon cameras. But Sigma also has a 2.0x TC-2001 for Nikon DSLR cameras. You can read the full list of compatible lenses with the TC-2001.
Sony users wanting to double their focal length need the Sony FE 2.0x Teleconverter. The optical quality is fantastic, so there's no detrimental effect on your work. You do have to deal with two fewer fast apertures. But the aspherical element helps reduce lens distortion.
Originally, it was only compatible with the Sony FE 70-200mm f/2.8 GM OSS II. But there are more compatible lenses now. See the Sony 2.0x teleconverter compatibility page for the most up-to-date information.
The Olympus MC-20 2X Teleconverter adds more power to your Olympus lens. The glass quality is fantastic, and new elements help to reduce aberrations. And you don't lose any autofocus performance from your Olympus (OM System) camera.
You lose two stops of your aperture range at the wide end. But you lose very little in other departments. It's also a durable piece of equipment that copes with harsh conditions.
See the full list of compatible lenses on the MC-20 2X specifications page.
If you're armed with a Panasonic Lumix full-frame camera but can't get the shot you need, the Panasonic Lumix S DMW-STC20 2.0x is the perfect investment.
The optical quality is sensational. All eight elements have been beautifully crafted. And two of these are Ultra High Refractive Index (UHR) elements that reduce chromatic aberration and distortion to a minimum.
It's also a durable piece of equipment. You can use it anywhere—from dusty deserts to wet jungles.
This Lumix S DMW-STC20 2.0x teleconverter is compatible with the following two lenses:
Best Teleconverters FAQs
At first glance, teleconverters might seem complicated. That's why we've answered some of the most frequently asked questions about them. We hope this information helps you find the one you need.
How Do You Use a Teleconverter?
You attach the teleconverter to the camera using the lens mount, as you would a normal lens. Then you attach the lens to the teleconverter. So a teleconverter sits between the camera body and the lens.
You might think teleconverters are too complicated for casual photographers. But that's not the case at all. Teleconverters are incredibly easy to use. And they help you get the results you want.
You only need the right extender for your camera. The key is finding a teleconverter that's compatible with your camera. You can get Canon EF-mount extenders for Canon DSLR cameras. And there are Canon RF extenders for Canon mirrorless cameras.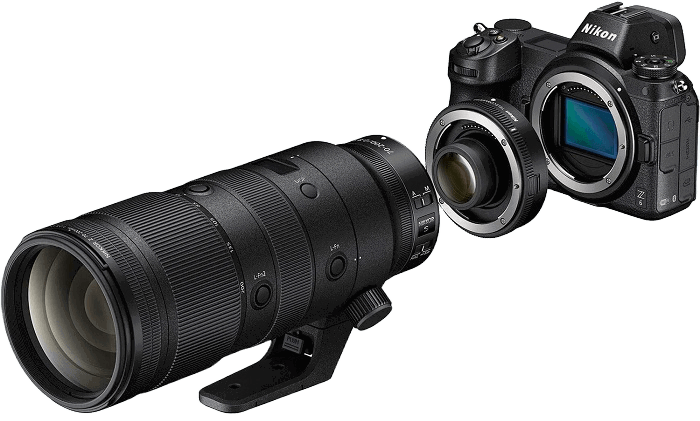 What Types of Photographers Use Teleconverters?
All types of photographers use teleconverters. But wildlife, sports, and landscape photographers are the most likely to use them.
Wildlife photographers most commonly use teleconverters. They need lenses with long focal lengths to get close-ups of the animals without scaring them or putting themselves in danger.
All the best lenses for wildlife photography are telephoto. But sometimes, it still isn't enough. That's why they often use extenders to give themselves extra magnification. They can get intimate and detailed portraits of dangerous or elusive creatures in the wild.
Of course, bird photographers also use teleconverters. Their subjects are both small and unapproachable. So they need all the magnification power they can get.
Teleconverters are also useful for sports photography lenses. Like their wildlife colleagues, sports photographers often need lenses with large focal lengths. They need to capture close-ups of the action and players from the sidelines. And an extra magnification boost is often handy.
You can also use teleconverters for landscape photography. Landscape photographers often favor wide-angle lenses. But having a long telephoto reach can be helpful when you want to capture specific features in a vast landscape.
What Are the Benefits of Using a Teleconverter?
There are two main upsides to using a teleconverter.
1. Magnification
The obvious benefit is its extra magnification and telephoto reach. A 1.4x extender adds an extra 40% to your focal length. And a 2.0x extender doubles the magnification.
If you're using a 300mm lens, you'll have a 600mm focal length when using a 2.0x teleconverter. It's outstanding magnification. And it allows you to snap subjects from even greater distances. That's why wildlife photographers love them.
2. Savings
Teleconverters can be used with lenses you already have. So you don't need to buy a new lens for a longer focal length.
Of course, there is the expense of buying a teleconverter. But the saving is huge. A good teleconverter will cost a few hundred dollars. But that's far cheaper than buying a new super-telephoto lens. An extender is a budget-friendly solution.
What Are the Downsides to Using a Teleconverter?
Using a teleconverter isn't all plain sailing. They are a fantastic tool for certain types of photography. But there are some downsides you need to be aware of.
1. Shorter Aperture Range
Using an extender can reduce the aperture range of the lens you're using it with. The amount varies, and you usually lose stops at the wider end of the aperture range.
Typically, you lose one max aperture stop with a 1.4x extender and two with a 2.0x extender. That means they aren't great for low-light situations.
2. Reduced Image Quality
Using teleconverters increases the risk of lens distortion. Quite simply, the light has to pass through more glass before it hits the sensor. That means even if the glass quality is excellent, there's a higher likelihood of distortion.
The best extenders have ways of combating optical problems with special elements or coatings. But second-rate teleconverters can have a big detrimental effect on image quality. That's why we've only listed the best teleconverters here.
3. Slow Autofocus (AF)
A teleconverter can affect AF acquisition times. The autofocus is often slower in general. And sometimes, the camera spends a longer time hunting for the subject. That's not ideal for some, especially wildlife photographers.
4. Limited Lens Compatibility
Teleconverters work best when paired with telephoto prime lenses. They don't work well at all with wide-angle lenses. And the negative effect on image quality can sometimes be too striking when used with zoom lenses.
Always check the lens compatibility when buying a teleconverter. Many are only compatible with specific lenses.
Conclusion: The Best Teleconverters
The best teleconverters give you the extra magnification your need to get that perfect shot. Whether you want to capture an animal in the wild or a player on the pitch, a longer focal length is always useful.
Teleconverters aren't a quick fix for all your focal length problems. They do have a few downsides. But telephoto extenders are an affordable way to give your lenses a bit more magnification.
The Canon EF 1.4x III Telephoto Extender is the best teleconverter. The optical quality is excellent, and you only lose one aperture stop. It's ideal for Canon DSLR users. If that's not you, revisit the list to find a compatible teleconverter.