Christmas photography is a wonderful way to experiment with your still life and general photography skills.
You can play with Christmas lights to create amazing bokeh. Or take advantage of traditional baking and elaborate festive decorations for fun portraits or Christmas still life.
If you're not yet in a Christmas mood and need some inspiration, here are 10 ideas you can try today.


eBooks and Courses for Everyone
10. Christmas Still Life: Capturing Steam Over Hot Drinks
A nice hot cup of tea is perfect for staying warm during the winter. Wrap yourself in a blanket, take a cookie, and brew some tea with cinnamon and honey. Or maybe you prefer coffee or mulled wine? Make a mug of that and cozy up.
Watching the steam rising above that cup is what Christmas comfort is made of. And Christmas photography of steaming hot drinks evokes that same cozy feeling in your viewers' minds.
Shooting steam is not even as tricky as you might think. And you'll end up with beautiful images like this one.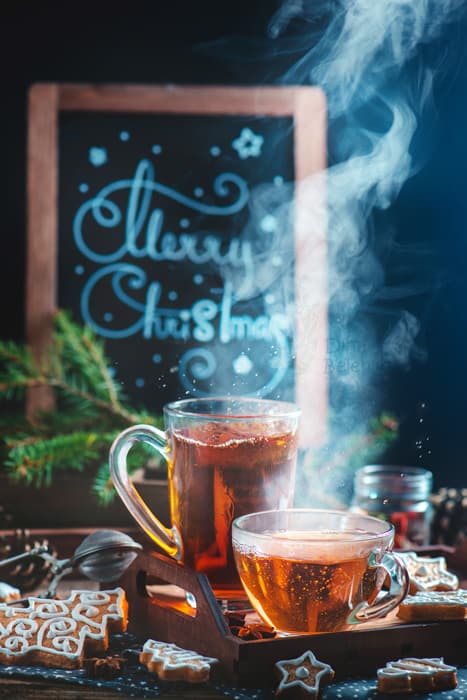 It's the position of your light source that matters. With backlight, steam almost looks shiny. Place your main light source slightly behind the scene.
To add some volume and lift the shadows, add a reflector on the other side.


Steam disappears very quickly. If you need some time to set up your lights and take a couple of test shots, use smoke instead.
Put an aroma stick on the edge of the cup and remove it when you're ready to pour hot water into your cup. Smoke lasts longer than water vapor, so it's much more convenient for the test.


You can use any gear you already have. In my case, it's two speedlights. The first one is inside a strip softbox and another one is behind the large diffuser.
But you can replace one speedlight with a reflector. Or even shoot with natural light using a nearby window.
9. Make a Flat Lay With Star-Shaped Cookies
For some reason, my first association with Christmas is stars! I don't even need an excuse to use star imagery in my photography.
But Christmas images give me the chance to use even more star-shaped decorations than I usually would. Combine it with traditional Christmas baking and you'll have an entire starry sky of cookies! Or why not create a Christmas wreath out of powdered sugar, gingerbread cookies, and stars?


You can also arrange them in a magical flat lay. Use tea cups, cinnamon powder, candy canes, fairy lights, wrapped presents, and any other Christmas decorations. It can be as simple or as intricate as you want it to be.


You can also make the cookies fly in a cloud of flour or powdered sugar.
Don't throw your cookies and hope for the best. To do beautiful levitation you need to position the cookies up in the air.
That'll give you control over your composition. It's not hard to do at all, though.


I usually use a couple of knitting needles and a glue gun. Place your cookies so that some of them overlap and cast natural shadows. This will add depth to your Christmas photography and make it look livelier.
Scatter some powdered sugar above the scene and take a sequence of shots. After that, you only need to retouch the supports. It may seem complicated, but you'll be surprised how easy it is to get a beautiful shot.
8. Build a Classic Gingerbread House
This is one of the many wonderful family activities you can enjoy before Christmas. But it's not only fun for the kids. Still life photographers can take advantage of these elaborate treats to tell many stories.
Use your gingerbread house as a prop and see what Christmas fairytales you can create.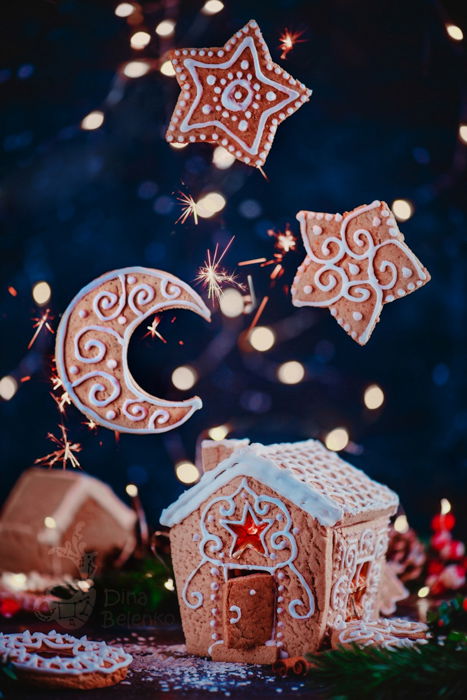 Recreate a scene inspired by the Brothers Grimm and Hansel and Gretel. Shoot it in a fir tree wreath in low-key lighting. Put a candle inside to light up your house's windows.
You can also create a snowstorm out of sprinkles! Add a gingerbread man or a gingerbread reindeer. Make it a cabin in the woods or a home for Santa's elves.
Think about your story first. Ask yourself what it means visually, and then take a picture.

7. Light Up Your Composition With Magical Sparklers
Sparkles add a magical and festive feeling to any scene. They have those beautiful fiery trails that look mesmerizing.
Shooting a sparkler is like holding a little fireball or a tiny tamed comet in your hands. They are one of my favorite objects to photograph. They're cheap, easy to find, and extremely beautiful.


The key to capturing their fiery magic is shutter speed. You can vary between 1/100 s and 0.5 s (or even 1.5 s, in some cases).
The longer the shutter speed, the longer the fiery tails of sparks, and the more light you'll get from the sparkler.
I work with small objects, so in my case, 0.5 sec practically burnt out every detail in my jars.
On the other hand, you probably won't be able to get beautiful glares of a sparkler's light on other objects at short shutter speeds. And the fiery trails might be too short.
Stick to a shutter speed of about 1/60 s or 1/20 s. You can take a couple of test shots and decide which one you like most.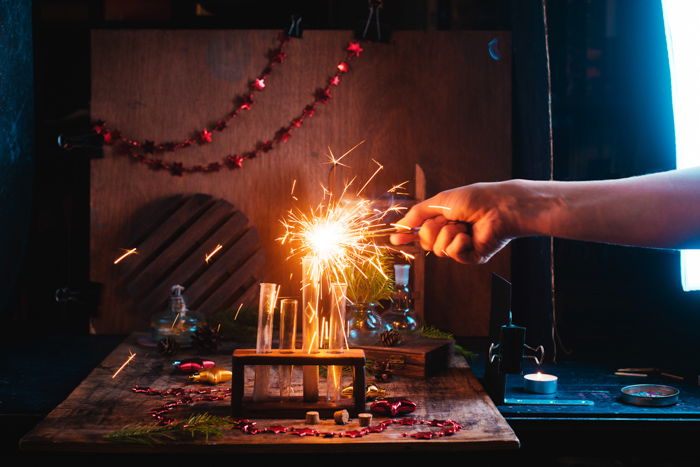 The second important thing is using a high-speed continuous shooting mode (or burst mode). Make sure that your camera will shoot several photos in a row. This will make the shooting process a lot easier.

6. Create Still Life Photography Christmas Cards With Festive Letters
Christmas baking is an exciting theme for any food photographer. One of the creative twists you can add to it is including text in your photos.
Wish someone a Merry Christmas with letters made from gingerbread, sprinkles, dough, chocolate, or candy canes!
The easiest way to get into food typography is to work with templates. I'm genuinely hopeless at calligraphy. My writing is almost illegible, and I can't draw a straight line to save my life.
But I can work with an existing font and create a lovely Christmas postcard.


This cool trick works as follows. First, pick the text you want to use. Something along the lines of Happy New Year, Let It Snow, or maybe something more personal if you're making it as a gift.
Then choose a font that will be easy to work with. It needs to be something with bold, easily recognizable letters. Templates with aligned letters are easier to arrange evenly. And they're easier to lift with tweezers.
Print it on thick paper and cut it with a layout knife. Place this template in the center of your still life and arrange a simple composition around it.
Then fill out the template with something free-flowing like flour, powdered sugar, sprinkles, cocoa powder, or cinnamon. Carefully remove the template with tweezers and photograph the letters.


You can fill out the inner contour of letters if you keep the outer side of the paper template. Or you can use paper letters and scatter your powder around them.
You'll have your background as visible letters and scattered powder around them.

5. Tell the Stories of Presents and Surprises
Christmas is all about opening gifts. When used in your still life photography, gifts can add a wide array of emotions and excitement. They could be the main theme of a narrative-driven Christmas still life. You can photograph a strange gift box with mysterious smoke. Or a magical creature peeking out from the bottom of the box.
The surprise is a source of inspiration on its own. There's no end to the stories you can tell. But here are a couple of tricks that can help you stir your viewers' curiosity and imagination.
Use Smoke and Silhouettes
Smoke coming out of a box looks mysterious and a bit dangerous. The cheapest and most affordable way to create smoke is to use aroma sticks.
Fire several aroma sticks at the same time, put them under the lid, and take a sequence of shots.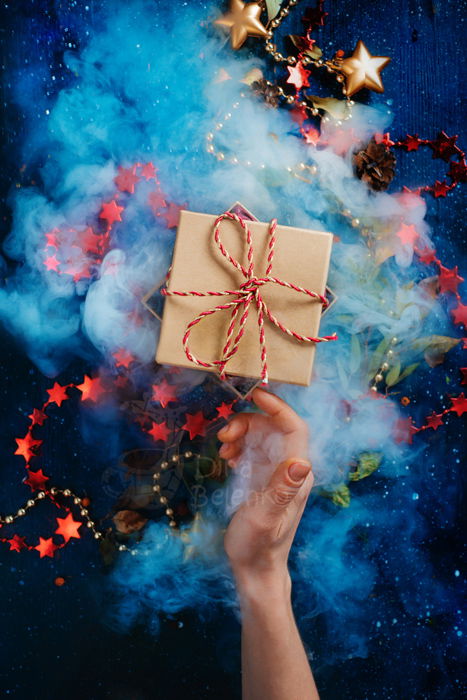 You can even add paper silhouettes as an easy way to include an interesting character. For example, you can cut out a silhouette of a cute monster and make it "sit" inside a box like a kitten. Or it could be a skyline of a Christmas town. Or something magical you really want as a present!
Use Colorful Holi Powder
An explosion of colorful Holi powder looks like the birth of a galaxy! And since the stars are so closely connected to Christmas, it's perfect for a festive photo.


I took a balloon pump and attached a paper cone to it. When I filled the paper cone with Holi powder and forced the air out, it created a beautiful cloud of color!
The scene gets a bit messy, but the picture you get is totally worth it.

4. Add Snow to Your Christmas Still Life
Create a snowy scene using flour or powdered sugar. Perhaps you want to shoot a landscape with a gingerbread house. Or maybe you want an arctic scene with decorative polar bears.
You can even use scattered flour against the dark background to create a snowstorm.
Set your key light slightly behind the scene and adjust your shutter speed setting to at least 1/800 s. Now, scatter some flour above the scene with a small strainer and take a shot!


Experiment with depth of field. The particles of flour that are out of focus can create a beautiful bokeh. And you can keep your aperture rather wide for that sort of still life.
3. Capture Miniature Scenes
I bet you have a miniature Christmas tree or a set of tiny plastic people somewhere in your attic. Why not give life to them? Show how they are preparing for a tiny Christmas of their own.
Photograph a little fir tree strapped to the roof of a toy car. Or make LEGO people gather around a gigantic (for them) traditional Christmas pudding.
I see two ways to approach this. You can set the entire miniature scenes of gingerbread or paper Christmas towns under the snow. Here you can create a series of shots photographing every detail of this rather time-consuming work.
Another way is to pick one Christmas-themed object and make it your hero. Photograph one red bauble in a dozen places. Hide a tiny Santa in any scene you're working on.
Show your viewer all the adventures of a miniature rocking horse. (Exploring a bookshelf full of winter fairy tales sounds like an adventure to me!) Going macro and showing all the lovely details is always interesting, but that way you can add a story to it.
2. Experiment with Christmas Drink Photography
If winter has anything great about it, it's hot drinks. Raspberry jam tea, coffee with whipped cream, cocoa with marshmallows.
All this sweet stuff not only tastes fantastic but looks perfect in photos. Especially if you add a little dynamic motion and maybe a levitation spell.


For this shot with marshmallows flying in a spiral, I used a string of memory wire. This is a wire that holds its shape, so it kept its coils even with marshmallows on them.
To photograph flying or levitating objects, you have to hold each one of them individually and combine them together later in post. It's pretty convenient, but you have to draw all the shadows and reflexes by yourself.
That can be rather tricky. Especially if you want this to be a controlled "fall," like a swirl or a tiny sweet tornado.


First, I strung marshmallows on the wire like beads on a necklace. After that, I fixed the memory wire in the air.
Its upper end is fixed with a clamp and the bottom end is just held beneath the cup (it's heavy enough). And finally, action!
I added falling chocolate crumbs, some extra marshmallows, and flying drops of hot chocolate.


This trick will work with anything that wire can pierce without too much damage. If you don't like cocoa, try it with tea and berries.
1. Capture a Christmas Themed Flat Lay
If you don't feel like going through too much trouble for a photo, you can go for a relaxing festive flat lay. Tell a story about what you're going to do during the Christmas holidays.
Are you going to travel? Shoot a suitcase in fairy lights.
Are you going to spend it under a blanket with a book? Perfect! Add a cozy knitted scarf or a sweater, a couple of garlands or toys, or a wrapped present. Or add some cinnamon or anise stars, and lots and lots of marshmallows.


Every Christmas, I listen to my favorite radio show, Cabin Pressure. And every Christmas I take a tribute photo.
It has lots of Easter Eggs that no one but the fans can understand. So most of my viewers have no idea what's going on. But I take these photos anyway.
Conclusion
The most important rule for Christmas still life photos is to have fun. It's a great time to get meaningful photos and tell magical stories.
Be sure to take advantage of this wonderful time of year and stay inspired for the rest of it!


eBooks and Courses for Everyone