Every time I come back from a travel photography trip I am amazed by just how many photos I've amassed in a few short days. Photos that I now have to edit. This is why this article is all about travel photo editing tips to optimise your travel photography editing workflow,making your life easier when you come back with pocketfuls of SD cards.
You can apply these tips to any software you use. I tend to use Adobe Lightroom for my daily photography editing needs, so that's the software I'll be using in this article.
1. Backup Everything
To me, this is one of the fundamental travel photo editing tips. The first thing you must do. Losing an entire SD card is one of my recurring nightmares. Or damaging the card, or corrupting an entire hard drive, or just accidentally deleting or losing photos.
Moral of the story, don't keep all your eggs in one basket and backup everything.


If you usually travel with your laptop, use it to download your photos from the SD card and save the raw files. It's good practice also save them on another external hard drive. And you should leave the files on the SD card until you have at least two copies of those raw files.
If you do not travel with your laptop, you can use different devices to do the same backup job. A tool that I find very useful since I hardly travel with my laptop is, for example, the KEYMOX USD Hub.
This Filehub allows me to insert an SD card and a USB hard drive via a WiFi connection. In this way I can view the files on the SD card and on the hard disk and easily transfer files from one to the other.
Besides, it is also a 6000mAh powerbank so I can recharge my mobile phone if needed.
2. Import
Once you have all the images of your trip secured, it is time to import the images. The import phase is an operation that allows us to tell editing software where to find the photos you are going to work on.
Taking as reference Lightroom CC Classic. the import process will show you 4 different choices.
Copy as DNG: Copy the selected files for import to the chosen location and convert them to a DNG file.
Copy: Simply copy the selected files for import to the location you have chosen.
Move: Move the selected files physically from the position where they are now to the position chosen by you.
Add: Do not copy or move any files, simply tell Lightroom where to go to find the original files you are importing and always go to that location when they need the file.
I only use the last option, "Add". This allows me to have a reference to the physical file in Lightroom, and to create a "Smart Preview" of all the files I import.
Creating Smart Previews is a slow process, so leave it working and then go grab a cup of coffee or tea. When you come back you can tell Lightroom to focus only on Smart Previews. You will see how fast the transition from one photo to another and the smoothness of sliders becomes.
During the import phase in Lightroom you can also:
Batch rename the files;
Make a second copy in another location as backup;
Add metadata;
Apply Develop Settings.
Develop Settings allow you to apply the same basic development parameters to the photos you're importing.
They can be useful if you want to give the same look and feel to the whole set of photographs.
3. Lens Correction
Before proceeding with the actual development I usually select all photographs taken with the same lens. I select one photo and I apply the lens and chromatic aberration correction. At the end I copy these settings for the remaining photographs made with the same lens.
If I took pictures with different lenses, I repeat the steps for each lens.
Applying lens and vignetting and chromatic aberration correction is a boring step of the workflow. But you must do it to be sure to have a good file to develop.
This is a quick way to proceed.
4. General Adjustment
Once you have finished these steps, it is finally time to focus on editing photographs. I have always found it nice to have something that binds all the photos of the same trip, or of the same part of a journey.
I'm talking about having the same mood through different shots, situations, scenes.
This is very easy to do in Lightroom with presets. These are small files that tell Lightroom how to move the sliders that are in the Develop module.
A small collection of presets are already included in the Lightroom installation, but you can find more, including free ones, on the Internet. You can also create your own presets library according to your own taste and style. I find this to be a great option.
Creating our own presets allows you to change hundreds and hundreds of photos in a single click with your personal style, the same colours and tones. All the photos from the same trip will have the same mood.
Another way to speed up your editing process is to synchronise changes or copy & paste the same develop settings. The Sync tool allows you to edit one image and then apply the same settings to all of the images that you select.
To do this you have to select the first photo with settings to synchronise, then select all the ones you want to sync. After that, use the bottom right button to tell Lightroom to bring the same settings.
5. Use Camera Profiles
With the latest update of Lightroom CC Classic, Adobe has introduced new basic Camera Profiles. And they released also a rich collection of artistic profiles.
These new profiles are very similar to presets. And you can find both colour and black and white profiles. But there are some difference. At the moment, you can't create a personal set of profiles like you can with presets.
I suggest finding the standard base profile that best suits your camera's raw file and your photography style. I currently use the "Adobe Color" profile for my Olympus camera. It seems to be the best compromise between highlights and shadows recovery, and the best colour manager.
6. Make Local Adjustments
At this point you will find yourself with a set of photographs you have chosen to keep, all with the same style. Now you can start refining every photo with small adjustments of the basic presets you used.
This is because no preset will ever perfectly each and every photo. This is the time for precise editing for each photo.
You should start with the aspect ratio. Consider whether you want to leave it as taken by your camera, or give it a more Instagram format with 5:4, or even a panoramic 16:9 format.
Now, move on to straightening the falling lines, and above all any crooked horizons. Check this two or three times.
You should also think about whether it is appropriate to use Lightroom's Graduated Filter, Radial Filter, or even the brush tool. These will let you select the exact areas to make modifications to.
You can also use the "Range Mask" function on the bottom of the panel dedicated to Graduated Filters, Radial Filters or Lightroom Brush.
This allows you to use a slider to select only the pixels that fall in the Highlights or Shadows zone. Or pick a colour range and intervene on those.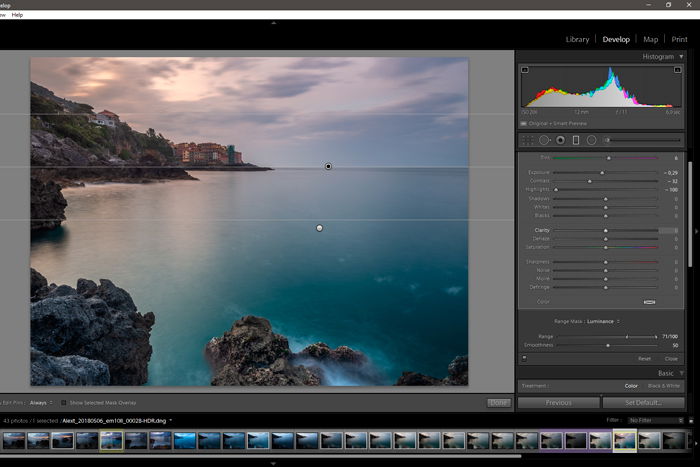 7. Colours
In the right panel of the Develop Module, you will find the HSL section. This panel allows you to edit every component of the colour spectrum in your photo. You can decide the Hue (e.g. bring an orange a little more towards red or closer to yellow), the Saturation and the Luminosity of each colour.
The same goes for Split Toning. More generally, this function allows you to change the colour of highlights and shadows.
Let's say you want to give a warmer tone to the shadows. First, find a warm colour that will fit your shadows. Then, select the saturation that will change the amount of tone in the chosen area.
8. Details
At this point my development workflow with Lightroom ends. There are still a couple of steps that I prefer to run in Photoshop. So I ask Lightroom to open the raw file with the changes made as a "Smart Object" in Photoshop.
I try to give a vignetting look to all my photographs to attract the viewer's attention to any areas I may want to emphasise.
A friend of mine, a landscape photographer, once told me that you do not have to see the vignetting, but if you do not have it, your eyes will want it.
I always try to remove attention from the less interesting parts of the image and guide the viewer's eye to where I want it to go.
Once finished with the vignetting, I export a TIFF file from Photoshop with all the levels that I have saved.
9. Last steps
The final step of the whole workflow is to re-open this TIFF file to generate a resized copy. To this resized file I will apply details and sharpening filters.
I prefer to apply sharpening when I have the file resized for a certain use. A file that is for printing will need a different sharpening intervention than a file intended for Instagram or Facebook.
In particular I use "Smart Sharpening" in Photoshop. It allows me to understand exactly which areas need an intervention. And it leaves the others intact.
When I have finished resizing the file and applying sharpening I save this file as Jpeg at maximum quality. This will be the file that I will share on my Instagram, on Facebook or on my website.
I will all re-import this last file in Lightroom.
In this way I always have an updated catalogue ready for any eventuality. Also, I take advantage of what is the greatest power of Lightroom itself: organising all types of image files.
Conclusion
Travel photography is one of my favourite ways to spend my time. But I always come home with thousands of photographs. And I know this happens to all of you.
I hope that these little tips and steps will help you improve and speed up your Lightroom workflow, from import to social media sharing.
Looking for some more great travel photography tips? Check out our articles on travel photography ethics, accessories or avoiding common travel mistakes.