Before I became a full-time professional photographer, I was a wildlife biologist. Having the best binoculars was vital to my work. I've used dozens of different brands and styles.
Binoculars are also extremely useful for wildlife, bird, and outdoor photographers.

[Note: ExpertPhotography is supported by readers. Product links on ExpertPhotography are referral links. If you use one of these and buy something, we make a little bit of money. Need more info? See how it all works here.]
Why Binoculars Are Useful for Photographers
I can't tell you how many times I've stood atop a hill or mountain, removed my binoculars from my bag, and scanned the landscape for wildlife.
I've used them to scout hiking routes and rapids. Binoculars have helped me avoid bears in the backcountry, and check on clients photographing a distance away. They are a must-have for every outdoor photographer.
What Are the Best Binoculars?
That's impossible to answer. There are many brands, sizes, and price ranges. What is right for me may not be right for you. But knowing how to choose the best binoculars, is the most important thing. That's what this article is about.
What Is the Best Magnification for Binoculars?
Binoculars are sized by two numbers. You'll see numbers like 10×42 or 8×30. The first number is the magnification; the second is the diameter of the lens.
Too much magnification and you won't be able to hold the binoculars steady. Too little and they won't be sufficient. If you have a steady hand, 10x binoculars might be right for you. If you have a less steady hand then consider 8x. Less than 8x is usually too little while more than 10x is often too difficult to hold still.
What Lens Size Should You Choose?
The larger the second number, the more light your binoculars will collect. Think about this like you would the maximum aperture on your lens. More light is a good thing but comes at the cost of size. 42 diameter binoculars are the most you are likely to want or need. A 10×42 binocular a is hefty, but not overwhelming. If you have less magnification, say 8x, you don't need as wide a lens. So 8×30 binoculars are a great compact option.
Picking the best compact binoculars is challenging. Like a slow lens, you lose a lot of quality and light gathering ability in compact binoculars. If you opt for compact binoculars, it's worth spending the extra money to get a pair from a high-quality manufacturer.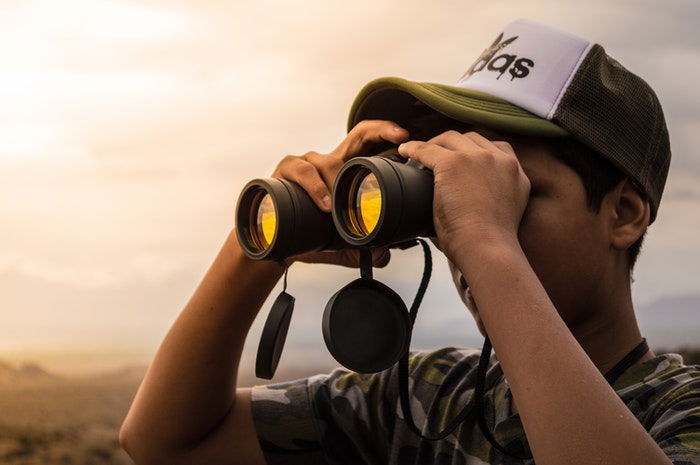 Consider the Focussing Distance
Another thing to bear in mind when selecting your binoculars is the focusing distance. A pair of binoculars that allows you to focus on a very close subject will be much more useful than a pair that does not.
Whenever I'm shopping for a new pair, I disregard any binoculars that do not allow me to focus on my toes. Close focus will allow you to admire the details of insects and flowers from a comfortable standing height.
Who Makes the Best Binoculars?
The top three manufacturers of binoculars are all German or Austrian. Their optics are very expensive. Zeiss, Leica, and Swarovski have unbeatable quality, durability, and warranties. If you want the very best, these three brands will satisfy you.
However, there are many other manufacturers like Nikon, Bushnell, Vortex, and (my favourite) Maven. They make excellent glass without the price tag of the big three.
The Best Binoculars for Photographers
All Zeiss binoculars are excellent, and pricey. If you want top-notch glass, you can't go wrong with the Conquest 10×42. A good combination of magnification and light gathering. Durable, waterproof, and excellent optics.
In high-end binoculars, Swarovski are my favourites. They are tough, elegant to look at, and have unbeatable optical quality. The 8×30 ELs are absolutely extraordinary.
You pay for that quality of course, but the 8x32s are priced less than the larger 10×42. If you want, and can afford the best, these will not let you down.
I rarely recommend compact binoculars. As a birder, picking out the details of a flitting bird in dense, dark woods is hard enough with bright binoculars. But it can be nearly impossible with the poor light gathering of compacts.
The Leica Ultravid 8×20 may be an exception. The incredible glass, good ergonomics and compact size make up for many of the shortcomings of compacts.
Nikon Monarchs are one of the best options for mid-range binoculars. They are waterproof, tough and relatively lightweight. Nikon binoculars, like their cameras and lenses, are high quality. In the Monarchs, you get a lot of bang for your buck.
Bushnell is a legacy brand of optics. They've been around for many years, and warrant a place here. While most of their binoculars fall into the mid and low price range, the quality even in their entry-level gear is worth noting. Check out the Ultra HD 10×42 for a good, and low-price option.
I love Vortex binoculars. With modern styling and sleek green rubberised housing, these binoculars look and feel like the best on the market. And they are darn-near close. With models that range from a couple of hundred dollars to over $2000. You'll find a pair to suit your budget.
For a great mid-price option, check out the Viper HD series. You'll be hard-pressed to find something better for the price.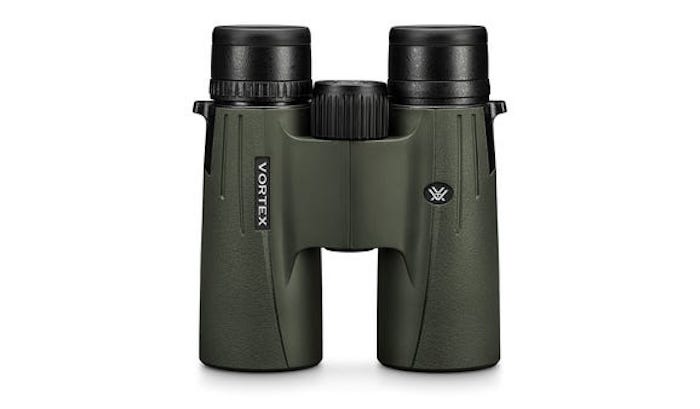 My Top Pick
US brand Maven is a relative newcomer to the mid and high range market. Their quality easily competes with big three European brands at a much less cost. Their binos are durable, waterproof, and have absolutely exceptional quality.
The Maven C.3 8x30s, are my constant companion. They are relatively small, light, and the binoculars with cameras fit nicely in my bag. At around $500 they are a reasonable price for the high quality.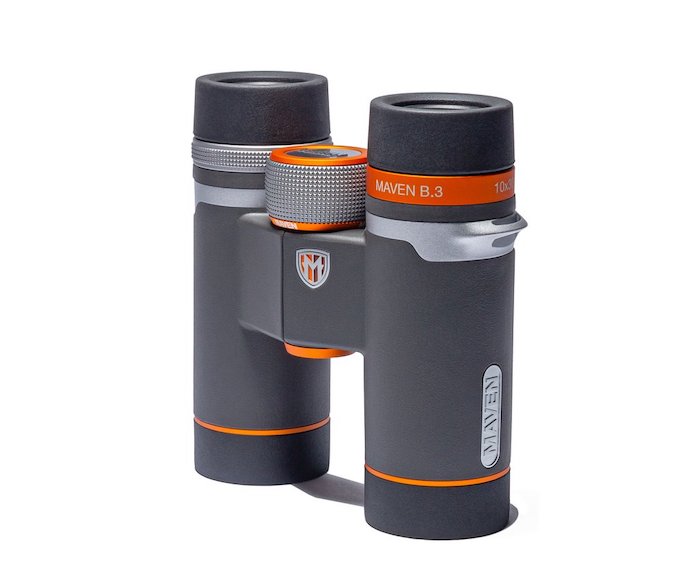 Conclusion
If you are an outdoor photographer, a pair of binoculars should be a part of your regular photo kit. If you've never carried a pair, you'll be surprised to see how often you use them. Want to scan for wildlife on the mountainside? Easy. Wishing you could check out the route down the trail? Done.
On the rare occasion that I forget to carry my binoculars, I always miss them. They are as important to me as a telephoto, and though binos don't take photos, they will help you create better ones.