As a street photographer, what's the one debate you hear all the time? That's right. It's the discussion about which camera lens is the best!
Let's go through our list of popular lenses and see which one comes out on top!
[Note: ExpertPhotography is supported by readers. Product links on ExpertPhotography are referral links. If you use one of these and buy something, we make a little bit of money. Need more info? See how it all works here. — Ed.]
Prime or Zoom Camera Lens
When it comes to choosing the best lens for street photography, there are two main types. You have zoom lenses, which allow the change of focal length. Then there are prime lenses that have a fixed focal length.
There are arguments for using both these types of lenses in taking street photos. So let's look at these lens types in more detail.
Zoom Camera Lens
A zoom lens is a general-use type of camera lens. Its big selling point is the ability to change focal length without needing you to change your lens.
There are various types of zoom lenses. The common ones being the 18-55 mm kit lens, and the longer focal length 70-300 mm. Together they almost cover every focal length.
Many of you may even have come across the superzoom. This type of zoom lens allows you to go from 18-300 mm.
Those new to photography are likely to start with the 18-55mm lens combination. It is possible to get beautiful street photos with them.
So does the zoom's versatility make it the best street photography lens? Let's find out in the next section below!
Pros and Cons of Using Zoom Lenses
Like any other piece of equipment, zoom lenses have advantages and disadvantages. Let's go through the pros and cons to see if these are the perfect optics for you.
Pros
Affordability – Most zooms (especially your kit lens) are cheaper than prime lenses. If you don't have the budget to buy several street photography lenses, then this is the best choice for you.
Ease of use – The concept of a zoom lens is easy to understand. It lets you capture wide shots to close-ups with a simple twist.
Versatility – You don't have to change lenses all the time to capture the image you want. A standard zoom lens is equivalent to three or four prime lenses.
Cons
Perspective – Focal length can dramatically change your perspective. Do you use your zoom lens to zoom in on a subject during street photography? Then you're compressing the scene. And can't include other outside elements besides your main point of interest.
Lack of interaction – One of the best street photography tips is learning how to interact with your subject. Unfortunately, that can be difficult to do if you're only zooming in to take photos.
Loss of quality – Using a zoom lens allows you to change focal length on a whim. However, they often come with compromises such as variable aperture or poor image quality and sharpness. Distortion, chromatic aberration and vignetting can also easily be an issue with the zoom alternatives. Especially if we compare them to prime lenses.
Although zooms have a few disadvantages, they're not as bad as what some people think. They're the best choice if you don't want to fumble with lenses too much. It's also a great option if you don't have a collection of optics, yet. If you're willing to work around their limitations, they can produce great results.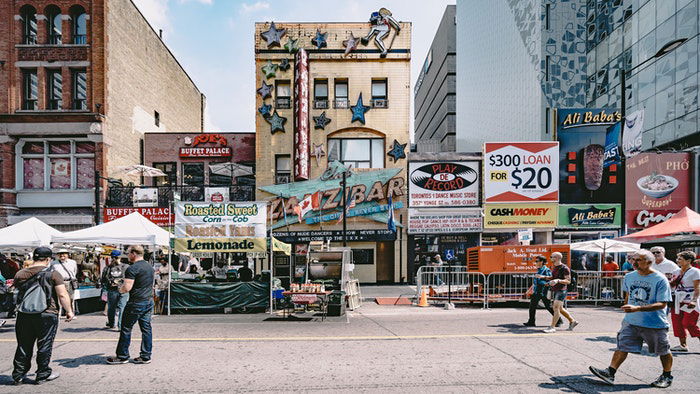 Prime Lenses
These types of lenses only have one focal length. To make it simple to understand, think of them as non-zoom lenses.
There are plenty of options for primes out there. The most popular ones include 35mm and 50mm. These focal lengths closely match what you see with your eyes in real life.
But of course, the focal lengths don't just stop at 50mm. You can go as wide as 10mm to 800mm or more.
A lot of street photographers like to use prime lenses because of their size. Their optics are also much more superior than average zooms.
So, do you think prime lenses are the best options for you? Let's look at their pros and cons below to find out!
Pros and Cons of Using Prime Lenses
Pros
Aperture – The aperture advantage of a prime lens is enormous. The quality of the glass is also much better. You'll be able to photograph at f/1.2 with some lenses if you so wish.
Low light – That huge aperture is a great advantage when photographing in low light. Street photography after dark is moody and atmospheric, and the best lens to capture this is a prime lens.
Bokeh – The large aperture also comes with another benefit, namely bokeh. Using bokeh in street photography is undoubtedly an advantage.
Cons
Fixed focal length – The most apparent issue with prime lenses is that they don't let you zoom in. If you need to take close-ups, you need to get close to your subject as well.
Not as user friendly – Beginners are used to zooming in all the time. That's why most of them need time to practice using a prime lens. Not to mention, they have to constantly dismount and change their lenses on-field if they want to capture a different perspective.
Expensive – The 35mm and 50mm are relatively affordable. But most other prime lenses can cost a whole lot more than a standard zoom lens.
Do you think prime lenses are right for you? As you build your career as a photographer, you should consider buying a few primes. After all, the quality of the photos they produce is much better than images using lenses.
Feel free to start with the 50mm lens because it's cheap. You can get one for less than two hundred dollars! After all, one of the tips on street photography involves using 35mm or 50mm for optimal results. Once you try it, you'll see the difference in quality right away!
The Best Focal Length for Street Photography
The majority of street photographers will tell you that 50mm is ideal. Why? Because it strikes up a great balance between capturing the subject and their surroundings. And as we mentioned before, it closely replicates what we see with our eyes.
Is this true, and are there any alternatives out there you could try?
NB: Depending on the type of camera you have, you may need to apply a crop factor to these focal lengths
A full-frame camera gives you 1:1 in terms of focal length, so 35 mm is 35 mm. A lens with a crop factor will mean adjusting the focal length. So if your crop factor is 1.6, your 35 mm lens is behaving like a 60 mm lens.
35 mm – Those with crop sensors often use this lens. It then becomes closer to the ideal 50 mm focal length. It's also a favourite for full-frame users as well. An ample frame size that allows you to capture enough of the scene, without needing to step back too much.
50 mm – This focal length isn't everyone's favourite, primarily if you're not used to using it. The more experience you gain, though, the more this lens will seem best suited to street photography. This lens also offers a perspective close to what the human eye sees.
Wide-angle – Do you want to get more story into your photo? Then consider wider angle lenses. You might not want to go as far as a fisheye, but a wide-angle can be fun as long as you control the distortions.
Long focal length – Do you prefer a tighter crop? Longer focal lengths will compress the scene, and also allow you to stand further back, so you're less noticeable. The 135 mm f/2 is a great camera lens if you want something slightly longer.
How about zoom lenses? Is there a perfect focal length range for them? There are plenty of options out there, depending on what you need. Let's take a look at a few of them.
18-55mm – This is the most common focal length range for kit lenses. It offers a good variation from wide to zoom. But in general, they also have the most inferior quality when it comes to optics. Nonetheless, they're the right choice if you're on a budget.
24-70mm – You can consider this the kit lens for professional photographers. They're much more expensive than the 18-55mm option, but they also provide better quality.
12-24mm – Need a speciality zoom lens that takes ultra-wide-angle shots? Then this a great option to consider. It lets you take photos in small spaces without any issues.
24-105mm – If you genuinely want an all-in-one lens, then this is the option we recommend. It can take both wide-angle shots and telephoto images. The downside is that they're bulky, and the image quality it produces is often inconsistent.
70-200mm – This is a legitimate telephoto zoom lens that lets you take close-up shots. It's also one of the cheapest you can buy that's not a kit lens.
The Five Best Camera Lenses for Street Photography
So what are the best lenses for photography? There are many camera lenses out there worthy of comparison. Here you'll see a selection of the best and some different focal length options you could try.
This camera lens is new on the market and is an upgrade from previous incarnations of the Canon 50 mm f/1.8. It has a more robust build and is a move away from the more plastic design of the older lenses.
The look and feel of this lens are excellent, and it delivers terrific photos as well. Of course, this it's not on the same level as competitors like Zeiss or Sigma. But the price is much lower.
Features to consider:
Minimum focal distance of 0.35m
Better bokeh produced by a new seven-blade aperture ring
The best value for money of 50mm lens
Compact design – not too heavy
I'm a Canon user, so in the interests of those who use Nikon, here is a 50 mm camera lens that they produce. This lens gives excellent results, works well in low light, and results in an attractive blurred background when you use a large aperture.
It's not big and bulky. Although in the battle of the budget lenses, this one comes in a little more expensive than the Canon.
Features to consider:
Great in low light
Produces a beautiful blurred out background for artistic effect
If you're a Nikon user, this offers a great value.
This small lens packs a big punch for taking photos in the streets. It features Carl Zeiss optics, which means it produces impeccably sharp images. Its maximum aperture is f/2.8. That's still a bit small as opposed to the f/1.4-f/1.8 options. Nonetheless, it creates creamy bokeh and works well, even in low-light conditions.
Features to consider:
Light and compact
Quick and silent focusing
Compatible with Sony APS-C and full-frame cameras
Most regular 35mm lenses are prone to distortion. But the Fujifilm XF 35mm does a great job of minimizing spherical aberrations and distortion.
With a maximum aperture of f/1.4, this is one of the fastest lenses on this list. Apart from the beautiful bokeh it produces, it also performs well in low light. So it's a no-brainer to use this for taking night street photos!
Features to consider:
The simple, compact design makes it easy to use and store
Features a rounded 7-blade aperture for creating beautiful bokeh
Super EBC coating on lens produces reduces flare
The Sigma lens comes with a mid-range price tag compared to the other lenses discussed here. So how does this compare to the L series lenses? Very well, in fact. It produces results that are sharper than its Canon counterparts.
This makes this an excellent lens for street photography. With an aperture of f/1.4, it's going to perform very well in low light.
You're unlikely to open the aperture up to its largest in most conditions. The depth of field will simply be too shallow.
Are you looking for a lens that gives excellent street photos and on multiple camera bodies? This could be the best lens for street photography for you.
Features to consider:
Available in multiple mounts including Canon, Nikon, and Sony
Produces beautiful bokeh without sacrificing sharpness
Neat, modern design makes it easy to use
This lens is the Swiss Army knife for photographers. It has an excellent focal length range that allows you to shoot in any situation. And it even has a maximum aperture of f/2.8 even though it's a zoom lens. In contrast, most other zoom options have a maximum aperture of f/3.5.
One of its more remarkable features is that it has a macro function. Sure it has a 2:1 ratio, which isn't a true macro. But it works well if you need to take a quick close-up of objects.
Features to consider:
It's a professional lens with a robust build that can handle rough tumbles
One of the most affordable zoom lenses in Nikon's line
Sharp, consistent quality from 24mm to 85mm
For third party lenses, Tamron's 24-70mm is the perfect option. It's compatible with Canon, Nikon, and other major camera manufacturers. This model has one of the most effective vibration compensation. It lets you shoot up to 5 stops without motion blur. We should also mention that it has a silent autofocusing motor. Even if you're shooting video, you won't hear any noise coming from the barrel at all.
Features to consider:
Aperture diaphragm has nine rounded blades for smooth bokeh;
Maximum aperture is f/2.8, making it perfect for low-light situations;
The moisture-resistant body allows for shooting in demanding weather conditions.
Conclusion
There are several factors you'll need to think about when choosing the best lens for street photography. You should consider the weight, features, price, and most importantly, the quality.
So which lens wins the debate? In the end, it doesn't matter much whether you prefer prime or zoom. Go to a camera store and try out various options. The best lens is the one that you're the most comfortable with.
Now you've got the best lens for street photography, why not check our article on street photography camera bags.
Looking for the best presets for street photography? Check out our Preset Collection!