The Canon 80D is a digital single-lens reflex camera announced by Canon on February 18, 2016. It features a 24.2 MP APS-C CMOS sensor with no optical low pass filter, dual pixel CMOS autofocus, and 7 fps continuous shooting. The camera was aimed at enthusiasts and semi-professional photographers who want to upgrade from the EOS 70D or those looking for an entry into full frame photography.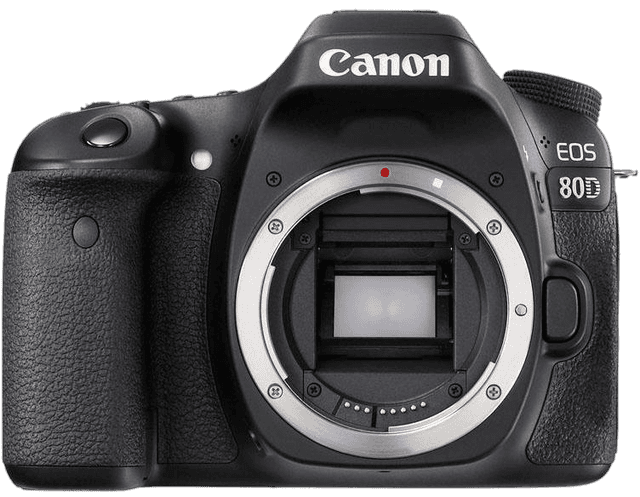 Canon EOS 80D
This powerful DSLR camera is perfect for capturing stunning photos and videos with its 24.2 megapixel resolution and advanced autofocus system.
[ExpertPhotography is supported by readers. Product links on ExpertPhotography are referral links. If you use one of these and buy something, we make a little bit of money. Need more info? See how it all works here.]
Canon 80D Overview and Specifications: A Look at the Canon EOS 80D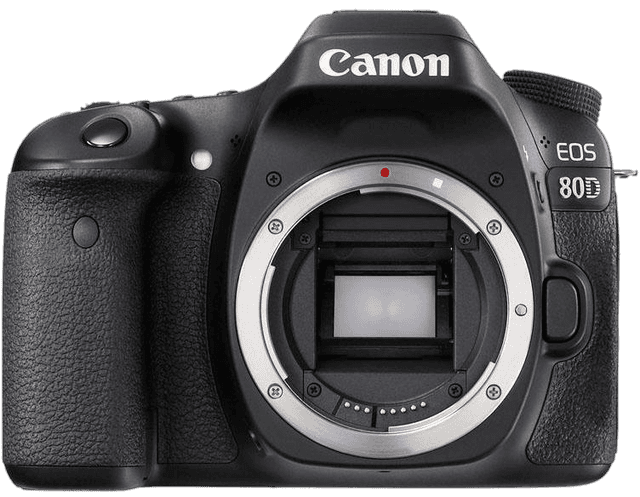 | | |
| --- | --- |
| Released | 2016 |
| Sensor Format | APS-C |
| Lens Mount | Canon EF-S |
| Megapixels | 24.2 MP |
| Autofocus Points | 45 |
| Maximum ISO (Native) | 16,000 |
| Frame Rate | 7 fps |
| In-body Stabilization | |
| Video | |
The Canon 80D is an enthusiast-level
DSLR
released by Canon in 2016 as a successor to the popular 70D. The 80D improved on
autofocus
, dynamic range, and resolution. It also introduced a headphone jack.
Features
The Canon 80D features a 24MP APS-C sized sensor paired with a 6th generation DIGIC processor. This camera sensor offers a significant upgrade in dynamic range to the one found in the 70D.
It nears Sony's comparable sensors, although it's still not quite there. In turn, Canon's processing of skin tones is class-leading. Sony only caught up with that in their most recent cameras.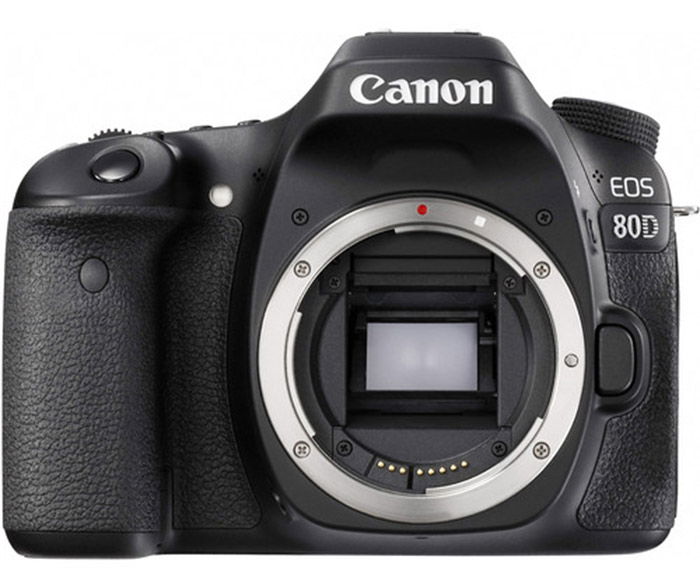 In the optical viewfinder, you will find 45 autofocus points, which are all cross-type. That means they can focus on both horizontal and vertical contrast lines. In Live View, you get Canon's excellent Dual Pixel autofocus system. It allows you to touch-for-focus and provides continuous tracking during video recording.
The Canon 80D is a medium-sized camera compared to other DSLRs. It has a large grip that's very ergonomic.
You can adjust your settings with two control dials. You can control ISO, as in most Canon DSLRs, with a button and the upper dial. The Canon 80D doesn't have a joystick; you can move AF points with the arrows.
There is also a flip-out 3″ touchscreen, which is bright and sensitive. It's very convenient to use, supporting the same gestures like your smartphone.
Build quality is good. It is made out of plastic, reinforced with glass fiber. It's not a heavy-duty camera, but it's weather-sealed and can withstand demanding circumstances.
You can choose video options up to 1080p, 60fps. Autofocus works when recording video.
The Canon 80D is capable of burst-shooting at 7 fps, at least for 25 RAW files. It then writes your photos onto a single SD card.
What the 80D Is Great For
Canon is fantastic in making user-friendly cameras. This is the case with Canon 80D, too.
This camera, although not the most technically advanced in its class, is excellent to use. It is intuitive, responds quickly, and internal processing gives you beautiful image quality.
Tones look pleasant without much editing. In my opinion, only Fujifilm has better built-in profiles.
All this makes it very suitable for general all-round photography. It will also make for a great company during travel and street photography.
See the price for the Canon EOS 80D on Amazon.
Competition
Still, in many cases, I wouldn't choose the Canon 80D over other cameras in its price range.
Let's take a look at the competition, and compare what they offer against the 80D.
80D's predecessor is also a suitable choice.
The 70D shares many of the Canon 80D's features. It has the same controls and touchscreen. The viewfinder is only slightly smaller, and video features are also comparable.
It has fewer autofocus points, although in equal coverage. In Live View, Dual Pixel AF is very capable in the 70D, too.
There is a significant advantage in favour of the 70D. You can install Magic Lantern on it.
Magic Lantern is a third-party, open-source firmware developed by camera enthusiasts. It extends the features of Canon cameras substantially.
In the 70D, it gives you a time-lapse intervalometer and focus peaking. It also has automatic video recording restart. These are only a few of its advanced features.
Magic Lantern is not yet ported to the Canon 80D, although the works are in an advanced phase.
The 70D is slightly less expensive when purchased new, and much cheaper on the used market.
Canon's newest DSLR is the successor of the 80D.
A joystick is now on the back of the camera. This change makes moving the focusing point more convenient.
Burst shooting and continuous autofocus have improved. The 90D shoots up to 11 RAW images per second.
Battery life is increased significantly, although the battery type remains the same. You can shoot up to 1300 photos with one battery, similar to the Canon 1DX MkII.
This camera can record video in 4K image quality resolution, using the full width of the sensor.
You can get the 90D at a price slightly higher than the Canon 80D.
If you're in the niche of people needing an APS-C camera with top-notch autofocus and burst, consider the 7D MkII instead.
It's an older model, but still the flagship of Canon's cropped-sensor camera line. You get narrower dynamic range and resolution. In exchange, it offers you the best autofocus you can get in this price range for great image quality.
The build quality is also much sturdier, and the camera itself is bigger and heavier. Depending on your preferences, this might be a good or a bad thing.
The 7D MkII is the only APS-C camera from Canon that has dual card slots.
You can purchase it for a slightly higher price than the 80D.
The 6D is another camera option to consider, at a similar price to the Canon 80D.
It is a full frame camera, which results in much better noise performance and sharpness. Dynamic range is also noticeably better, although not great for a full frame camera.
If you need serious autofocus, forget the 6D. The center focus point is sensitive. It only has nine points, which are centered in the frame, so tracking is not possible.
Unlike any of the previous cameras, it also lacks Dual Pixel AF. You have to stick with contrast detection in Live View and video.
Buying camera lenses for a full frame DSLR camera also stresses your wallet more.
If you're planning to use your mid-range Canon camera for landscapes and portraits, choose the 6D.
Finally, if you're not yet committed to Canon, it's worth checking out the 80D's direct competitor.
The Nikon D7500 camera has a very similar AF-system with 51 points, of which 15 are cross-type. Keep in mind that Nikon's Live View AF is not nearly as capable as Dual Pixel. Burst shooting maxes out at 8 fps.
It is better than the 80D in video resolution, shooting 4K at 30 fps.
ISO performance is also much better, giving usable image quality results at up to ISO 12.800. You can expand that to ISO 1.640.000, but you only get a pile of wild grain. It's a useful marketing feature, though.
Conclusion: Street Photography Quotes
The Canon EOS 80D is a capable and usable camera. It's not the newest model, but it delivers good image quality. Using it is a pleasure.
There are numerous reasons why it might be great for you. Consider these aspects, and you will not go wrong with your decision.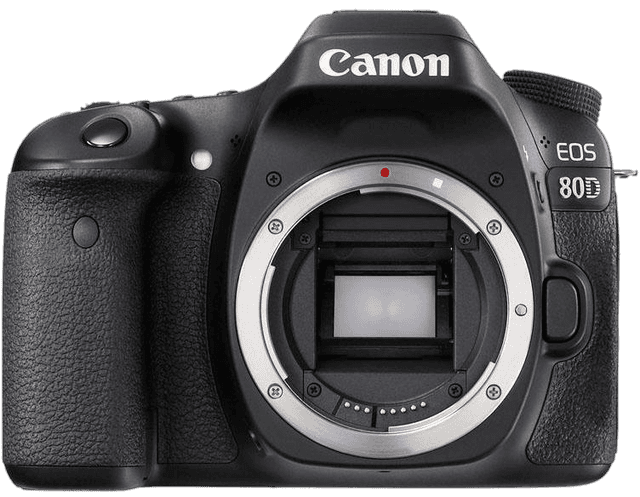 Canon EOS 80D
This powerful DSLR camera is perfect for capturing stunning photos and videos with its 24.2 megapixel resolution and advanced autofocus system.