It's possible to argue that all drones are drones for kids. Well, maybe not high-end military and industrial ones. But otherwise, even a toy drone will appeal to adults and kids alike.
Safety is obviously an important question when buying a drone for kids. How old should they be? How much supervision will they need? There may be legal differences between different countries or states. For instance, where I live in the Czech Republic, I can fly my drone freely. But if I make money from the pictures I take, I need a pilot's license. So you'll need to check. You know your kids and what is safe for them.
So if you're buying a drone for your kids, here is our guide to the best drones for kids.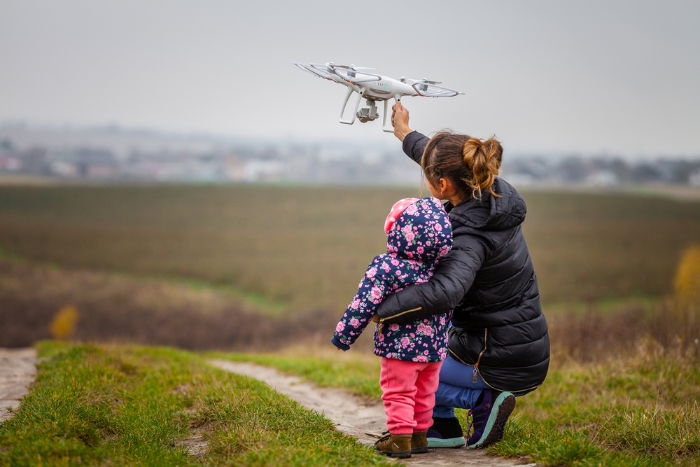 [Note: ExpertPhotography is supported by readers. Product links on ExpertPhotography are referral links. If you use one of these and buy something, we make a little bit of money. Need more info? See how it all works here.]
Important Features to Look For on a Drone
Features to look out for are automatic hover, protection for rotor blades (and anything they might hit), and weight. You will also find that some drones have a controller like a console game. Others are controlled by a smartphone app. Do you want a camera on your drone? And if so, how important is its picture quality?
There's a tenfold price difference between the cheapest and the most expensive drone in this review. The good news is that the cheaper end really is cheap. Especially when you consider the technology packed into these things.
All these drones fly by remote control, operated by the pilot. All of them use rechargeable batteries. Flight time is usually pretty short, and this will be something you want to check on. Some of the drones reviewed here are tiny—less than 2" (50mm) across. So double-check the size before you order. If you expect something the size of a dinner plate and it's smaller than a saucer, you might be disappointed.
Also, be aware that, with one exception, any of these kids' drones will be difficult to fly outdoors in any kind of wind. They are so light that even a breeze can carry them away. And it's possible that the breeze will blow the drone out of the range of the controllers.
The cheapest kids' drones don't have cameras. It seems that if you pay under $50, a camera is just too much to ask for. However, even the most basic camera drones for kids come with 720p HD cameras. It's not that long ago when this would have impressed you on a mobile phone costing 10 or 20 times as much.
What's the Best Drone for Kids under $50?
If you're looking for something inexpensive or unsure your child will take to drone flying, here are some starter toy drones for kids. They don't have cameras, but all come in under $50.
Bright green and small enough to fit in the palm of your hand, the Potensic A20 is a great starting drone for kids. It comes with three batteries, each offering about five to six minutes of flight time. Well-shielded rotors and a simple control pad make this simple and safe to fly.
It has a one-button launch, recover mode, and headless mode. It's not as frightening as it sounds. It means you don't need to know which way the drone is pointing. It will respond to the control levers as you use them according to where you are. All the best drones for kids have this very helpful feature.
Flying a drone often results in it ending up in a tree (I speak from experience). The A20's bright green color and chunky construction will help you locate it. A low-power alarm lets you know it's time to land, and a barometer-controlled altitude-hold makes it easy to stabilize the drone.
One neat feature of the Holyton HT02 is that it comes with 2 USB chargers. This means that while you're flying, you can be charging the other two batteries. Each one should give you about eight minutes of flight time. So although you won't get continual, uninterrupted flying, it will reduce downtime.
The Holyton HT02 is tiny at 1.85" (47mm). It's so small it can even fit inside the controller. This protects it well and makes it easy to take from point A to point B. It has headless mode, one-touch takeoff and landing, and an emergency stop.
The rotor protection is different from the rotor protection found on other drones. Instead of a guard on each rotor, there are two hoops, almost like a rollover cage. But this may not offer as much protection from anything that can fit between the hoops.
Choosing between this and the Potensic A20 might simply come down to which you think looks better. The specs and price are both very similar.
The palm-sized Syma is a mini drone that's small enough to easily fly indoors. It also has a 6-axis gyroscope allowing for greater stability. The Syma has a very convenient return-to-base function. And it has the usual altitude hold, headless mode, and one-button takeoff and landing. These are handy features during our early days of flying when control isn't necessarily second nature.
This third drone on this list has a different shape than the first two. The Syma X20 has quadrant-shaped detachable rotor guards. These work as bumpers rather than guards. If you fly up into an object like a tree, there is no protection for the blades and they will get caught. But if you bump into a wall, it will simply bounce right off.
The limited flight time of about five minutes and a fixed battery might count against the Syma. You'll have to wait about 50 minutes before flying again.
Safety features include completely-shrouded blades that help protect the rotors from damage. On drones, each pair of blades rotates in a different direction to maintain control and stability. The Holy Stone's rotor blades are color-coded, which makes it easy to put the right blade on the right rotor.
You can toss the Holy Stone HS210 into the air and it will fly. Flight time is seven minutes per battery, and you get three of them. As expected, it has altitude hold, headless mode, one-button launch and land, and emergency stop. The transmitter will beep continuously if the battery is low, ensuring you know when to fly your drone home.
When you do hit an object, the motors cut off to prevent burning out. The Holy Stone HS210 is a good all-rounder from a well-respected manufacturer. It should be on your list if you're looking for a budget drone for your kids.
The Best Drones With a Camera for Kids
Our next few drones are not that much more expensive than the budget kids' drones we've seen so far. We're not even talking about double the price. So what does that extra cash get you once you add a camera to your drone?
The familiar console-style controller in this package has an additional mount for your mobile phone. This opens up new possibilities compared to the drones we have seen so far.
The Holy Stone HS340 has a 720p camera, allowing you to take photos and HD video. Connecting the app on your phone to the drone also introduces some attractive features. First of all, you can see what the drone sees. This is often called "first-person view" or FPV. All of the following camera drones on this list work as FPV drones.
A word of warning—you need to learn to alternate between watching the screen and watching the drone. Especially reversing or going up. I can tell you from experience that it is easy to land in a tree unexpectedly.
The drone will understand voice commands via the app, and you can draw waypoints on the screen for the drone to follow. The controller allows you to perform standard moves like headless mode, speed change, and emergency stop.
Two batteries provide up to 20 minutes of flight time. Like the Holy Stone HS210 reviewed above, the HS340 has removable bumper propeller guards rather than shrouds. When you see the additional features that you get at this price point, it makes it hard to refuse. A cheaper drone seems a sensible choice only if you are really unsure whether your kids will take to it.
Like the Holy Stone, the Potensic A20W looks like its cheaper sibling reviewed earlier with its fully-shrouded propeller guards. But this has a console-style controller with a mount for your phone. Equipped with a 720p camera, the drone will capture pictures and video in HD and live stream it to your phone.
It has the usual controls, but the Potensic A20W introduces gravity sensing. This means it will respond to the movement of your phone without the use of the controller. Flight path mode allows you to draw the route you'd like it to take on the screen.
Three batteries allow up to 21 minutes of flight time. And it comes with one USB charging cable.
The Potensic A20W is the same price as the Holy Stone HS340, and it's a tough choice to make. You might find the extra protection of the propeller guards important. Or you might like the gravity control. Either way, the Potensic is a strong contender.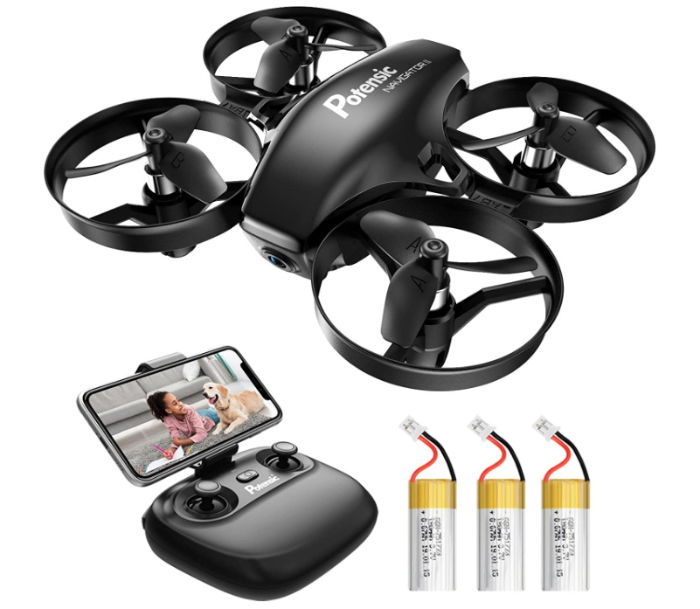 Another drone with fully-shrouded propeller guards is the Sanrock U61W. The U61W has the features we expect from the best drones at this price point. You get headless mode, three speeds, waypoint flying via a smartphone app, and one-button takeoff and landing.
But, it also has a camera that adjusts from horizontal-facing to vertical. This allows an entirely different perspective which sets the Sanrock apart in this price bracket. But you can't adjust the camera from the controller. You have to adjust the camera angle before takeoff.
You operate this drone via a separate remote control or using your phone, which you can mount on the controller. It also offers voice control and gesture control via the app. That adjustable camera might just be the thing that swings your decision in the direction of the Sanrock U61W.
As we move through the range of best drones, new features appear. With the Holy Stone HS260, we get two new additions to the specification sheet—a 1080p HD camera and foldable arms. The camera can be adjusted remotely from front-facing to 90º down. This opens up loads of new possibilities for photos and video.
The foldable arms make it easier to pack in your bag or backpack. And all the usual capabilities are there, with the addition of "optical flow positioning." This means the drone uses optical information as well as gyroscopes to sense its position. This leads to improved stability in altitude hold mode.
You control this drone with a dual-joystick remote control, which you can also mount your phone to. The latter allows voice control, gesture control, and drawing your desired route on the screen.
It comes with two batteries and each provides about 15 minutes of flight time. The batteries charge via the supplied USB cable.
The folding function and moveable 1080p HD camera make this very tempting as the best drone for kids.
The Holy Stone HS110D is the biggest we've seen so far. It is a nearly 13" (322mm) square, with a one-piece X-shaped body.
The 1080p HD camera on this drone has a wide 120º viewing angle, providing possibilities for stunning vistas. It records in 1080p to SD card on the drone (card not included) or 720p to your phone.
The controller has status indicators for speed selected and flight mode. One feature likely to appeal to kids is the four LEDs on the drone itself. On the points of the X shape, under each propeller, they indicate the drone status. Usefully, the front lights are usually white, so you can instantly spot which way the drone is facing. All four flash red if the battery is low, telling you to return to base.
Perhaps because of those LEDs, the two batteries only provide about 10 minutes of flight time each. Propeller protection is in the form of quadrant bumpers. In other ways, the specs match its sibling with app controls. But it doesn't have voice control.
For the same money, choosing between these two might be difficult. The HS110D looks like it might be more resilient to newbie clumsiness.
So far, the drones for kids we've looked at have been mainly aimed at having fun. With the Ryze Tech Tello, we add the possibility of some educational benefit to that fun element.
Ryze is owned by the serious drone manufacturer DJI. And the Trello uses components from the DJI range. The camera is only 720p but it comes with electronic image stabilization. This combines with the "vision positioning system" to provide stable hovering. This means it produces stable videos.
There is no separate controller, but you can connect a Bluetooth controller for additional flexibility. Flight time is about 13 minutes, and although the battery is swappable, there is no separate charger. This is not as practical as some of the competition.
As for educational benefits, your kids can download the Tello Edu app, which allows them to use Scratch to program the drone. Given the increasing emphasis on STEM subjects in schools, this could be a real incentive for choosing the Ryze Tech Tello.
It's a step up in price, but it has various features that make it a serious contender as the best drone for kids.
For our last two drones for kids, we start to push the boundaries of what a kids' drone should be. The Altair 818 Hornet is a behemoth at nearly 15" (380mm) across. And it's a different design from the ones we've looked at so far. It has four propellers with their shrouds connected around a central pod. Beneath this pod is the 120º wide-angle 720p HD camera.
The Hornet is the heaviest drone in our review. It is only 2 grams under the Federal Aviation Administration's 250g limit for license-free drone flying. It's clearly aimed at those who want to be a little more serious about drone flying. It has headless mode and one-touch takeoff and landing, but none of the flipping, spinning tricks found on the smaller drones.
Two batteries with 15 minutes of flying each mean that you get plenty of flight time to enjoy the stability that comes from the size and design. The controller is a standalone console, and you can monitor the video on the app on your phone.
One other area where the Altair 818 Hornet pushes the envelope is in price. This black and yellow beast is twice the price of the last two Holy Stone drones we reviewed. It is clearly for those who are more serious about their drones.
Not all kids will be beginner drone pilots. If you're looking for a more sophisticated drone for kids, then the DJI Mini SE is worth a look. DJI makes drones that photographers love. This mini drone is three times the price of the Ryze Tech Tello, so you'd expect some pretty impressive features.
This drone slides in under the FAA's licensing regulations by 1 gram. It also boasts features that make it an outlier in this review, starting with the camera. The Mini SE has a 3-axis gimbal to provide stability. This means that the 12MP camera and 2.7K video are steady and stable. You can watch the live video from an astonishing 2.5 miles (4km) away.
And the drone has plenty of flight time to make it that distance, as it should manage 30 minutes on a single battery. You can also fly in more conditions, as the DJI Mini SE will cope with winds of up to 23mph (38km/h). This is absolutely out of reach of any other drone in this review.
A folding design makes the Mini SE easily portable. The controller recharges via USB, and a whole ecosystem of accessories and enhancements is available.
The DJI Mini SE is set apart in price, performance, and features from the other drones here. But it deserves its place. Not every kid wants a drone to simply play with. Plenty want one to make some serious social media videos. This is the drone for them.

Conclusion
The good news is that even the cheapest drones for kids will give them loads of fun. And the most expensive drones will provide them with some serious recording capabilities. If you want a simple drone for your kids to start with, the Potensic A20 is a great place to start.
If your budget is a little bigger, consider the Holy Stone HS260. With its 1080p HD camera, folding body, and 2 x 15-minute flight time, it is an excellent choice in a tough field. And finally, if your kids are really serious about drone flying, the DJI Mini SE is an entry point into the world of serious drones.
Check out our Effortless Editing with Lightroom course to make sure every photo your child takes with their drone is sure to inspire their photography interests!