Have you ever wondered what the best microphone for iPhone is? Well, you have found the right page. We discuss the best iPhone microphones and see how they compare. We discuss audio quality, functionality, and the best prices.
The regular iPhone mic isn't horrible. But you need something extra for professional audio quality. As always, there are different microphones for different reasons.
It is best to find out what works for your specific audio needs. Read the rest of this article, and you will have your perfect iPhone microphone in no time!
Who Needs a Microphone for iPhone?
iPhone microphones are for people who make videos using their smartphones. iPhones have cameras that can record high-quality videos. So the convenience of using your smartphone for videos makes a lot of sense.
The only issue? The iPhone's microphone sound quality is not at a professional standard. It is hard to direct toward your main subject. And you get an unbalanced, tinny sound. The wind often overpowers this tinny sound, making any voice disappear. It can ruin a potentially crucial moment.
Microphones that connect to iPhone are great for anyone who may use their phones for videos on the go. They are particularly helpful for vloggers or streamers. They are also perfect for independent journalists who may work with an iPhone to cover a story.
A lapel microphone is crucial for journalists to record interviews. You don't want to miss recording an answer to an important question. You would kick yourself if you weren't prepared for it!
A lapel microphone is also crucial for videos where you present yourself in front of the camera. This guarantees your voice is picked up instead of all the background noise.
External iPhone microphones are also ideal for recording music. The right mic allows you to produce simple music recordings in a quick, easy, and portable way.
The sound quality is not good enough for professional music recording. But it is miles better than using your regular iPhone mic.
16 Best External Microphones for iPhone in 2022
Do you need to produce the highest quality possible video with your iPhone? Then you should get an external microphone.
Sound is just as much of a part of a video as the image quality. It is best if you treat it with the same consideration.
We take you through various mics you can connect to your iPhone. We list their specs and uses so you can find the best iPhone mic at the best prices.
Best Bluetooth Microphones for iPhone
Microphone Type: Lapel
Connector: Lightning
Size: 2.24 x 0.59 x 0.91″ (56 x 15 x 22 mm)
Weight: 0.7 oz (19 g)
Price: $
The Maybesta wireless mic is on our list as a decent wireless microphone for iPhone. It does not produce the best sound quality. But it is one of the most convenient mics on our list. You simply connect the main unit to your iPhone! Afterward, you press a button on the wireless microphone, and you are good to go!
This lavalier microphone can record continuously for 4.5 hours. This should be enough time to get an interview done. But it is maybe not enough time for a full day walking around town.
The microphone has an omnidirectional pickup. This has a max sound reception of 50 ft. It features intelligent noise reduction. And it supports the most popular software. This means you can record directly to your YouTube or TikTok account.
The Maybesta wireless mic is for people who want a cheap and convenient microphone. Its quick and easy setup makes it a product worth purchasing. It can be very handy as a backup mic.
Microphone Type: Lapel
Connector: Lightning
Size: 1 x 1 x 1.3″ (25 x 25 x 26 mm), cable is 5 ft (1.5 m)
Weight: 0.6 oz (17 g)
Price: $
Ttstar has its own budget lapel microphone. It works great with an iPhone. The best aspect about this mic is that it is simply plug-and-play. This means you plug it in, and it works immediately. It has no other setup requirements.
Ttstar claims their active-noise reduction has a high sensitivity. They also mention their ticker anti-interference cable that should help with noise cancellation. This won't be a professional level of quality. But it is much better than the built-in mic.
The simplicity of the microphone is its selling point. It is also lightweight, weighing 18 grams. This mic is best for casual interviews, live streaming, or recording YouTube videos.
I also recommend this for video calls. It's great for lecturers who have to use their phones to stream classes. It helps students hear them more clearly.
Microphone Type: Lapel
Connector: 3.5 mm TRS to lightning
Size: 1 x 1 x 1.3″ (25 x 25 x 26 mm), cable is 6.5 ft (2 m)
Weight: 0.63 oz (20 g)
Price: $
This cheap lavalier microphone from Saramonic is for beginners. It isolates your voice from peripheral noises. It is not good enough to record music on. But it is better than an iPhone microphone.
It connects to your iPhone simply through the lightning port. The mic comes with a 3.5mm TRS-to-lightning connector cable. This means you can use this mic for other devices that take a 3.5 mm TRS aux input or a standard headphone jack.
It is another omnidirectional mic. It picks up sound 360 degrees around the microphone. This entry-level mic is best suited for live-streaming or simple YouTube videos. It is also enough for voice calls when your device's mic is unreliable.
You can't expect too much from this microphone. But it won't break the bank if you just need a simple sound-quality boost. I am a fan of the long cable. It lets you get creative and use the microphone in many different ways and situations.
Microphone Type: Bidirectional
Connector: Lightning
Size: 2.1 x 1 x 2.2″ (55 x 57 x 27 mm)
Weight: 4.8 oz (160 g)
Price: $$
Zoom has made their iQ7 MS stereo microphone, particularly for the iPhone or iPad. If you are recording music or wider noise than a single person, this could be the mic for you.
It features two microphones close together facing different directions. You can see a switch to flip between 90 or 120 degrees of sound. There is also a big dial on the front. It allows you to easily adjust the sensitivity, even during recording!
Zoom has created a specific app for this microphone. This does mean you have to use the app every time. This app allows MS decoding for variable audio width.
You even get a bunch of effects you can add to your recordings. The only downside? The app doesn't have a good rating in the Apple app store. But it appears to have improved. Plus, it works with other apps like Garage Band.
I like the EG settings that let you fine-tune your recording. Overall, it is small and light and works great for musicians wanting to record from their iPhones.
Microphone Type: Directional
Connector: Lightning and USB
Size: 2.6 x 2.6 x 2.5" (66 x 66 x 65 mm)
Weight: 19.2 oz (544 g)
Price: $$
The Shure MV5 is a directional microphone. Shur produced it with podcasts in mind. They made the microphone portable and easily connectable. So you can have a podcast microphone that can travel all over with you!
It has a cool, almost retro design. So it would look good inside your videos. And the microphone comes with three easy preset modes—Vocal, Flat, and Instrument. These settings give you optimal settings for each subject you try to record.
The microphone comes with both a USB and a lightning connector cable. This means it not only connects to your phone but your computer too.
And the Shure collection of microphones is also Apple-approved. They are MFi products. That means you can connect them directly to any iOS device. They don't need any other connection kits or adapters.
My favorite part, though? They come with a built-in headphone output. So you can listen to your recording, even when plugged into your iPhone!
Microphone Type: Directional
Connector: 3.5 mm TRS
Size: 6.4 x 5.3 x 2.8″ (147 x 134 x 69 mm)
Weight: 1.8 oz (51 g)
Price: $
The Movo VXR10 is one of the best iPhone microphones for its price. This is because it is a cheap shotgun microphone. A shotgun microphone is a directional microphone. You point it toward your subject of interest.
A directional microphone does a good job of eliminating peripheral noises. The mic features aluminum construction and a battery-free design. A sturdy shock mount is included. It reduces handling noise.
The Movo VXR10 is the definition of a small and lightweight shotgun mic. It also has universal compatibility. So whether you want to use it for your iPhone or DSLR, the mic will always work.
You get a smartphone and camera cable in the box to connect to the mic. It includes a bag to carry around your mic. And you also get a furry windscreen. This helps protect the mic from gusts of wind and breathing, preventing sound pops.
Microphone Type: Directional
Connector: 3.5 mm TRS
Size: 4 x 2.5 x 7.5″ (101 x 63 x 190 mm)
Weight: 7.7 oz (218 g)
Price: $
The Comica CVM-VM10-K2 is an exceptional shotgun microphone to connect to your iPhone. It comes in a great smartphone kit with a tripod, kit bag, and connector cables. It does not come with a lightning connector cable, though.
You can buy the Comica CVM-VM10II mic without this kit. But it only comes with a hot-shoe clamp for your DSLR. The price of the whole kit together makes it an ideal package for beginners.
It would be particularly helpful for a vlogger who likes to film on the go. I also recommend it to people who want to film themselves without help.
The microphone records sound in a cardioid polar pattern. This is ideal for recording audio coming from a particular direction. The adapter is adjustable. So you can move the microphone easily while it is still securely attached.
You also get a foam windscreen as well as a furry windscreen. These dramatically reduce unwanted sounds. The microphone also sits on top of a shock absorber. This furthers its noise-reducing abilities.
Microphone Type: Directional
Connector: Lightning, USB
Size: 4.9″ x 1.5″ x 1.5″ (124 x 38 x 38 mm)
Weight: 7.2 oz (204 g)
Price: $$$
The Apogee MiC Plus claims it is a studio-quality USB microphone you can take anywhere. Apogee has been working in audio equipment since 1985. And it has managed to keep its products up to date.
We see this in how the Apogee MiC Plus, where connecting to various devices is simple and easy to use. You can use this microphone in any iOS app you choose. This is the benefit of choosing a microphone geared toward Apple products.
The Apogee MiC Plus has a headphone jack to listen to your recordings. It also has an iOS lightning cable, type-A, type-C, and USB cables.
This is a professional microphone. It can be used by many voice professionals—from musicians to actors. If you use the mic professionally, using the headphones is a must. This is because the mic's gain is quite sensitive. There is a fine line between clear and distortion.
Best Cheap Microphone for iPhone
Microphone Type: Lapel
Connector: 3.5 mm TRS
Size: 1 x 1 x 1.3″ (25 x 25 x 33 mm), cable is 16 ft (4.9 m)
Weight: 1.7 oz (50 g)
Price: $
The Pop Voice lavalier microphone is the best cheap microphone on our list! You can connect it to any device, including DSLRs and iPhones. But if you want to connect it to your Apple products, you need a headphone jack adapter for an iPhone.
It is an omnidirectional mic. So it allows 360 degrees of sound recording. In the box, you find a windscreen, a clip, an aux adapter, and the microphone itself. The chord length is long for a mic! But better too long than too short.
This lavalier microphone is ideal if you want a simple, easy-to-use microphone. It has its limitations as a lapel microphone. But it's better than the built-in iPhone one. This mic is for you if you do not want to spend much money.
The Pop Voice lavalier microphone works best for interviewers, vloggers, or live streamers. It can also be great for lecturers or other online classes. Maybe even fitness instructors can use it, thanks to the length of the mic!
Microphone Type: Lapel
Connector: 3.5 mm TRS, USB
Size: 4.3 x 2.7 x 7.2″ (110 x 70 x 185 mm)
Weight: 1 oz (29 g)
Price: $$$
Are you looking for a set of mics that connect to the iPhone? The Comica BoomX-D2 is a wireless set of lapel microphones. They can be used wirelessly up to 50 ft away from the receiver.
It comes with a lavalier and an internal microphone as input modes for you to choose from. These mics record omnidirectionally. So you get 360 degrees of sound pickup.
The receiver clearly shows the battery for all the units you are using. This is extremely helpful on long shoots.
Also, the Comica BoomX-D2 is easy to charge externally. You can use portable charging equipment for this microphone kit. It comes with a cable where you can charge all your devices at once.
The best part about this setup? You can tackle more complex sound recordings. Two mics make certain jobs a whole lot easier. This is most evident in recordings where two people are featured heavily.
The Comica BoomX is one of the microphones that connect to the iPhone through an aux. This means you need a lightning to aux cable if you have an iPhone 7 or newer.
Microphone Type: Lapel
Connector: 3.5 mm TRS
Size: 1 x 1 x 1.3″ (25 x 25 x 33 mm), cable is 12 ft (3.7 m)
Weight: 2.2 oz (68 g)
Price: $
The Powerdewise lavalier lapel microphone is the simplest mic on our list. It is a plug-and-play that goes straight into your iPhone's lightning port.
It even works with iPads and other Apple devices. But if you have a new iPad, you may need an extra connector for the USB-C port.
Powerdewise claims their mic is a professional-grade lavalier microphone. It was made with current professional recording equipment in mind. And it does a good job of keeping out peripheral noises.
The Powerdewise lavalier lapel microphone is a reliable option. Plus, it won't break your bank.
Lapel microphones can be quite limiting if you want to record a range of noises. They are only useful when isolating a single voice or sound from the environment. This lapel mic is perfect if your work revolves entirely around this function.
Microphone Type: Directional
Connector: Lightning, USB-C
Size: 2.8 x 0.7 x 1″ (74 x 20 x 25 mm)
Weight: 1 oz (27 g)
Price: $$
The Rode VideoMic is a fairly affordable shotgun microphone. It boosts your iPhone audio performance nicely. This can be a great vlogging microphone for iPhone. It plugs into your device easily and simply. And you can point the directional mic straight toward yourself.
The Rode VideoMic is much more discrete than lapel microphones. It makes your videos look more natural.
The package includes a windshield, mounting clip, and microphone. And the microphone is an extremely convenient size. It can even fit in your pocket when you are not using it but still want to use your phone.
You do not get many customizable options for different forms of sound recording. But you can always find an app that can simulate different sound effects and qualities.
Best Wireless Lapel Microphone for iPhone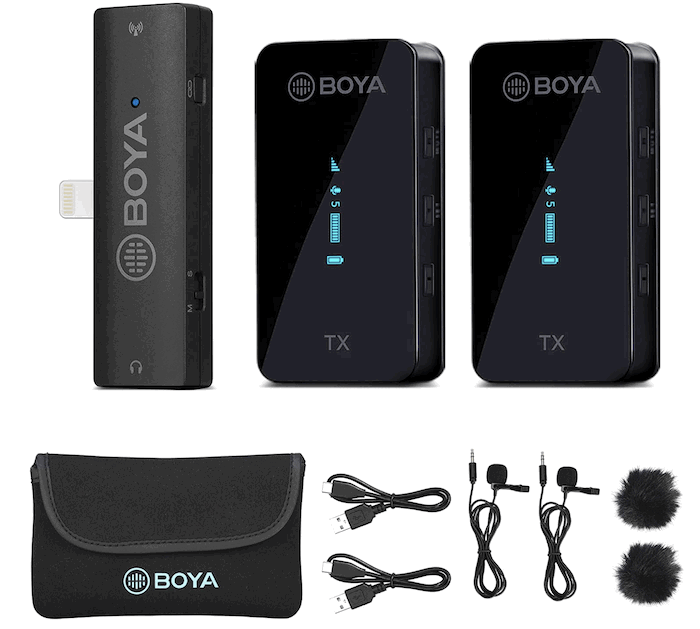 Microphone Type: Lapel
Connector: 3.5mm TRS
Size: 2.4" x 1.2" x 0.6" (60 x 30 x 15mm)
Weight: 1.1 ounces (32g)
Price: $$
Boya has developed a great set of wireless lapel mics with the XM6-S4. The super sleek microphones come with an OLED screen. It presents crucial information to you in a clear manner. It shows signal strength, battery life, real-time volume, and gain levels.
One of the best aspects of the Boya XM6-S4? It can pick up a signal from 100 meters away! This allows you to walk a considerable distance from your iPhone if needed.
The set comes with two microphone transmitters. Each one has a charge of up to 7 hours. This is almost a full day of non-stop recording!
I like how small and sleek the whole set is. The receiver plugs directly into your phone. It is small and won't affect how you handle your phone. Each transmitter can record omnidirectional sound. And they each have an input for a lavalier microphone.
The package has charging cables. And there are protective fur windshields for each microphone. These reduce popping sounds from wind and breath.
Best Noise Cancelling Microphone for iPhone
Microphone Type: Directional
Connector: Lightning
Size: 1.4 x 1 x 2.6″ (35 x 25 x 67 mm)
Weight: 1.4 oz (40.5 g)
Price: $$
The Shure MV 88 is an excellent recording mic for iPhone. It plugs directly into your iPhone. And it can be tilted 180 degrees and rotated 90 degrees.
It is Apple MFi certified. That means it connects to any Apple device. It doesn't need installation or a specific application.
But the microphone does come with two free apps that help you customize the mic's performance. These two apps work at a professional level. They give you a lot of control over this small but powerful microphone.
Its metal body feels robust. It feels like it can go with you through some tough environments. It is small enough to fit in your pocket. But it also has a secure carry case. Plus, you also get a black foam windscreen. It helps in challenging wind conditions.
I'm a big fan of this microphone. It is travel-sized and produces amazing results. If you need a microphone that stays on your iPhone, the Shure MV88 is for you.
Microphone Type: Directional
Connector: Lightning, USB-A, USB-C
Size: 4.9 x 1.5 x 1.5″ (124 x 38 x 38 mm)
Weight: 7.2 oz (200 g)
Price: $$$
Apogee's Hype Mic is a professional microphone that can connect directly to your iPhone. The Hype Mic is one of the only USB microphones with a built-in analog compressor. This has a profound effect on how your voice sounds. Usually, you add this process in post-production. But this feature takes out this step for you!
This mic is ideal for beginners. Or it's for people who do not know much about audio editing.
There are three built-in compression settings—Shape, Squeeze, and Smash. You can flick through these options quickly to find the best sound in your environment.
You can listen through the headphone jack. You get a live preview of the recorded sound, which makes the headphone jack super helpful.
The Apogee Hype Mic can capture everything from podcast streams to instrument recordings. You can also select the blending control for zero-latency recording. All its features and great quality make the Hype Mic an excellent microphone.
Our Top Pick
Microphone Type: Directional
Connector: 3.5 mm TRS
Size: 9.4 x 4.5 x 2.8″ (69 x 60 x 39 mm)
Weight: 1.6 oz (48 g)
Price: $$
Sennheiser is one of the top brands in the world when it comes to sound equipment. Their MKE 200 is no different from their other products. It provides a professional microphone with amazing audio quality.
The microphone was primarily made for DSLRs. But it was also designed to work with smartphones. You need a clamp as the mic fits into a hot shoe. And you also need a lightning cable to connect it to your iPhone.
The MKE 200 minimizes handling noise with internal suspension. It also has integrated wind protection. There are no batteries needed. It runs off your device. This makes the mic lighter and smaller. So it's perfect for iPhone users.
This microphone is best suited for vloggers who want professional audio quality. The MKE 200 is good enough to record everything—even musical instruments.
One missing aspect? It doesn't have a headphone jack. But I understand that they wanted the mic as condensed as possible.
Microphone for iPhone FAQ
These are the questions people ask most about iPhone mics. Let us know in the comments if you have any more.
Can you connect a microphone to an iPhone?
Yes, you can do this through the lightning port.
Where is my microphone on my iPhone?
You can find your built-in microphone at the bottom corner of your iPhone.
What microphones are compatible with iPhones?
Most microphones are compatible with and connect to an iPhone. But some may need a specialized app. iPhones before the iPhone 7 can take any mic with an aux output. iPhones after the iPhone 7 need a lightning connector, like many on this list. If the microphone doesn't provide this, you must purchase a 3.5mm aux to lightning cable.
Can you tell me how to use an external mic on iPhone?
An external mic should be easy to set up on your iPhone. Most will have a plug-and-play feature. If they do not come with their own dedicated app, you can use the Voice Memos app from Apple.
Can you tell me how to record with a microphone on iPhone?
Simply find the Voice Memos app that comes pre-installed on your iPhone. If you want more control over your recording and to make edits, you can do this through the Garage Band app.
Can you tell me how to use a mini microphone for iPhone?
A mini microphone needs some form of clip to attach to your iPhone. You can find many clips that can hold your mini microphone at multiple angles. Most mini microphones should provide a clip upon purchase.
What is the best microphone for iPhone?
The Sennheiser MKE 200 is the best external microphone for iPhones. This considers various features, such as audio quality, size, and functionality. It may not be an ideal microphone for your specific needs. Go over the rest of the list to find the perfect mic for you.
Conclusion
After going through this list of best iPhone microphones, we can see a wide range to choose from. You must think about mic type, quality, and price range. It would be best if you determined the primary purpose of your mic. Then you can plan your purchase around this. If you want to do interviews, go for a lapel microphone. If you want to record an acoustic instrument, choose a directional microphone.
There are two features I have found to be the most important. But they aren't deal breakers. One is a headphone jack. This gives you a real-time idea of how your recording sounds. The second is how the mic deals with background noise. External microphones are great at capturing selected sounds. Having noise-canceling abilities will make your sound even sharper!