Smartphones are becoming increasingly popular for photography. And as the popularity grows, so does the list of iPhone camera accessories you need. There are many products on offer. And all of them maximize your iPhone's potential. So we put together this list of our favorites!
[Note: ExpertPhotography is supported by readers. Product links on ExpertPhotography are referral links. If you use one of these and buy something, we make a little bit of money. Need more info? See how it all works here.]
The Top iPhone Camera Accessories to Buy This Year
Take a look at this list of gadgets and accessories for your iPhone. You'll find them useful next time you go out to take photos!
When you're proud of your smartphone photography work, you want to show it off to your friends. There's no better device for displaying your fab photos than a projector. And you don't need to worry about using a big piece of equipment with lots of cables.
The WeWatch Portable Mini Projector is one of the best on the market. It's Wi-Fi compatible. Once it's connected, you'll be able to sync it to your iPhone. It's hand-sized with a sleek and stylish design.
The image and video quality are 1080p, which is home theatre standards. There's a built-in fan so it doesn't overheat like other projectors. And the two built-in speakers have great sound. It's perfect for showing off your iPhone photos and multimedia.
We've all had that moment when we want to take the perfect selfie but our arms are not long enough. A good selfie stick is one of the first iPhone accessories that comes to mind for iPhone photography.
This ATUMTEK Selfie Stick Tripod is one of the best iPhone camera accessories. It is not only a selfie stick. It doubles as a tripod too. It comes with a Bluetooth remote and a fill light, so your selfies are always perfect. Weighing only 6 oz and having a storing length of 3.4 in, it is very portable.
If you want to have your iPhone ready at all times, then a neck strap is a must-have iPhone accessory. You'll have your phone available at all times. But the lanyard keeps it safe when you're on an adventure.
This lanyard comes with a detachable and adjustable neck strap. You don't have to keep putting your iPhone in your bag or pocket. This lanyard also has a convenient card slot. You can keep your cash, credit card, and ID all in one place.
Smartphone photography is all about portability. Users like to put their device in their pocket after taking a photo. It makes sense that the iPhone camera accessories should be as compact as your phone.
In many types of photography, tripods are a must when you're shooting with your iPhone. Unfortunately, regular tripods are sizeable, which defeats the purpose of portability.
Thankfully, the Joby GorillaPod is an excellent substitute. There are loads of tabletop tripods available. But none have the flexibility of the Gorillapod.
Instead of having solid "legs," the Gorillapod has bendy ones. You can move these in any direction. The system works like a desk lamp that can bend freely but stays rigid when you need it to.
All that mobility means you can set up the GorillaPod on unstable surfaces. You can also wrap it around poles or trees to help you shoot from unique vantage points. This is especially useful for mobile photography.
If you're big on selfies, you can even bend it like a selfie stick, so it is easy to hold while taking a photo.
Pair the GorillaPod with a GripTight tripod mount for a great mobile photography set-up.
The DJI Osmo Mobile 3 is worth the investment if you love shooting videos. With an accessory like this, you can achieve cinematic shots Hollywood filmmakers would envy.
The DJI Osmo's main job is to keep your iPhone stable while you're shooting. Combining mechanical parts with electronic functions ensures smooth footage. It doesn't matter if you're recording while walking or jumping around.
This iPhone accessory is also perfect for creating time-lapse videos. You can shoot still photos and combine them into a video by activating the Interval Mode.
If you don't want to stack photos, you can use the Time-lapse Video Mode. It shoots video instead of stills to create a time-lapse. This can take up a lot of space on your phone. But it's more efficient than combining hundreds of images in post.
Lume Cube has an excellent bundle of iPhone accessories for content creators. It's perfect for vloggers, make-up tutorials, and action videos.
The set contains a handle that has fold-out legs, so it doubles as a tripod. It's the ideal size for tabletop photography. You also have the LCD panel light for even illumination, which is great for selfies. And you have a microphone with a sound diffuser. You'll be able to shoot video and audio outside, even on windy days.
The Lume Cube Mobile Creator Kit has all the accessories a content creator needs to get started. It's excellent value for money. And Lume Cube is making a name for itself with high-quality equipment.
Are you tired of losing your iPhone lenses all the time? Get this 4-in-1 lens instead. It's like the Swiss army knife of attachable optics.
It offers a 22x telephoto lens, a fisheye lens, a wide-angle lens, and a 25x macro lens all in one body.
Most lens attachments clip onto your iPhone camera. These put pressure on your phone screen. But the Selvim snaps onto your device without the danger of damaging it. All you have to do is place the lens you like in front of the iPhone camera before you shoot.
The Selvim lens kit features glass optics instead of plastic variations. That means your photo will be sharp even with the magnification.
And it also comes with a case to protect them from the elements when not in use.
There are different lens kits and sets available for various iPhone models.
Printing photos is becoming popular once again. And who can blame them? It's always nice to have physical copies of your pictures.
Thanks to new technology, you don't have to limit yourself to using a desktop printer anymore. With the HP Sprocket, you can finally have a printer as small as your smartphone.
At 4.53 by 2.95 inches, you can take the HP Sprocket anywhere with you. It connects via Bluetooth. So you don't even have to attach it to your phone with a wire.
The only time you'll need a USB cable is for charging it. It can print up to 35 photos with a full battery, which is impressive for such a small printer.
The HP Sprocket also uses Zink (Zero Ink) technology to print iPhone photos. The reason why it's so slim is that it doesn't use ink cartridges at all. Instead, it activates the "ink" trapped inside the crystals in the paper by applying heat.
It's not only cheaper than going to the photo lab, but it's also more convenient. Especially when you're always on the go.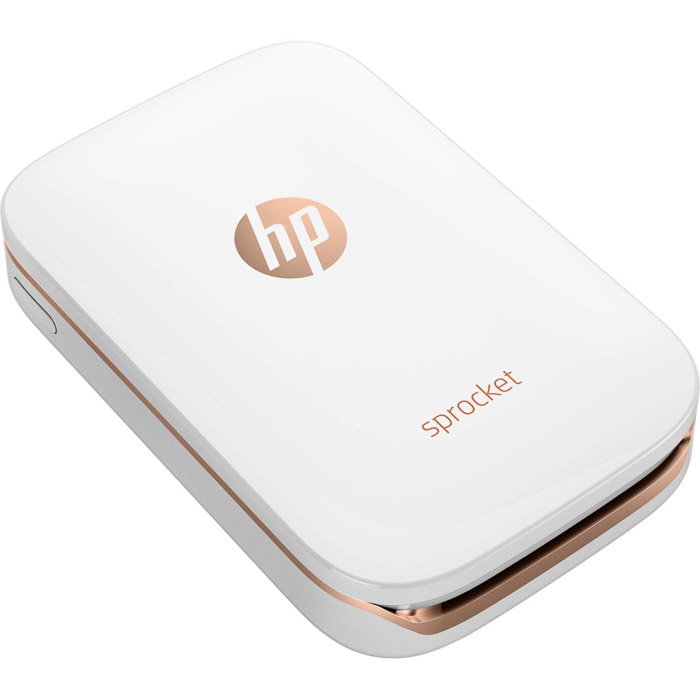 Your iPhone camera's self-timer is a useful tool for many real-life applications. But it also has plenty of limitations. When it starts ticking, you only have so much time to get yourself in the shot.
If you find yourself in that situation, it's better to use the Camkix remote control instead.
This keychain-sized remote connects to your phone via Bluetooth. Even if you're a few yards away from your camera, you can still activate it without any problem.
With this gadget, you don't have to scramble to get in front of the camera in time. All you have to do is press the button, and it directs your iPhone to snap a photo automatically.
The Camkix is also perfect for shooting long exposures. Instead of using the self-timer, you can use the remote to take photos instead.
If you take a lot of pictures at night, this is undoubtedly one of the iPhone camera accessories you'll need.
Since you don't have to touch the camera at all, you don't have to worry about motion blur in your photo.
Taking many photos drains your phone battery. This can be a pain when you're out shooting. So if you want to shoot without interruption, you need to get a power bank.
There are plenty of portable chargers out there, and Anker's are among the best in the industry.
One of Anker's most popular power chargers is the PowerCore Slim 10000. It's affordable, tough, and durable. And it has over-charge and temperature control. So it won't explode when you're charging your devices.
Furthermore, the PowerCore Slim will charge your iPhone faster than its competitors. You can fill up the battery of your iPhone in six hours, which is impressive for a power bank of this size.
It's compatible with iOS and Android. So you can use it to charge any device you have in your bag. If your battery is running low, just plug your iPhone into the PowerCore Slim and continue shooting.
Since it's small and light, you can keep it in your bag or pocket when you're out on photography missions.
Ever wonder if you could take photos of everything around you? Then you need to try 360 photography. As the name implies, it involves shooting scenes that you can view in 360 degrees.
The 360 photo concept has been around for a few years now. And products like the Insta360 Nano now make it possible for anyone to try it.
The Nano camera attaches to the iPhone, but you'll need to download the app to activate the device. The program serves as a platform to view and share the 360 images you shot.
So how does 360 photography work? The Nano's two fisheye lenses capture scenes in front and behind it at the same time. Afterward, it stitches the two pictures together to produce a borderless photo.
You can then view the result on your iPhone screen or a virtual reality headset. You can also convert the photos from the Nano into tiny planet versions using the Tiny Planet Mode. The app stitches your panorama to appear like a little planet from the children's book The Little Prince.
Conclusion
There's no need for bulky, expensive equipment with these best iPhone camera accessories anymore. Years ago, you could only imagine fitting all your photo gear in your camera bag. Now, you can even bring a printer with you if you want.
All of these iPhone accessories will help you get high-quality images, from close-ups to super-wide shots. We hope you've found what you need to take your iPhone photography to new levels.
Check out our Urban Smartphone Minimalism course to step up your smartphone photography!