It can be confusing to figure out which camera accessories are useful and which ones are a waste of money. Some accessories are essential for every photographer, while others are only handy in a specific genre.
Here is a list of the top 20 essential camera accessories to help you make the best choices.
[Note: ExpertPhotography is supported by readers. Product links on ExpertPhotography are referral links. If you use one of these and buy something, we make a little bit of money. Need more info? See how it all works here.]
Why Are These Camera Accessories Essential?
The items we hand-picked for you are essential due to their ability to fit different photography situations and genres.
Whether you're pursuing landscape, portrait, macro or other types of photography, you will find all of these camera accessories useful.
Some of the items will protect your gear, and some will make you feel more comfortable while taking photos. Others will make sure you don't have to worry about camera shake and blurry results.
A power bank or an extra memory card will provide extra security for your photoshoot, while filters help you embrace your creativity.
For more tips on how to get started in photography, check out our course Photography for Beginners here.
1. Rubber Lens Cap
No matter the photography genre, you need to protect your camera lens — especially if you invested in an expensive lens kit.
The Universal Lens Cap by KUVRD protects your lens from dust, dirt and water. It offers a tight seal on the lens and blocks out all the elements.
It's called universal because it fits 99% of the DSLR lenses. However, there are Micro and Magnum lens caps available if you want to cover your smallest and largest lenses.
The Micro fits the 54mm-76mm lenses best, and the Magnum is the best fit for 72mm-122mm lenses.
Thanks to its rubber material, you can stretch it and it fits on the front and the back of the lens. The KUVRD Universal Lens Cap is an excellent choice to protect your camera lens when travelling around.
2. Powerbank
Whether you shoot with your mobile or use it occasionally, you will surely benefit from having some external power. A great option would be the below portable charger by Anker, which has a capacity of no less than 20,000mAh.
This will boost anything that requires a USB connection, meaning GoPros, tablets, and even some point-and-shoot cameras.
It has a high-speed charging rate, it's super durable and weighs around 200g (less than half a pound). One of the essential camera accessories for your peace of mind.
3. TTL Flash
External flashes are incredibly useful as they can make a photo look professional. If you use it properly, it will look as though the flash wasn't even fired. This will give your photos a natural look.
The Godox V1 flash is the way forward. Use this in conjunction with the flash transmitter for the best possible combination.
The Godox V1 flash is compatible with most of the brands, so you won't regret buying one.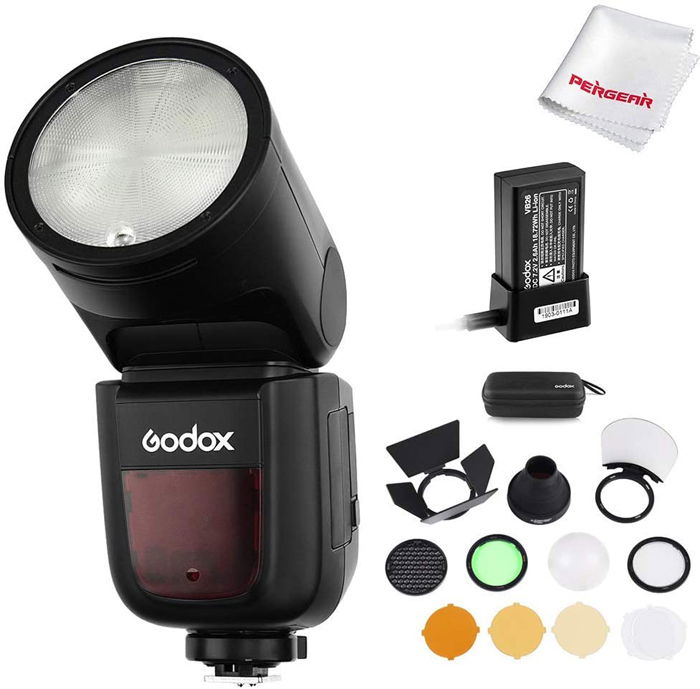 4. Memory Card Holder
A memory card holder has one purpose: keeping your memory cards safe. They can hold anything you throw at it, such as CF cards, SD cards, and micro SD cards.
Some even protect the cards from shock and water, making this one of the must-have camera accessories.
The VKO Memory Card Case is the best you are going to find for all three card sizes. It protects your memory cards from dirt, scratches, and it comes with a water-resistant upper.
5. Flash Transmitter / Sync Lead
If you can afford one, this is a great way of experimenting with a flashlight and giving your photos a professional look. We are talking about the Godox Wireless Flash Trigger.
One of its most important uses is functioning as fill flash. However, it is great for creating cool effects, too.
It's important to remember that anything that changes in the transmitter changes the external flash.
If you can't afford one, try a simple sync cord instead.
6. Camera Strap
I can't believe how long I struggled with my old strap before I bought one of these. As soon as I set my eyes on the Peak Design Slide Lite Camera Strap, I knew it was an excellent investment.
This camera strap is amazing and comfortable. You can change its length with one hand in seconds.
If you don't own a neck strap, this is the first and most important of all of the must-have DSLR accessories.
7. Tripod
A tripod is an essential camera accessory for any photographer. It helps you keep your camera stable and frees up your hands.
When you start investing in photography gear more, you'll only want the best DSLR accessories. And, when it comes to a tripod, you'll want to make sure it can hold the weight and provide stability.
The Manfrotto 190XPro4 is an excellent tripod. It will help you take sharp photos, no matter the condition.
8. Remote
The main reason I use a remote is not that I want selfies, but because I don't want camera shake. This is one of the best DSLR accessories for ensuring the best quality images.
I love doing night photography, which entails spending a lot of time with my camera on a tripod. When you're taking a long exposure, even the slightest movement will make your image less sharp.
Be careful which one you buy, though. There are different remotes for different cameras — wireless and wired. Remote shutter releases are a godsend, especially in adverse weather.
Give the Canon RC-6 Wireless Remote Controller a try. You won't be sorry.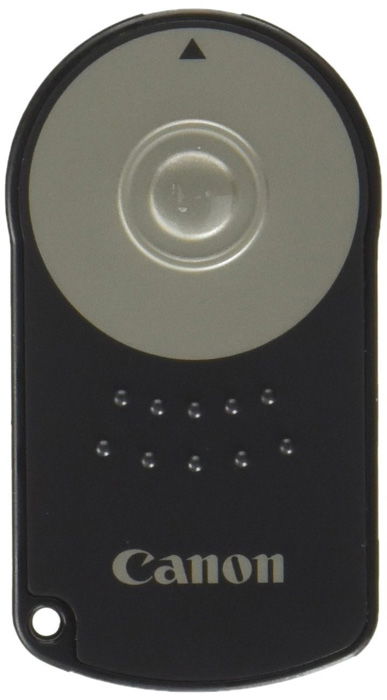 9. Camera Rig Case
A camera cage comes handy when you want to protect your camera body. If you drop it or it gets scrapped, the cage will protect it from getting damaged.
Many photographers would opt for a camera clip but a camera rig case offers better protection. Plus, you can even use it for video-making.
The SMALLRIG Camera Cage is an excellent choice to keep your camera safe. It has rubber cushions on top of the base plate, which protect the camera from scratching. You can also adjust its size to fit different camera models.
10. Creative Filters
Creative filters include UV, ND and color filters. They come in handy in various photography scenes. From photographing sunsets to creating long exposures, you can only benefit from the usage of creative filters.
To see exactly what they do, have a look at this article here. Remember to make sure you're getting the right size for your lens and that you're buying a circular (as opposed to linear) filter for a DSLR.
One of our recommendations is the Hoya 72mm DMC PRO1 Digital Circular Polarizer Glass Filter. It's ultra-thin, reduces lens flare and allows you to shoot high-quality images.
11. Grey Card
You should know all about how to get the right white balance by now. Using a grey card is the best way to get the most accurate results.
Carry this grey card set around in your camera bag for whenever you feel the camera is getting it wrong.
They're easy to use and have a significant effect on your photos.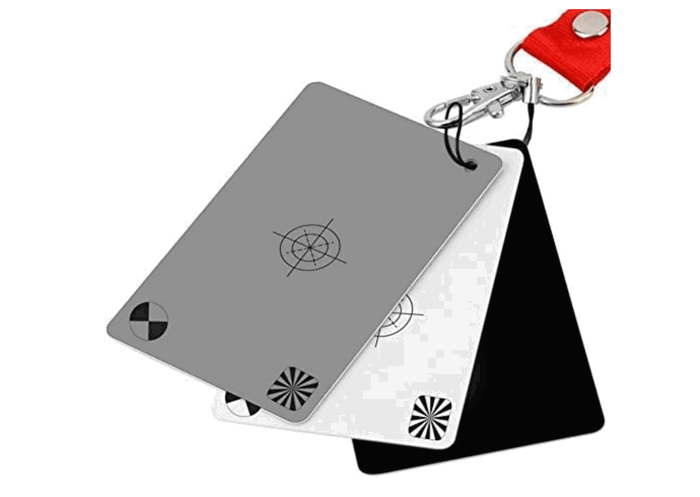 12. Lens Cleaner
I've tried all sorts of cleaners over the last few years and have found the MagicFiber Microfiber Cleaning Cloths to be the most versatile and useful.
They're cheap, disposable and you can use them on your filters as well.
Their anti-static nature is great at keeping dust away too. Use these for the most effective lens cleaning in the dirtiest conditions.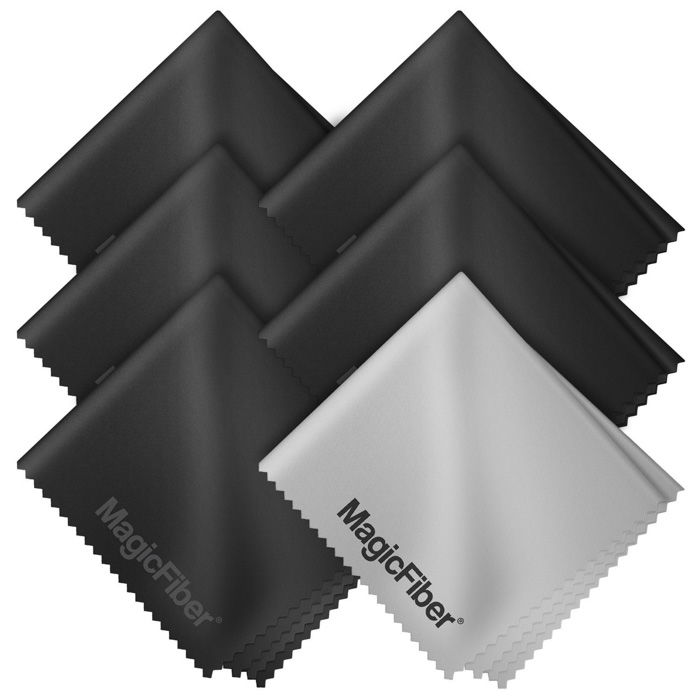 13. Sensor Cleaner
When it comes to sensor cleaning, I leave it to a professional. That is unless I can tell that the problem is only dust-related.
To remove the dust, I use a Rocket Air Blaster to blow away any pesky particles inside my camera. It's incredibly effective and, once again, you won't have to break the bank.
With this sensor cleaner and the lens clothes, you can put together an essential lens cleaning kit.
14. Extra Batteries
When you buy your camera, it comes with one battery. But you might find you need more for photoshoots your spend away from any electrical output.
Three batteries put you at ease a lot more than only one.
Shooting for long periods of time, in continuous bursts really drains your batteries. And you really don't want to be caught out halfway through a wedding.
Batteries are an absolute must if you are considering to use a battery grip. Extra batteries are must have camera accessories, especially for those pursuing landscape photography.
And what are battery grips good for? They offer your camera many more frames-per-second with than without.
For Canon cameras, check out the Canon LP-E6 LP E6N Battery, for Nikon the Nikon Rechargeable Li-IOn Battery, and for Sony, the NP-FW50 Camera Battery Photoolex 2 Pack 1150mAh Power Battery for Sony.
15. Extra Memory Cards
Photographing events can take up a lot of place in your memory card. The bigger camera sensors get, the bigger the file sizes.
Bigger files need more space. When in need of extra space, I go for the SanDisk 64GB Extreme SDXC UHS-I Card.
Space isn't the only thing memory cards need to possess. As cameras pump out bigger and bigger files, your memory card needs to keep up.
Some cameras take 14fps, and your card shouldn't hold you back. Make sure you get the right card for your camera — usually SD or CF.
16. Memory Card Reader
I didn't realise how slow transferring photos through your camera can be. This all changed when I needed to buy a memory card reader.
It gave me a huge speed boost and, as I take more and more photos, it saves me more and more time. A card reader is not only a must have but also one of the best camera accessories.
You can even use it alongside your camera if you need to add a lot of images to your computer ASAP.
The Transcend Multi-Card Reader is one of the best memory card readers out there as it gives you access to SD, Micro SD and CF cards.
17. External Hard Drive
Whenever I transfer important photos onto my computer, I make sure that I export them into an external hard drive at the same time. This means that I have access to separate back-ups.
When I'm done with them on my computer, I relocate the photo masters into two separate hard drives. This way I can still see them in my photo library. All this without taking up room on my laptop.
As I travel and prefer to work on my laptop on location,  I have a portable external hard drive. This one doesn't need an external power source.
The WD 4TB My Passport is the perfect accessory. It is password encrypted too, for cases of sensitive data or images.
18. Reflector
A reflector is an easy, yet fantastic accessory that should be part of your essential gear. By using a reflector, you can redirect light onto a subject or a scene.
They are excellent tools for adding fill light or creating catchlights. Moreover, they don't need any batteries, cords or button.
Reflectors are the first stepping stones into lighting techniques. The Neewer Portable Collapsible Reflector is a great option and it's convenient to carry around.
19. Camera Bag
One of the most important, if not the most important camera accessories is the bag you carry your equipment around in. A Thule Aspect DSLR Camera Backpack is your best bet.
This bag has great usability and storage. Its many pockets allow you to store all of your lenses, personal belongings, flash and other equipment safely.
20. Tethering Cable
Tethering is an excellent way to get better photos with fewer shots. With a tethering cable, you can connect your camera to your computer, and see your photos straight on the screen.
Watching the photos on a larger screen allows you to spots issues with lighting, composition or focusing. This will save you editing time and lots of headaches. You can also backup your images immediately so you avoid image loss.
Conclusion
When it comes to the amount of money you can spend on great, the sky is the limit. Be smart and start with the essential camera accessories first. These will help you out in any photography scene.
Once you decide to specialise in a specific photography genre, you can start researching additional equipment.
If you'd like to learn how to take better care of your camera (and how to take advantage of some of the gear we mention here), have a look at our article Camera Care Made Easy.