There are so many products on the market, photography accessories can be a confusing area to navigate. Photography is an industry like any other, so it's always trying to sell you something new. It can be difficult to know what you need and what you don't need.
That's why Expert Photography is here to help you navigate the robust photography marketplace. In this post, you will find 20 essential camera accessories every photographer needs today.
[Note: ExpertPhotography is supported by readers. Product links on ExpertPhotography are referral links. If you use one of these and buy something, we make a little bit of money. Need more info? See how it all works here.]
20 Essential Camera Accessories You Need to Have
All the items in our list of essential camera accessories are ideal for any photographer. It doesn't matter about their skill level or what type of photography they're into. They are must-have items for any photographer.
The Basics
These are the basic camera accessories you need if you're a beginner. And they're the vital pieces of equipment you'll need from the first time you pick up your camera.
1. Lens Cleaners
Camera maintenance is one of the less glamorous aspects of being a photographer. But it has to be a top priority. Cameras and lenses are expensive and delicate, so you need to take care of them. And keeping your lens clean is the first part of the process.
Even with a lens cap, the outer glass can attract a lot of dust. Every time you remove the cap, dust particles get stuck to the lens. This also happens with the glass element at the other end. It can pick up dust every time you detach the lens from the camera body.
The MagicFiber Microfiber Cleaning Cloths are perfect for keeping your lenses dust-free. They're soft with a very fine weave, so they don't scratch the glass. They pick up all particles, so your photos stay clear and clean.
2. Camera Strap
Not many camera accessories are more essential than a camera strap. No matter what camera you use, you'll need a camera strap of some kind. It's impossible to work without one. And it's much safer as you're far less likely to drop it.
The Peak Design Slide is an excellent all-purpose neck strap. It will attach to all DSLR and mirrorless cameras. And it has quick-adjuster handles so you can get the perfect fit. It's strong, stylish, and won't let you down.
If you want something more minimal, the Eorefo rope strap might be the one for you. It's a rugged neck strap that's usable with any type of camera. It's simple and stylish.
For compact cameras, you can go for the lanyard-style neck strap. The quick-release option from Digital NC is the perfect thing for small cameras.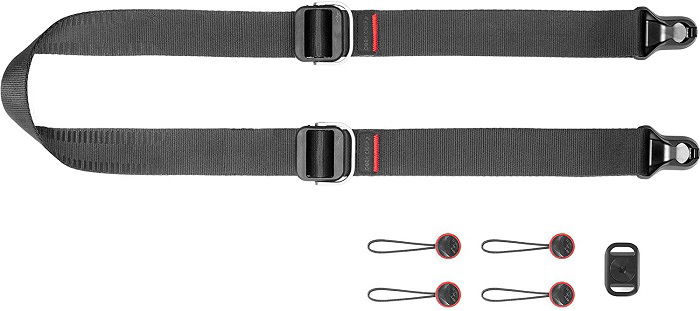 3. Camera Bag
As you start taking more and more photos, a good camera bag becomes a must-have accessory. There are plenty of different styles of camera bags, so fashion isn't a problem. But you need to know the bag will protect your camera equipment.
The Peak Design Backpack is perfect if you're a two-strap kind of photographer. It has excellent storage space for your equipment. And there's padding throughout the bag to keep your equipment safe.
Many photographers prefer messenger bags to backpacks. They allow you to access your camera without taking the bag off. If you prefer the easy access of a messenger bag, the Lowepro ProTactic MG 160 is fantastic. It's spacious and protective.
We recommend the Black Forest Remo I messenger if you want something more formal. It's handcrafted and made with real leather. It's perfect for photoshoots and business meetings.
4. Rubber Lens Cap
As a photographer, your camera lens is one of the most important pieces of equipment. Without it, your camera is pretty much useless. And camera lenses aren't cheap. That's why you need to protect them.
A rubber lens cap is the perfect accessory for protecting your camera and lens. Even if you have a good camera bag, your gear can get knocked about. The Universal Lens Cap by KUVRD adds extra protection, keeping your equipment safe.
The KUVRD lens cap fits 99% of DSLR lenses, so you don't need to worry about which brand you use. They also have micro and magnum lens caps for smaller and larger lenses. And the rubber material means it will stretch to fit your lens, providing excellent protection.
5. Sensor Cleaner
Just like your lens, you need to keep the camera sensors clean. Even the tiniest spec of dust can show up on the final photo, ruining the image quality. It is possible to remove dust spots with photo editing software like Luminar Neo. But keeping your sensor is clean is the best option.
If you have serious problems with your camera sensor, we recommend taking it to a professional. But you can play your part in keeping it in good condition.
Digital sensors are incredibly delicate, so you can't use a cleaning cloth. The best way to remove dust is a Rocket Air Blaster. This great accessory allows you to keep your sensor dust-free without touching it.
Essential Digital Accessories
These camera accessories are necessary items for anyone working with a digital camera. Film photography is very much alive and well. But most photographers have gone digital. And these are the best camera accessories for the digital era.
6. SD Memory Card
Most DSLRs and mirrorless cameras don't have internal storage, so a memory card is an essential camera accessory. And when you're out shooting, they can fill up fast. That's especially true when you're shooting in RAW.
Some cameras have dual SD card slots. But if not, you can go for an SD card with more memory. The SanDisk 128GB Extreme Pro is a fantastic option. It will hold thousand of photos.
7. Memory Card Case
The more photos you take, the more memory cards you need. And until you can back them up, they hold all the images. There's nothing worse than losing one. That's why a memory card case is one of the best camera accessories for photographers.
As the number of SD cards builds up, you need a case that can carry many of them. The Butterfox Card Case has 64 slots for memory cards. It's useful and protective, keeping your memory cards organized and safe.
If you're an action or outdoor photographer, you'll need something more durable. The Compact Hard Case from Skoloo gives your memory cards the protection they need. It has a durable exterior and is completely waterproof.
8. Memory Card Reader
If you're using a digital camera, a memory card reader is one of the must-have camera accessories. You can fill up as many memories cards as you like, but if you can't transfer the images, they're pretty much useless.
A good SD card reader will allow you to transfer your photos from the memory card to other devices. You'll be able to upload the photos to your computer so you can start your post-production in Photoshop or Luminar Neo.
The ProGrade Memory Card Reader is one of the best for SD cards. It has dual slots, which can speed up the transfer time. If you use different memory cards, you can go for the Transcend Multi-Card reader. It can read SDXC, SDHC, UHS-1, micro SD, and standard SD cards.
9. External Hard Drive
An external hard drive might not sound like camera equipment, but they're one of the best camera accessories for digital photographers. Storing your photos on memory cards is too risky, as they are small and easy to lose. You need to back everything up.
The SanDisk Extreme External SSD is an excellent portable option. It can hold up to 1TB of data, which is thousands of photos. And it's small enough to put in your pocket.
If you want something even bigger, the G-Technology G-Drive gives you 10TB of storage space. It's not as portable as the SanDisk, but you won't fill it up in a hurry.
10. Tethering Cable
A tethering cable is an excellent piece of photographic gear if you do a lot of studio photography. It allows you to connect your camera directly to your computer. You can see the photos on the screen as soon as they're taken.
When you see the photos on the computer screen, you can see the images in more detail. It allows you to identify problems so you can fix them straight away. There's no need for a re-shoot.
The TetherPro USB is perfect for studio photography. The cable is 15 feet long, so you still have freedom of movement while your camera and computer are tethered. It's an excellent piece of camera gear.
Camera Accessories for Photography
These are the best camera accessories for the process of photography. They're pieces of camera equipment that'll help you capture the best pictures you can. You'll get the most out of your camera. And you'll be able to branch out into new areas of photography.
11. Tripod
Tripods are essential camera accessories for many types of photographers. They keep your camera steady, so you can avoid camera shake. Tripods are used in fine art, product, and portrait photography. And landscape photographers can't work without them.
Manfrotto makes excellent camera accessories. And if you're in need of a lightweight tripod, their compact aluminium ball-head tripod is an excellent option. The pan and tilt head gives a fantastic range of movement. And the extendable legs give you excellent height range.
If you need something smaller, the Joby Gorilla Pod is one of the best tripod options. The flexible legs give you creative control. And they can grip onto posts and tree branches.
A tripod might be too slow to set up for each shot for a sports photographer or photojournalist. You'll need a monopod. They keep your camera stable but allow you to move around quickly. The Benro Adventure 3 is our top pick for monopods.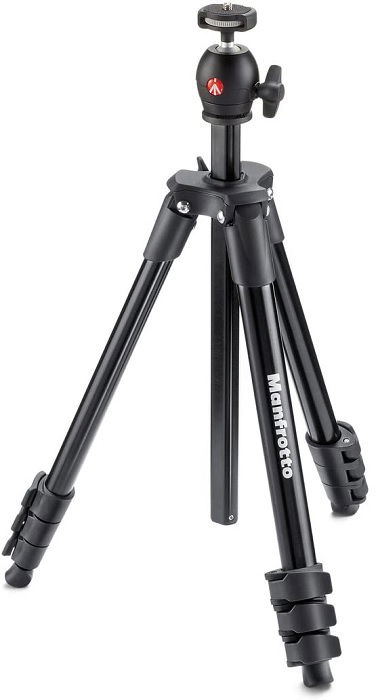 12. TTL Flash
The flash is another essential piece of kit for many areas of photography. They're useful in portrait, fashion, and product photography. And flashes are also used in food photography and photojournalism. You can use them on location or in the studio.
The Godox V1-N Flash is one of the best and most affordable on the market. You need to buy the correct one to match your camera. But they have flashes available for Nikon, Canon, and Sony cameras.
The Godox V1-N head has an excellent range of motion. And the different flash modes give you a fantastic array of creative options. It's a must-have for your camera bag.
13. Flash Transmitter
Sometimes one flash isn't enough. You might want to use several flash units at the same time. And to do so, you'll need a flash transmitter. It will sync all the off-camera flashlights so you can create dynamic lighting effects.
We recommend the Flash Transmitter from Godox. It's an affordable option, but it also has excellent features and build quality. You can change the lighting effects of the flashbulbs. And you can arrange the bulbs into groups for more control.
14. Reflectors
Light plays an integral role in taking pictures, no matter what photography genre you work in. Light reflectors are an affordable way of taking control of your lighting conditions. You don't need any electrical plugins or lighting. You can manipulate the ambient light you have.
Neewer has some fabulous camera accessories. And their 43-inch collapsible multi-surface reflectors are some of the best you'll find. It's a 5-in-1 set, giving you excellent scope for lighting effects. They also have a set of rectangular reflectors if you need something a bit bigger.
You can use reflectors in the studio or out on location. And they're great for portrait, fashion, and product photography. It's a purchase you won't regret.
15. Shutter Remote
If you like shooting with a slow shutter for long exposures, a remote control for your shutter is an excellent camera accessory.
If you're using a long shutter for night photography or astrophotography, the slightest movement can affect image quality. Even if you're using a tripod, clicking the shutter can cause camera shake. Using a shutter remote removes that risk. And they're great for self-portrait photography too.
We have an option for Canon and Nikon camera users. Both are reasonably priced and easy to use. They connect to the camera via Bluetooth, and you can click away remotely in no time.
16. Creative Lens Filters
Creative lens filters are one of the best camera accessories to give your photography a new look. Creative filters include UV, ND, and color filters, giving your photos a different feel. There are also excellent astrophotography filters.
One of the best filters we've found is the Hoya 72mm DMC Pro filter. It produces fabulously clean images, reducing glare and aberration. And it also eliminates discolorization in the viewfinder.
There's an excellent set of color filters from Neewer if that's your thing. It's a nine-piece set, and each filter is a different color. And the set includes a grey neutral density filter.
Essential Camera Accessories for Video Makers
Video and multi-media creation has become a massive part of the photography business. Many professionals work with video just as much as they do with stills. And these are the most important camera accessories for video creators.
17. Camera Stabilizer
Getting steady footage from a handheld DSLR or mirrorless camera is next to impossible. You can use a tripod, but that doesn't allow any camera movement. A camera stabilizer lets you shoot moving footage and tracking shots while reducing shake.
A camera stabilizer uses counter-weights and a flexible handle to keep your camera steady. You can shoot tracking shots on foot, so you don't need a dolly.
The Glidecam HD-Pro is the best handheld stabilizer in the business. It's a professional-grade piece of equipment. But it isn't cheap. If you need something more budget-friendly, we recommend the FLYCAM Redking Stabilizer. It has a solid build and provides superb stability when filming.
18. Camera Gimbal
A camera gimbal is another tool for shooting smooth video with your camera. It's similar to a stabilizer, only it doesn't use a counterweight. A gimbal counteracts the movement of the holder, so the camera isn't affected.
Many photographers are moving from stabilizers to gimbals. They don't use weights, so they're lighter and easier to work with for long periods. It also means they're more compact.
The DJI Ronin-SC is at the top of most lists for camera gimbals. It's a bit on the pricey side. But it can hold up to 4.4lbs. And the 3-axis stabilization will give you fabulous footage.
DJI also has a smaller gimbal for mobiles if you're creating movies with your smartphone. The DJI OM 5 also works with 3-axis stabilization, so you'll get the same excellent results. For more, check out our DJI OM 5 review!
19. Camera Filming Rig
If you're really on your way to becoming the next Christopher Nolan, a camera rig could be the accessory you need. It provides the stability of a gimbal and stabilizer. And it gives you excellent camera control for capturing video.
With a camera rig, you can add other camera accessories to the setup. You can add lights, microphones, and monitors. Your rig will become a cinema creation unit.
Filmcity Cage Mount is the best option for DSLR cameras. The three handles give you control and stable footage. And you can add other pieces of kit for a professional video setup.
20. External Monitor
Shooting video with a DSLR or mirrorless camera can be difficult. Sometimes you don't know if you're getting the right shot. That's why an external monitor is one of the most important camera accessories for videographers.
A monitor allows you to see exactly what you're shooting when filming. It will seriously reduce the number of re-takes and re-shoots you'll need. They save time and money while making filming much easier.
The Sony CLM-V55 LCD monitor is at the top of the range. It's professional-grade, but it comes with a professional price tag. The ANDYCINE A6 Pro is another great monitor. But this one is less painful on your wallet.
Conclusion
Camera accessories are an essential part of being a photographer. Accessories like camera bags and straps are totally necessary. You'll need them just to get started. But other camera accessories are there to make your life easier and improve your artistic output.
Everything on this list would be an excellent addition to your camera bag. We have the best camera accessories that will meet every photographer's need so they can perform to their best abilities. If there are any camera accessories we've missed, write a comment below.
Now learn to capture stunning images with the camera you already own with our Photography for Beginners course!