Here are 15 different fascinating family photography blogs you need to follow!
These family photography blogs showcase many different styles, locations, and types of family photography. Have look at them for some inspiration.
They are in no particular order and comprised of many different photographers.
eBooks and Courses for Everyone
Ana is a world-renowned family and newborn photographer. She creates her timeless photography mostly in a studio. She also does outdoor sessions sometimes.
She is located in Orange, California. She travels worldwide to speak and give workshops on newborn and maternity sessions.

Ana also designs newborn posing items, clothing, and wraps. These are for both babies and maternity wear for her sessions. Her photography is definitely one to follow.
You can also dive into her YouTube channel. There she goes behind the scenes at many of her workshops and sessions.
She is full of information for both the seasoned photographer and one who is starting out.
Learning from her and following her photography will point you in the right direction as far as family portraits go!
2. Keri Meyers Photography
Keri is a fantastic children and newborn photographer in Seattle, Washington. She used to have a studio yet now offers family portraits on-location. She is a master at getting the right shot for family photos.

You'll learn a lot from her use of color, posing, and style when you visit her site, photography blog, and social media accounts.
Her newborn photos are a creative, stylish, and have a great aesthetic calming feel. If anything else, you'll fall in love with the little babies on her site!
3. Jonathan Canlas Photography
Jonathan is mostly known for his Film Is Not Dead movement. This is where film photographers could find a community.
Film photography is very much alive still. Jonathan has created some beautiful imagery for his clients over the years using film!

He's based in Utah. But he travels all over the world for weddings, portraits, speaking engagements. He is a well-known photographer within the film photography world.
4. Sarah Petty Photography
Sarah Petty is well known in the photography world. She's the marketing guru teaching other photographers to stop selling digitals.
She has a beautiful studio located in Springfield, Illinois. She focuses on families, children, and seniors using her studio as a backdrop to her photos.
Although she doesn't update her photography blog that often, it's chock full of a lot of information that you can find useful!
She's present on Instagram and Facebook. You can find more about her "why" and see her timeless photography if you check out her social media.
This site has a never-ending reel of families, children, playfulness, and lots of colors!
The whole purpose of the family photography site is to inspire photographers. It showcases recent work both by longtime photographers and emerging ones.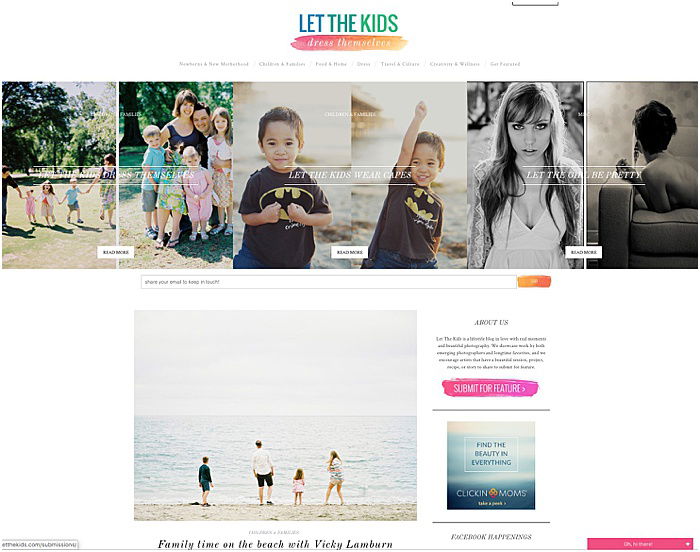 Right from the blog, you to submit your own sessions to be featured. This makes it easy to connect if you're looking to get featured. They share many different styles, locations, ideas, and photo sessions.
This site has been a long-time resource for many photographers. It started as a forum for moms with cameras. It has now completely transformed the way mothers can capture their children as they grow through the years.


The site aims to help photographers of every level get the most out of their photography journey. This family photography blog is updated often with tips and tutorials.
Many mom photographers have turned their passion into a full-fledged photography business!

Clickin' Moms is a sister site to the Let the Kids site.
This site is where many photographers submit their artwork. This includes photographs and portraits of children all around the world. The site holds various competitions.
The photographs are beautiful, timeless, and often show us a glimpse of the world beyond.
Photographs include many from photojournalism, documentary, and fine art portraiture styles. This site is a wonderful source of inspiration. You can get a look at the composition, style, editing effects, and lighting of the winning photographs.
It also offers an Inspiring Monday blog post. This features work from all over the world on Instagram. You can view, follow, and find new photographers that will inspire you as you scroll your feeds.
8. Vicki Knights Photography
Vicki is based in Surrey, London. She specializes in families and children, among other portrait services.
She has become one of the leading photographers in the United Kingdom over the last 10 years. She has lots of beautiful family photographs on her blog and website.

Her family photos are light and airy with bright colors and lots of emotion. It seems like all her clients are having the time of their lives in front of her camera. She is sure to inspire you!
9. Stormy Solis
Stormy's photographs are like those out of a moody period movie. Invoking a lot of feelings with her ethereal look and effortless composition, she is definitely a top contender for this list.


She doesn't have a photography blog exactly. But her gallery is full of gorgeous family portraits of children, maternity, and love. Her Instagram serves as her blog since she posts many of her amazing family photography on her feed.


Stormy is based in Denver, Colorado. She uses nature as her favorite background and lets families be who they are. She travels all over the world and a great source of inspiration!

10. Lennon Photography
Headed by Amanda Lennon. Along with her team, Lennon Photography create some of the most stunning family photography and wedding photography in South West Florida and beyond.

She has been featured on several sites for her photography. They aim to capture their clients in the most beautiful light.
Her family photography looks as if it were shot on film with the warm hues and beautiful contrast.
11. Donatella Nicolini
Donatella is from Italy. She has the most breathtaking fine art portrait photography of mothers, motherhood, maternity. Her studio and light work is something to study and will make you want to take some images in the studio!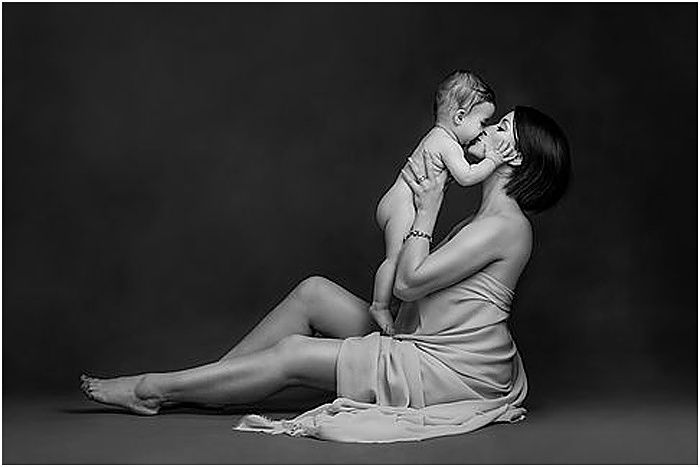 Her posing, lighting, and setups are important to take note of at your next maternity session or family photo shoot. She makes every single photo feel like it was suspended in time. And she brings an elegance to the studio game that is unmatched.


Her site is in Italian but it does have an option of translating it to English. And her work is definitely inspiring.
Another look at a fine art artist that takes family photography to a whole different level. William specializes in fine art portrait photography of families, children, and the like while giving it a masterful and classic look.


His portraiture is stately. He also offers paintings of the family portraits for his many clients. He's been recognized in the fine art photography industry and has recently moved to Tennessee.

This cute family photography business is run by Shalonda. They capture families of all sizes and types in Houston, Texas. Her photography is bright and colorful.

Her whimsical and playful style will have you checking out older posts on her blog. Go ahead and follow her on social media for a dose of inspiration.
14. Life of Glow
Robyn is the lead at Life of Glow Photography. She is dedicated to photographing families, children, and lifestyle portraits for her clients.
Her blog posts include tips for both clients and photographers, as well as her own sessions.


Her work is a nice mixture of capturing children as they are and adding a little magic and whim to them. She uses overlays and various other editing techniques.
The site and Instagram profile haven't been updated much recently. But previous posts from May of last year and older are still active and worth a look through!
This account was made by a few different moms and photographers. It was a way to encourage followers to unplug and go out and play with their children while capturing the magic of family photography.
It's a very fun site to explore and see how other people are capturing their own children as they get out and play. A good resource for you as you also try and capture your clients in the most authentic way.
You can also view more work by different people on Instagram using the hashtag #childhoodunplugged.
In Conclusion
If you're a family photographer, these 15 family photography blogs will help you get inspiration for your next shoot. You'll learn how to keep your work looking fresh and current as well!
Why not check out our Blogstomp software review next!


eBooks and Courses for Everyone