The Libby 2.0 is the newest Kelly Moore bag and it's already a favorite among photographers. This bag was designed with photographers in mind, with plenty of room for your gear and easy access to all of your equipment. Here are five reasons why the Libby 2.0 is the perfect camera bag for you.
Kelly Moore The Libby 2.0 Shoulder Bag in Gray
This stylish shoulder bag is perfect for carrying your camera and lenses, offering plenty of space and protection for your equipment.
[ExpertPhotography is supported by readers. Product links on ExpertPhotography are referral links. If you use one of these and buy something, we make a little bit of money. Need more info? See how it all works here.]
Overview of the Kelly Moore Bag Libby 2.0 Carry-All Tote
The Libby 2.0 has earned the title of "the Queen of the Carry-All". The Southern-style camera bag lives up to its name because of the large size and organisational features. It serves those who believe in a "place for everything and everything in its place".
I can easily fit every piece of equipment into this bag. No matter if it's my Nikon DSLR camera body with my three lenses (both primes and zooms). I've also thrown in a flash without a problem. You can easily reconfigure the bag for your specific needs in a split second because of the removable dividers.
Made out of an incredibly durable Cambrio material, it is Vegan-friendly, abrasion-resistant, and water-resistant. I have had mine for over a year and taken it on shoot after the shoot and it still looks brand new.
The tote comes in three color choices: stone, shadow, and saddle (pictured.)
Who Is the Kelly Moore Libby 2.0 for?
Because of this kelly Moore bag's sheer size, it is ideal for a woman photographer who lugs around a lot of gear. It would be useful for a wedding photographer to bring to a wedding day to have easy access to multiple lenses.
It is also ideal for a branding photographer such as myself, or portrait photographer. I love to change lenses on shoots and have easy access to all of them and external flashes if need be. Besides, this bag looks professional.
However, if you only need to bring one lens and do not want to haul around a huge bag, a smaller bag such as the Kelly Moore Luna or Scout may be what you need. On the other hand, men may want to consider The Tourist. 
The Kelly Moore Libby 2.0 retails around the same price as some of the high-end camera bags. Thus it's made of quality fabrics and durable materials. This is an ideal option for those day-to-day female photographers who are always on the move.
Key Features
So let's dive into the specifics of this exemplary camera bag!
Compartments and Interior Storage
This multifunctional camera bag has an approximately 20-litre storage space, so you have all the space in the world to fit your photography equipment. In practice, you can easily pack a prosumer DSLR body with a lens is inserted, and five regular-sized lenses besides it.
In terms of safety, Libby 2.0 is also a popular choice. Because we photographers carry a lot of expensive equipment, keeping it safe is of utmost importance. 
The inside of the camera bag includes five padded dividers to customize your basket and protect the gear. Three large dividers and two smaller sub-dividers give you enough configurations to play with.
What sweeps me off is that the entirety of the padded fourteen-inch long basket is removable! That's maybe because I prefer a high degree of customization. Once a client commented that it would also make a great diaper bag. With all the nooks and crannies, I couldn't agree more.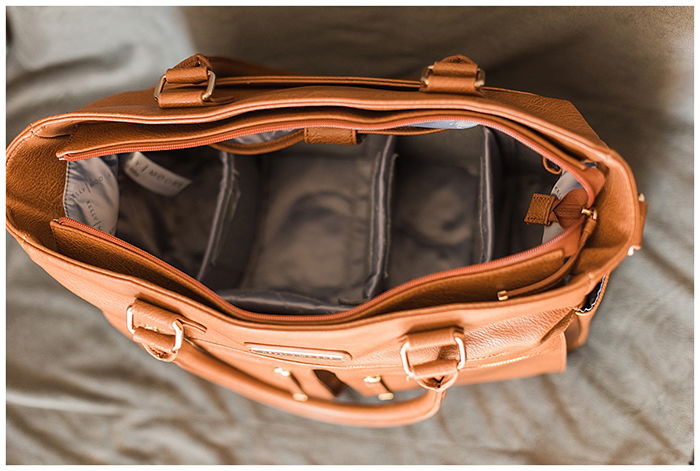 One of my favourite interior features is the set of three clear envelope pockets. In the bat of an eyelid, I can grab my lens cleaner, SD cards, or a protein bar! As if that were not enough, a fifteen-inch laptop divider rounds out the interior features. Apart from that, there's a rear pocket perfect for a 10″ tablet.
Exterior Storage, Straps, and Durability
With a whopping nine pockets (with an incredible six on the outside), the ease of access is a game-changer.
The front of this Kelly Moore bag features two smaller zipper pockets and one slim eleven-inch zipper pocket. I like to use the smaller pockets to keep my keys in one and extra batteries in the other. 
The dexterous ten-inch back pocket also unzips at the bottom to attach to the top of a roller back. Although I have never used this feature, I can see how it's invaluable for frequent travellers. There are also two side open pockets, making it very easy to slide a cell phone in and out.
The Kelly Moore Libby 2.0 comes with a padded over-the-shoulder carry option plus the regular handles- a design detail I appreciate. At 3.8 lbs net weight qualifies as a heavy bag but to be fair, I haven't heard anyone complain about a backache! If a cross-body messenger strap is more your style, then you'll love the fact that the strap extends to fifty inches.
Alternatives
The Kelly Moore Weekender Bag is the obvious competition. I struggled between the two when I was making my purchase. I chose to go with Libby 2.0 because of its weight. I knew it would be heavy with my gear in it, and the Weekender already weighs five pounds on its own.
The Case Logic SLRC206 Camera Backpack is a backpack that holds a lot of gear and a laptop but is obviously a very different style. I can see how it can benefit a landscape or travel photographer. It's designed for the more adventurous shoots than the traditional backpack. Not to mention, it also goes easy on your wallet.
Verdict
The Libby 2.0 was hands down one of the best purchases I've made for my business. Apparently, I'm not the only one. There are also numerous four and five-star reviews on the Kelly Moore website. This bag is a reliable and long-lasting companion for the professional woman focused on quality and functionality.
With a keen eye for quality, aesthetics and space design, the company filled a great gap in the photography backpack market.
Do you think this bag speaks to you? Check out the complete features on Amazon.
| | |
| --- | --- |
| Measurement | Score |
| Main Features | |
| Extra Features | |
| Construction and Durability | |
| Handling and Ergonomics | |
| Value for Money | |
| Total Score | |
Kelly Moore The Libby 2.0 Shoulder Bag in Gray
This stylish shoulder bag is perfect for carrying your camera and lenses, offering plenty of space and protection for your equipment.