If you're in the market for a new camera bag, you'll want to check out our list of the 11 best camera bags for men. This list includes some of the best and most popular bags on the market. So there's sure to be something for everyone. Keep reading if you're looking for a new bag to store your camera and other gear!
The Mosiso camera backpack is our favorite camera bag for men. It's comfortable and easy to carry. There's plenty of room for your cameras and accessories. And it offers excellent protection when you're traveling. You get security, comfort, and functionality at an excellent price.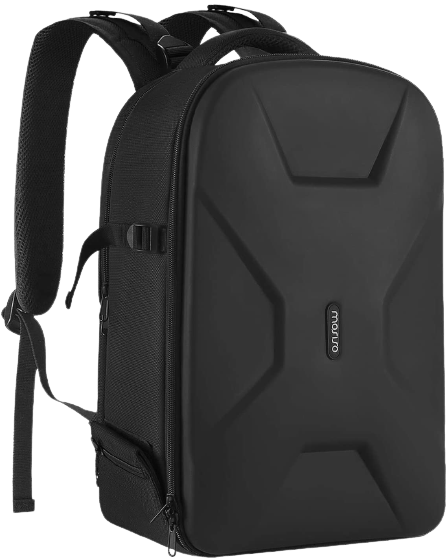 This stylish, durable backpack has plenty of room for all your camera gear, so you can keep your equipment safe and secure.
Buy from Amazon
[Note: Readers support ExpertPhotography. Product links on ExpertPhotography are referral links. If you use one of these and buy something, we make a little bit of money. Need more info? See how it all works here.]
The Best Camera Bags for Men in 2022
Camera bags are important because they help you stay organized and store your gear in one place. They also keep your expensive gear protected when you're on the move. An ideal camera bag has several parts and pockets where you can fit equipment of different sizes.
We have chosen 11 bags of different sizes and designs. We considered their reliability, features, versatility, and overall functionality. We also included a sturdy camera hardcase in case you need a camera bag for long-distance travel.
Here's a quick overview of the best camera bags. We'll take a closer look at each bag in the following section.
1. Mosiso Backpack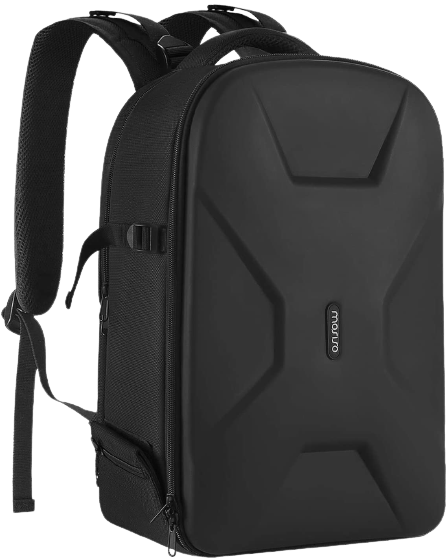 Dimensions
44 x 30 x 19.1 cm
Waterproof
Interior Protection
Removable padded dividers
Best For
Everyday photography use, short trips, daily photoshoots
Features:
Holds several DSLR mirrorless cameras and up to 6 lenses
Waterproof hardshell exterior protects your gear
Fully opening front segment for easy access
A laptop and tablet sleeve that fits a 15-inch (38.1 cm) MacBook Pro and iPad Pro
Customizable storage via removable Velcro pads
Extra pockets for smaller pieces of equipment
The Mosiso camera backpack is comfortable, convenient, and protective. It's spacious enough for several DSLR or mirrorless cameras. And there's still enough room for lenses and other photography accessories.
The hardshell outer case protects your expensive camera gear. It has a rigid structure, protecting the contents of your bag from knocks. It's also waterproof, so you don't need to worry when traveling in the rain.
The padded dividers offer more protection in the bag's interior. They keep each piece of equipment safely secure and protected. And they help you organize your gear.
The padded shoulder straps give you total comfort when carrying the bag. You can wear the bag for many hours without discomfort or chafing. And that's true even with a fully loaded bag.
2. Hadley Pro Shoulder Bag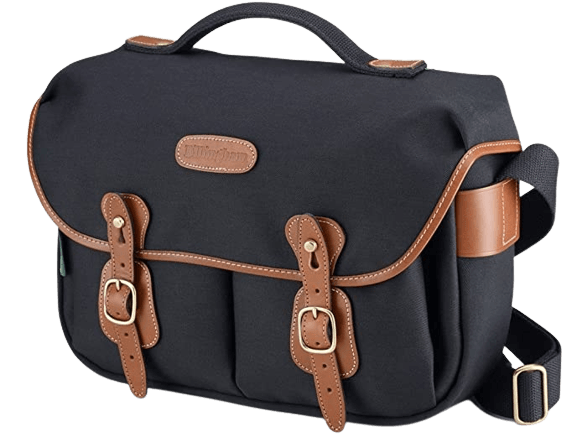 Dimensions
15.2 x 27.9 x 38.1 cm
Waterproof
Interior Protection
Removable padded insert
Best For
Casual photography outings, short trips, informal photoshoots
Features:
Fits most DSLR and mirrorless cameras
Fits two to three small to medium-sized lenses with accessories
Zippered pocket with rainproof zip and luggage trolley retainer strap
The removable camera insert is padded for protection
Two front pockets for extra storage
A layer of butyl rubber on the fabric for extra protection
This camera sling bag is the ultimate travel companion. The Billingham Hadley looks smart with a stylish yet casual design. Its suits any event, whether professional or amateur. And it's a discreet bag for professional photographers. It helps you keep a low profile when working at events. Plus, it keeps your gear safe.
The messenger bag design allows you to access your camera quickly. You can remove the camera at a moment's notice. And there's no need to take the bag off before you get the camera. Everything is right by your side at all times.
It's so good at keeping your equipment decompartmentalized. You take more than you need! But no matter if you do, the Billingham stays super comfortable.
3. Aspect DSLR Backpack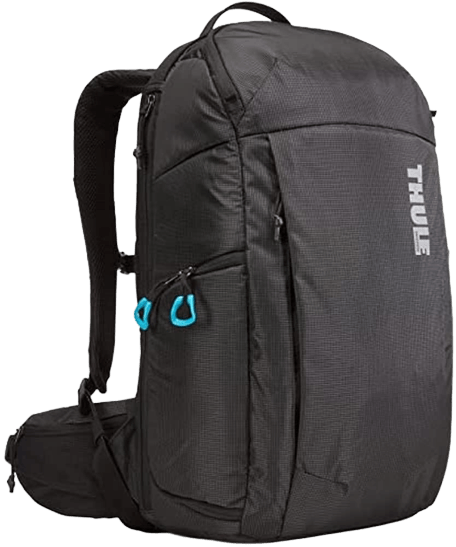 Dimensions
26.5 x 3.4 x 38.5 cm
Waterproof
Interior Protection
Protective Divider
Best For
Everyday business, weekend trips, inner- and inter-city travel
Features:
Spacious compartment with many pockets to store your personal belongings
Convenient storage for tripods
Fits drones up to 260 x 240 x 130 mm
Protects a laptop or tablet up to 15.6 inches (39.6 cm)
Customizable padded storage
Removable, padded hip belt, shoulder straps, and air-mesh back panel
This is a versatile DSLR camera backpack with fully customizable storage. It provides quick access to your gear. And it is very comfortable to carry in any environment.
Thule has recognized that modern photographers don't only need their cameras. They need a camera bag that has sections for laptops and tablets. And that's exactly what the Thule Aspect backpack has. You can take everything you need without the extra baggage.
4. Everyday 20L Backpack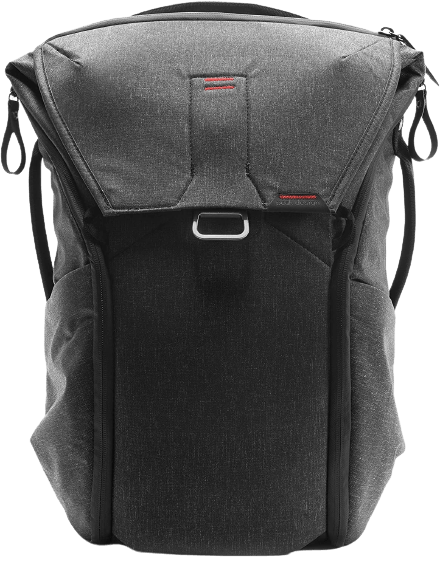 Dimensions
45.7 x 30.5 x 17.1 cm
Waterproof
Interior Protection
Flexfold dividers
Best For
Nature and urban photography, outdoor expeditions, inter-city travel
Features:
Holds a full frame DSLR and three to four lenses
Camera and gear are easy to access on either side
Dedicated 15-inch (38.1 cm) laptop sleeve
Three FlexFold dividers protect your gear
A built-in expansion with a MagLatch system
Exterior and sub-divided interior pockets
Four configurable tension straps
Peak Design is one of the most trusted and beloved brands for camera bags. Their photography products are well thought out and meet the demands of photographers. All their camera bags work well and look great. And their Everyday Backpack is a perfect example.
The Peak Design Everyday camera backpack is smart, sleek, and minimal. So many features of this camera bag make it amazing to use. The straps hug your physique. Their unique FlexFold divider system is padded, slim, and modular. Plus, it is 100% weatherproof.
5. StreetWalker V2.0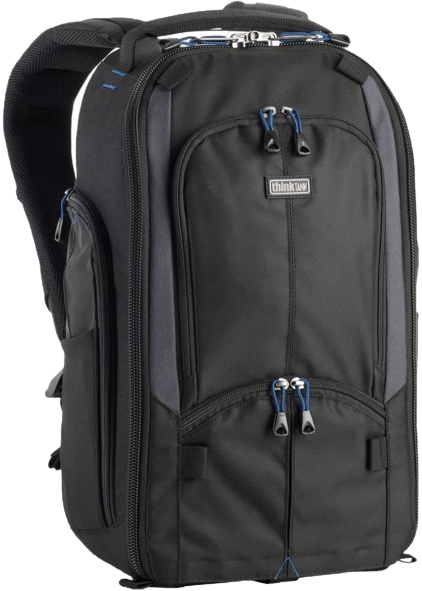 Dimensions
3.4 x 3.4 x 3.4 cm
Waterproof
Interior Protection
Padded dividers
Best For
Inner-city travel, casual photoshoots, everyday use
Features:
It fits two gripped DSLRs, four to six standard zoom lenses, and a tablet or laptop
Slim, body-conforming design with a wide shoulder strap
Interior padding keeps camera gear safe and organized.
Ultra-lightweight backpack for comfort and use for travel
Plenty of small pockets for extra storage
The Think Tank StreetWalker V2.0 backpack offers all the comfort you need from a camera backpack. The padded shoulders make it suitable for all-day trekking. It also has a tripod mount on the front panel. Moreover, it is made of the highest quality materials in the industry.
6. ProTactic 350 AW II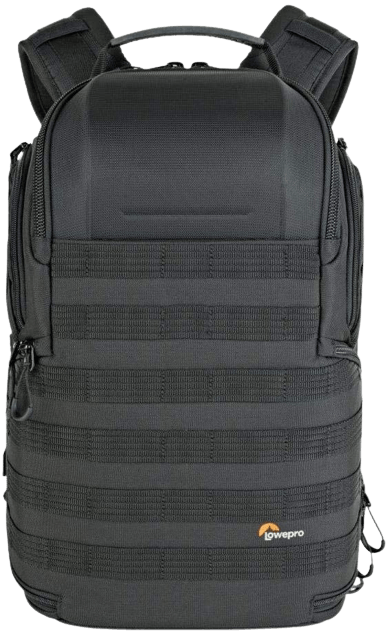 Dimensions
30 x 18 x 47 cm
Waterproof
Interior Protection
Adjustable padded dividers
Best For
All-weather expeditions, weekend trips, professional photoshoots
Features:
Fits one or two standard DSLRs, one with a 24-70mm f/2.8 lens attached, and eight lenses or speedlights
Fits a DJI Mavic drone camera, Osmo action camera, or 360 cameras
The front section has a secure pouch for a laptop or tablet
Waist belt converts to utility belt with included accessories
Four-point easy access
SlipLock compatible attachment system for pouches, cases, and other accessories
This Lowepro ProTactic backpack is lightweight yet sturdy. Its composite-shell construction provides outstanding impact protection. And it's a camera bag that is very comfortable to carry for long hours.
The interior is adaptive, meaning the dividers can be adjusted to fit your gear. And the all-weather cover protects gear from rain, snow, dust, and sand. It's an excellent camera bag for outdoor photographers. It's a good choice for landscape, travel, and wildlife photographers.
7. Cineluxe Roller 21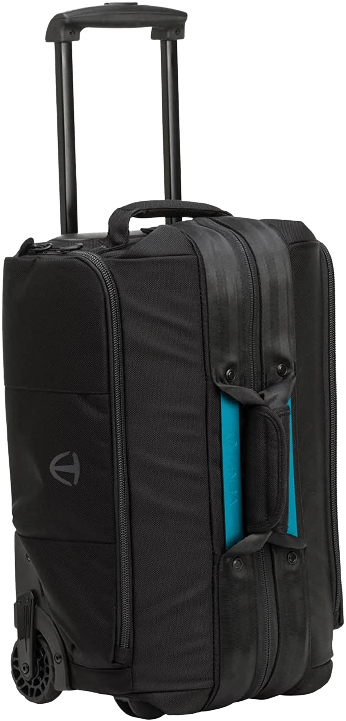 Dimensions
27.9 x 35.6 x 53.3 cm
Waterproof
Interior Protection
Padded Flex-Core dividers
Best For
Long-distance travel, air travel, long professional photoshoots
Features:
Wide bag opening for easy access to all your gear
Flex-Core dividers offer interior protection
Protective wraps for extra protection inside the bag
Adjustable handle and roller wheels for easy transportation
Weather-resistant outer casing
The Tenba Coneluxe Roller is ideal for long trips or photoshoots that need a lot of equipment. It's spacious enough for several cameras, lenses, and other photography gear. And the adjustable handle and roller wheels make it easy to transport.
The outer material is weather-resistant, so you're gear is safe if it rains. The sides have thick padding that protects against shocks and knocks. And you get padded wraps to protect individual items in the bag. You can create an interior layout that suits your gear.
8. Everyday 5L Sling Bag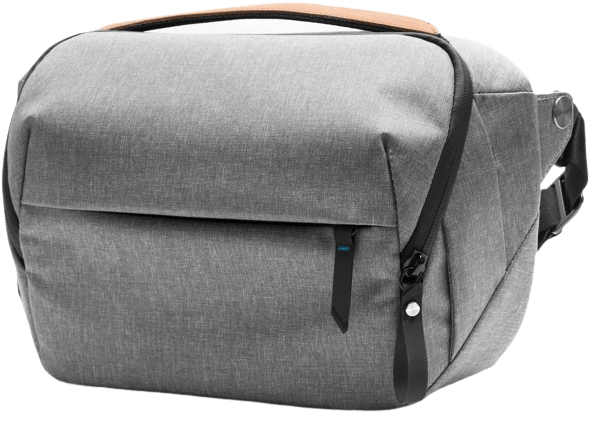 Dimensions
31 x 11 x 19 cm
Waterproof
Interior Protection
Soft padding and FlexFold dividers
Best For
Casual photography, days trips with your camera, amateur photoshoots, street photography
Features:
Stylish and functional design
Protective tablet sleeve
FlexFold dividers for internal protection
Two stretchy inner pockets for extra storage
Cross-body strap with shoulder padding for comfort
A waterproof outer layer to keep your equipment dry
The Peak Design Everyday Sling is perfect if you want something small and convenient. It comfortably fits over your shoulder. It's small enough for casual use in the street. But the interior is surprisingly spacious. There's room for a full frame DSLR or mirrorless camera. And you can get get a spare lens in there.
It's a waterproof camera bag, so you don't need to worry about the weather. And the interior padding protects your camera against external damage. The FlexFold dividers also keep your equipment safe and organized.
It's a stylish camera bag. And it's discreet enough for photographers who want to keep a low profile at events. The sling design also gives you easy and quick access to your camera. That means you won't miss a shot.
9. Covert 24L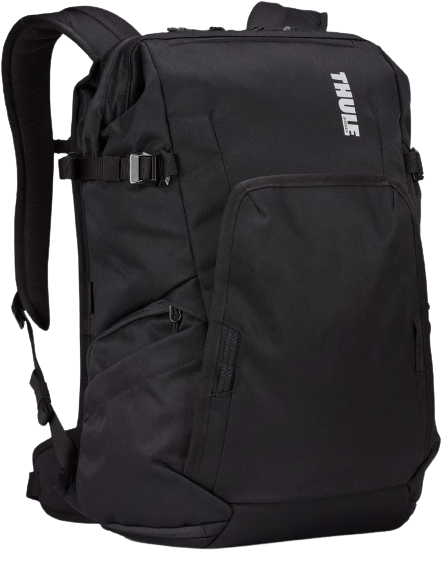 Dimensions
33 x 23.1 x 48 cm
Waterproof
Interior Protection
Removable padded mini case
Best For
Professional photo trips, outdoor photoshoots, inter-city travel
Features:
Fits pro-level DSLR and mirrorless camera bodies
Fits extra camera accessories and other possessions
Pouches for laptops and tablets
Pouch and strap to attach a tripod
An internal padded section that works as a separate sling bag
Adjustable shoulder straps with padding for comfort
Water-resistant outer material for all-weather protection
The Thule Covert DSLR camera backpack scores high for organizing your camera gear. It has an origami-inspired divider system that folds around equipment of all sizes. And you can remove the internal padded section to give you a smaller sling bag. It's a two-in-one camera bag solution.
This camera bag is made from a two-tone Oxford material. It is durable and water-resistant. The front section opens completely, giving you easy access. And the front section has storage space for laptops, tablets, and hard drives. It's a fantastic camera bag for the modern photographer.
10. Veo GO46M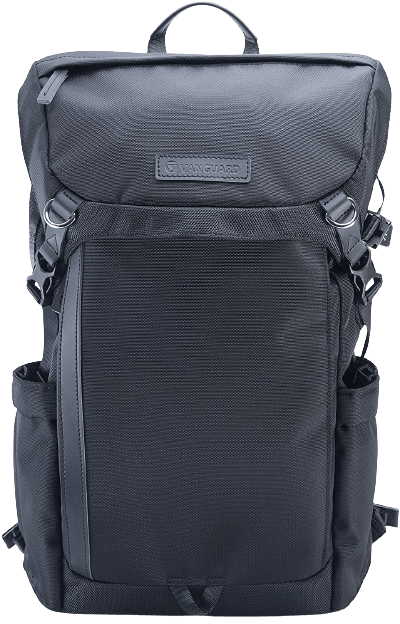 Dimensions
30.5 x 15.2 x 48.3 cm
Waterproof
Interior Protection
Padded dividers
Best For
Everyday use, inner-city and inter-city travel, outdoor photo trips
Features:
Fits mirrorless, compact, and hybrid camera models
Holds a laptop or tablet
Fits and supports all your accessories, including Veo 2 Go tripod carry-along integration
Transforms into an everyday daypack
Rain cover adds more protection in bad weather
The Vanguard Veo GO46M backpack's motto is "always supported and always protected." It is well-padded for easy carrying and comfort. It is also well-organized thanks to its dedicated pockets and bright-colored interior.
Its design is classic, stylish, and practical at the same time. It's super compact yet spacious inside.
11. 1510 Hybrid Case
Dimensions
55.9 x 22.9 x 35.1 cm
Waterproof
Interior Protection
Foam and removable padded divider section
Best For
Long trips, air travel, professional and multi-camera shoots
Features:
Easy open double-throw latches
Single-layer padded dividers with Velcro adjustments
Reinforced padlock protectors
Strong polyurethane wheels with stainless steel bearings
Watertight with an automatic pressure equalization valve
Waterproof, crushproof, and dustproof
A sturdy hardcase is inevitable if you travel (and especially fly) with lots of expensive gear. There is simply nothing that protects your equipment better. Pelican has always manufactured exceptional hard cases. And the 1510 Roller does not disappoint us either.
This kind of equipment comes in handy if you use medium format or large format cameras. They need extreme case sizes.
Conclusion
A camera bag is essential for protecting and organizing your gear. It's important to invest in one that satisfies all your needs. Think about comfort, functionality, and durability. Each of these camera bags for men checks all those boxes. So there's something for every photographer on the list.
The Mosiso camera backpack is our favorite camera bag for men. With a hard outer case, waterproofing, and interior dividers, it definitely delivers protection. The exterior is also stylish without being flashy. And the interior has plenty of room for your gear.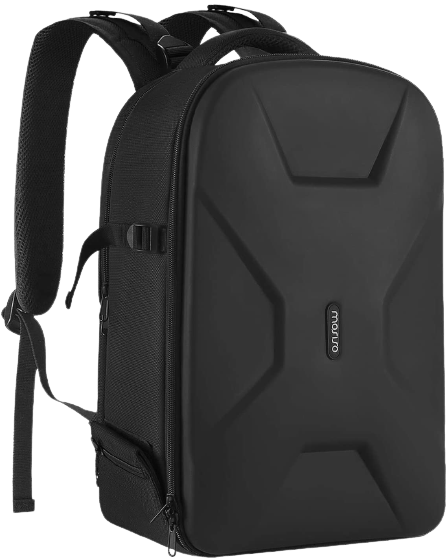 This stylish, durable backpack has plenty of room for all your camera gear, so you can keep your equipment safe and secure.
Buy from Amazon