A photography portfolio website is a must for any photographer looking to showcase their work to potential clients or employers. But with so many options out there, how do you know which one is right for you?
We've compiled a list of the 25 best photography portfolio websites, based on design, usability, and features. So whether you're just starting out or you've been in the business for years, there's sure to be a portfolio website that's perfect for you.
CreativeLive's Fashion Photography 101 Course
Looking for inspiration to improve your photography portfolio website? Check out this online course taught by an award-winning fashion photographer, covering essential skills for creating beautiful fashion images.
Photography Portfolio Websites: James Ransom
James Ransom is a New York City-based food, still life and interior photographer. He is recognized for his arresting use of color. The dramatic light and color treatments he uses throughout his body of work will draw you in.
James is best known for his collaborations with Food52. He was instrumental to the look and feel of this globally recognized brand.
He shoots both still and motion for clients all over the world. He has worked with notable brands such as Kate Spade, Restoration Hardware, and Martha Stewart.
In 2018 James was named in "The List" as one of the top five food photographers on Photoshelter.
Jose Villa is a Santa Barbara wedding photographer. He is known for his light and airy aesthetic and pastel color treatments. He stands out in a highly competitive market for his unique, editorial style. It blends the aesthetic and techniques of fine art photography with the dynamic and energetic pace of a wedding.
His images have been published around the world. They appear in magazines such as Vogue, Harper's Bazaar, and Martha Stewart Weddings.
He has been named one of the top 10 Wedding Photographers in the World by American Photo Magazine. And he was named one of the most influential photographers of the decade by PDN.
Jose shoots with film. He now also sells digital presets that mimic his highly-coveted film look. These are available for purchase on his site.
Vladimir Rys is an award-winning sports photographer from the Czech Republic. He travels around the world shooting Formula One auto races. He also photographs other sports. These include soccer/football, swimming, track and field, and boxing.
His "Special Olympics" photos are renowned for their emotional impact. Rys regularly shoots for Red Bull and is represented by Getty Images.
Based in Toronto, Canada, Patricia Ricardo is the photographer behind the lens at Cadeau Boudoir.
Boudoir photography has been around since the 1920s. But it has come into its own as a popular and competitive genre of photography in recent years. It is now a successful add-on to wedding photography.
In a world that often shows only the thinnest and "most perfect" images of women, boudoir photography brings something fresh to the world of photography with its celebration of "real" female bodies.
It represents women at their most vulnerable and confident, which is incredibly empowering. Patricia brings this empowerment to her subjects with a subdued and tasteful approach. Her work is somehow both painterly and filmic.
Aubrie Pick is a San Francisco-based photographer. She specialises in food, travel and travel photography. She also shoots portraits and lifestyle work.
Notable brands that she has worked with include Williams Sonoma, J. Crew, and Lonely Planet, as well as Bon Appetit magazine and Vanity Fair.
Her photos are recognized for their vivid color treatments, and dramatic light and contrast.
She most recently photographed Gaijin, one of this fall's biggest cookbooks. She has also worked on cookbooks with Giada DeLaurentiis, Sam Kass, and Guy Fieri.
Born in Jamaica but residing in Vancouver, Canada, Eric Saide has been shooting for two decades. In this time, he has won many awards for his photography. From celebrity portraits to sports and fitness, Erich's portfolio reflects a wide breadth of subject and mood.
No matter the subject, perfectly executed lighting and composition are the hallmarks of Erich's imagery.
Some of his clients include Lunchbox Studios, Mark Anthony, HGTV and the Discovery Channel.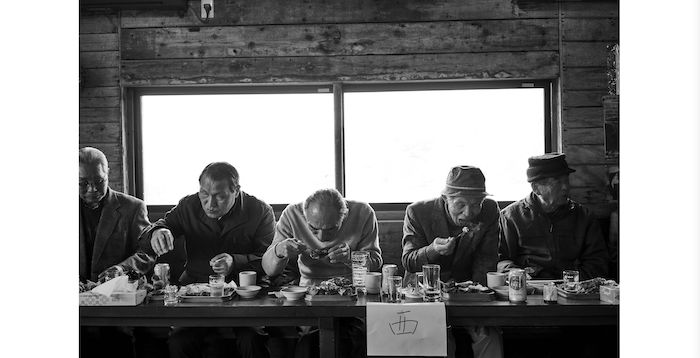 The duo Andrea Gentl and Martin Hyers are one of the most famous and established photography couples out there. Although based in New York, they shoot all over the world. They've been working together since first meeting at the Parson School of Design in 1992. Their portfolio is stunningly diverse.
They are as well known for their travel, food and interiors photography as they are for their portraits and still life imagery.
Above all, the couple is renowned for their unique approach to lighting. Some of their clients include Toast UK, Anthropologie Kinfolk, and Conde Nast Traveller.
They also teach workshops in select locales. These include Ireland, Peru, and Oaxaca, Mexico. Through their workshops, they seek to inspire other photographers. They do this by helping them define their creative process and goals.
David Duchemin is known as a world & humanitarian assignment photographer. He is recognized around the globe as not only as a first-class landscape and travel photographer but also a prolific teacher. He has written several books about the art and craft of photography.
Rather than taking a technical approach, David's books focus on vision and storytelling. His company, Craft & Vision, is a premier destination for photographers who want to elevate their work.
When on assignment for the international NGO community, David's driving goal is to create powerful images. These convey the hope and dignity of children, and of the vulnerable and oppressed.
Past clients within this community include World Vision, Save the Children, and the BOMA Project.
UK photographer Lizzie Mayson shoots with a distinctive, direct lighting style. Whether shooting minimalist tabletops or earthy portraits, Lizzie's style is clean, highly-polished and refined.
She also shoots cinemagraphs and video. She has shot for notable brands such as Hermes, Bailey's, and Waitrose. Her food photography has appeared in high profile magazines such as Bon Appetit and Delicious.
She is represented by Refresh Agency in London. She has photographed luminaries such as Nigella Lawson.
New York music photographer Chris Owyoung has worked for clients ranging from the band No Doubt to American Express. His images have appeared in Rolling Stone, Q Magazine, SPIN, Vibe, Billboard, and The New York Times. Some of his clients include Universal Music Group, Red Bull and American Express.
From exclusive club shows or 80,000-capacity arenas, Chris strives to nail those rockstar moments. He creates images that make you hear the music and the roar of the crowd.
Based in Africa, Greg Du Toit has made his mark in photographing the continent's wildlife. He began his foray into the wilderness at 18, living and working in the bush as a walking safari guide. Since then, he has gone on to make an exceptional career photographing in Africa's wildest and most remote locations.
His documentation of the natural world has brought him international acclaim. His work has been displayed in natural history museums in London and Sydney. His solo exhibition "Africa" was exhibited at London's National Geographic Store gallery. It saw an unprecedented number of visitors and sold out within a month.
Greg also teaches workshops and leads bespoke photos tours around Africa. He sells fine art prints of his work on his website.
Lara Jade is a fashion and advertising photographer from England. She currently resides in New York City. Not long after picking up a camera at the age of 15, Lara made her mark on the world of fashion photography.
Still in her twenties, Lara has created an enviable career shooting for the likes of Harper's Bazaar, Vogue, Tatler, and Elle magazines.
Lara also offers in-person workshops and a set of online courses, "The Fashion Series". Here she walks students through everything they need to know to create cover-worthy fashion portraits.
She is also known for her incredible Fashion Photography 101 program. You can find this on Creative Live. Lara has a stunning 330K followers on Instagram.
Lindsay Adler is another sought after fashion photographer for her mold and graphic style. She is also known for her beauty portraits as well as her work as a photography educator.
Her fashion editorials have appeared in many publications such as Marie Claire and Elle magazine. Lindsay is as sought after as a speaker around the globe. She teaches on the industry's biggest platforms and prestigious events.
She is also the author of five books on photography. She sells various products in her online store. These include posing guides and texture packs for Photoshop.
Gabe McClintock is known for his earthy and moody approach to wedding photography. His work calls to mind the light in the paintings of the Dutch Masters. Named one of the world's best wedding photographers, Gabe has shot nuptials in locales from Iceland to Barbados.
His background in photojournalism informs his documentation of a wedding day. It allows him to create stunning and dramatic images with a classic feel that will stand the test of time.
The photography of Portland-based photographer Ellie Baygulov has undergone a distinct evolution. She was initially known best as a food and portrait shooter with a large library of assets available on the premium stock house Stocksy. This awarded her Food Photographer of the Year in 2016.
Ellie now shoots lifestyle and still life imagery. Her clean, minimalist style focuses on simplicity and timeless aesthetics.
She travels between California, New York, and the Pacific Northwest of the US for her work.
Australian photographer Jeremy Simons shoots in a variety of genres. He is best known for his work with Donna Hay and other high profile publications such as Delicious.
His food photography has appeared in several cookbooks. His style is recognized as being dramatic and textural with bold color. Some of his advertising clients include Samsung and St Hugo Wines.
Besides photography, Jeremy is also an accomplished ceramicist. His pottery has been featured in magazines such as Vogue, Taste and Gourmet Traveller. You can find his work at Slip Ceramics.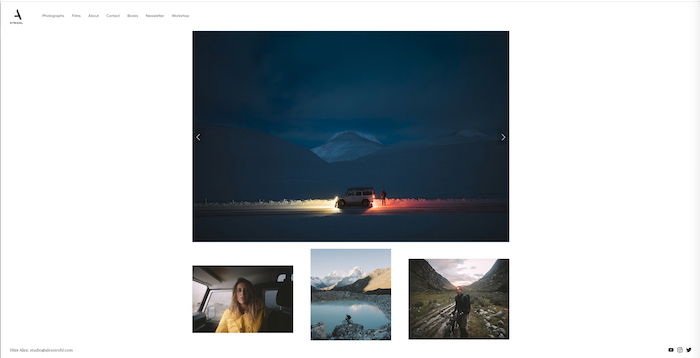 If you've done any scrolling through Instagram, you may have come upon the work of travel and landscape photographer Alex Strohl. His account boasts a staggering 2 million followers.
The French photographer is based in the US. He spends most of his time on the road with his camera, capturing his extraordinary travels.
He has journeyed to some of the most remote locations in the world. His photography has appeared in such prestigious magazines as Forbes and Vanity Fair.
He teaches acclaimed adventure photography workshops. There are hours of HD content and in the field episodes.
Photographer Felix Kunze was born in East Berlin but grew up in England. He is now based in New York City. He travels worldwide as a notable portrait photographer and educator.
His portrait work focuses on capturing non-models in exaggerated situations. These highlight some aspect of who they are. He has assisted Annie Lebovitz. And he has worked with some of the greatest photographers in the world.
He is internationally recognized for his understanding of light. He teaches what he knows for some of the biggest teaching platforms, such as Creative Live.
Felix teaches The Lighting Series with portrait photographer Sue Bryce. They will teach you everything you need to know about lighting for portraiture.

Architectural photographer Nick Guttridge is based in the UK. He works with architects and designers to document a variety of interior and exterior spaces.
Past clients range across a variety of personal and public spaces and include the Qatar National Museum, the Globe Theatre, and the Tower of London.
He has also worked on hospitality projects. These include the Kimpton Hotel in Amsterdam, as well as retail spaces for Mercedes Benz, Samsung, and Adidas Barcelona.
Sharyn Cairns is at the forefront of commercial photography in Australia. She is recognized around the world for her distinct aesthetic. Known for her elegant, dark and moody food photography, as well as for her clean and bold approach to travel and interiors.
Her work has appeared in notable publications such as Vogue Living, Gourmet Traveller, Kinfolk, Dwell and Condé Nast Traveller. She collaborates with architects and designers to shoot hotels, restaurants, and residential interiors.
She has also photographed cookbooks for chefs such as Maggie Beer and Guy Grossi. Sharyn is based in Melbourne but travels often to the US for her work. She is represented by Hart & Co.
German landscape photographer Tobias Richter travels 4 months out of the year across Europe. He documents the untouched beauty of mountain worlds. These range from the Eastern Alps to the Elbe Sandstone Mountains.
Despite the advancements offered by digital photography, Tobia seeks to create natural-looking images of the landscapes he shoots. He also strives to restrict himself in the image processing department.
The documentary part of photography is very important to him. His approach gives his photography a distinctive, earthy mood.
Gisel Florez shoots high-end still life imagery for companies such as Uber, L'Oreal, Macy's and Seagrams. Whether shooting for editorial, advertising or independent brands, her work explores the interactions of light.
Her subjects run the gamut from watches to sneakers, to fragrances and cosmetics. She photographs them all with a modern edge and distinct lighting style.
Gisel is also an accomplished videographer. Examples of her cinematic work can be found on her site. Limited editions of her prints can be purchased online at Saatchi Art.
Honolulu-born photographer Dane Shitagi is based in New York. He is most known for his Ballerina series. Instead of shooting in a studio, he sought to make the city a dramatic and honest backdrop for his work.
The diversity and vitality of this environment has led him to expand his approach all over the world. His "Ballerina Project" spans 17 years. It features ballerinas juxtaposed in a stunning range of natural environments.
He has published the best from this collection of images in a bestselling book. You can find it online at outlets such as Amazon. Besides this series, he photographs for commercial clients like Longchamp, Sony Ericsson, Fujifilm, and Diesel.
He has photographed high profiled many supermodels such Karlie Kloss and Coco Rocha.
Photographer Rob Tringali began shooting athletic events as a teenager in his native New York. He now travels around the world capturing the drama of sporting events.
He was 19 when he photographed his first Super Bowl. He has shot for a long list of clients, such as Sports Illustrated, ESPN Network, Gatorade, Nike, and Esquire.
To date, Rob has photographed 3 Super Bowls, 15 World Series, 6 Olympic Games, and the World Cup. Not only has he captured some of the greatest moments in sports, but his work has also been featured in many advertising campaigns.
Danish photographer Mikkel Vang is a versatile and prolific shooter. He has worked with clients as diverse as IKEA, Delta Airlines, Ralph Lauren, and Starbucks.
His portfolio spans lifestyle, food, travel, and hospitality. He also shoots advertising campaigns. And he has worked on several high-profile cookbooks for authors such as Ruth Reichl, Bill Granger, and Lucinda Scala Quinn.
He is represented by Ashley Klinger and Co.
Conclusion
When it comes to stunning photography, there is no shortage of talented artists out there. These online portfolio websites showcase stunning and impressive work.
Go through them and see if they inspire you to curate your own portfolio website.
CreativeLive's Fashion Photography 101 Course
Looking for inspiration to improve your photography portfolio website? Check out this online course taught by an award-winning fashion photographer, covering essential skills for creating beautiful fashion images.