If you're in the market for a new camera bag, you'll want to check out our list of the 11 best camera bags for men in 2022. This list includes some of the best and most popular bags on the market, so there's sure to be something for everyone. So if you're looking for a new bag to store your camera and other gear, keep reading!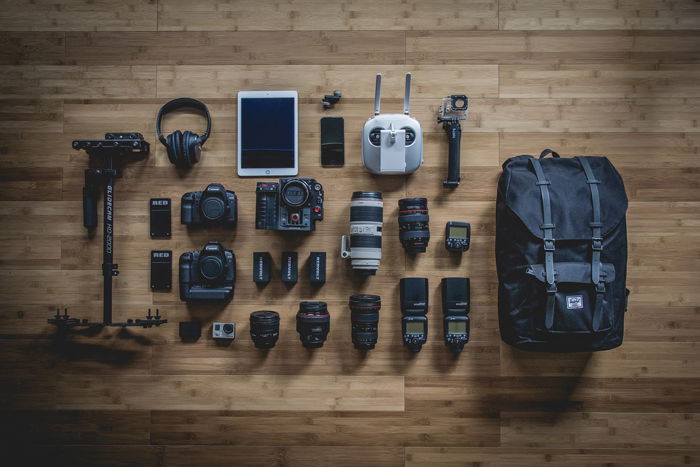 [Note: Readers support ExpertPhotography. Product links on ExpertPhotography are referral links. If you use one of these and buy something, we make a little bit of money. Need more info? See how it all works here. — Ed.]
The Best Camera Bags to Buy in 2022
Camera bags are important because they help you stay organised and store your gear in one place. An ideal camera bag has several parts and pockets where you can fit equipment of different sizes.
We have chosen eleven bags of different sizes and designs. We considered their reliability, features, versatility, and overall functionality. We also included a sturdy camera hardcase in case you need it for long-distance travelling.
The WANDRD PRVKE travel backpack was designed with travelling photographers in mind. It looks cool, with a stylish and clunky design. It comes in three colours, blue, black, and green, as well as two different sizes.
There is the 31L and the 21L version to choose from. This bag has everything. Designed by photographers, it has all the essential features you are looking for in a bag.
Side Quick Camera Access, Lay-Flat Clamshell Opening, and Adjustable Roll Top
The Roll-Top gives you quick access and adds an extra 5 litres of space
The laptop and tablet sleeve fits a 15 in (38.1 cm) MacBook Pro and iPad Pro
Customisable storage via removable and modular camera cube
Holds a DSLR and up to 8 lenses
Many other pockets and designs
This camera sling bag is the ultimate travel companion. It's smart, with a great colour theme. Its design will suit any event where you need to look stylish. A professional photographer's bag that is not too obvious, allowing you to work in peace.
It's so good at keeping your equipment decompartmentalised that you will end up taking more than you need. No matter if you do, the Billingham stays super comfortable.
Removable camera insert
Zippered pocket with rainproof zip and luggage trolley retainer strap
The fabric a has layer of butyl rubber
Fits most DSLRs (without a battery grip) or almost any mirrorless camera
Fits 2-3 small to medium-sized lenses with accessories
Adjustable AVEA 7 or 8 side pockets
6.3 x 11 x 15.3 in (16 x 28 x 39 cm)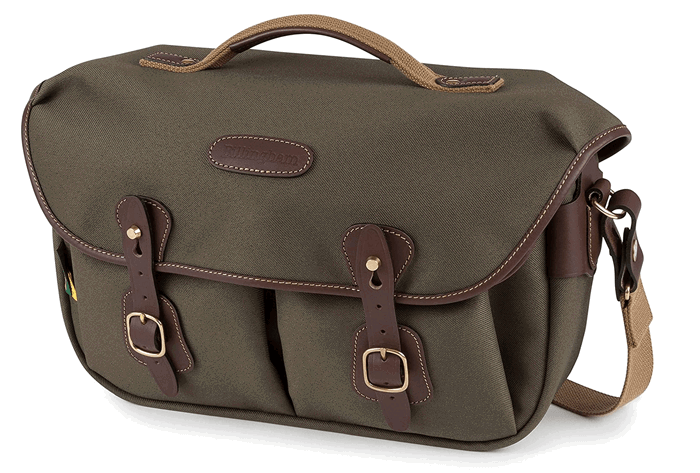 This is a versatile DSLR camera backpack with fully customisable storage. It provides quick access to your gear. It is very comfortable to carry in any environment.
Customisable padded storage
Protects up to a 15.6 in (39.6 cm) laptop plus an iPad
Fits drones up to 260 x 240 x 130 mm
Spacious compartment with multiple pockets to store your personal belongings
Removable, padded hip belt, shoulder straps, and air-mesh back panel
Convenient storage for tripods
We all know about Peak Design. Their photography products are well thought-out and not only look great but also work well.
The Peak Design Everyday camera backpack is smart, sleek, and very minimal. There are so many features about this camera bag that make it amazing to use. The straps hug your physique. Their unique divider system 'FlexFold' is padded, slim, and modular. Plus, it is 100% weatherproof.
Holds full-frame DSLR & 3-4 lenses
Dedicated 15 in (38.1 cm) laptop sleeve
Three Flexfold Dividers Protect Gear
Built-In expansion with Maglatch system
Exterior & sub-divided interior pockets
Either side camera and gear easy access
Four configurable tension straps
This Think Tank backpack offers all the comfort you need from a camera backpack. The padded shoulders make it suitable for all-day trekking. It also has a tripod mount on the front panel. Moreover, it is made of the highest quality materials in the industry.
It fits 2 gripped DSLRs, 4–6 standard zoom lenses, and a 10 in (25.4 cm) tablet
Slim, body-conforming design with a wide shoulder strap
9.8 x 18.5 x 8.3 in (25 x 47 x 21 cm)
1.6 kg (3.5 lb)
This Lowepro ProTactic backpack is lightweight yet sturdy. Its composite-shell construction provides outstanding impact protection. It's a camera bag that is very comfortable to carry for long hours.
The interior is adaptive, and the All-Weather AW Cover protects gear from rain, snow, dust, and sand.
Fits 1-2 Standard DSLRs, one with 24-70mm f/2.8 lens attached, 8 lenses-speedlights
Fits a Mavic, Osmo, or 360 cams
4-point easy access
Waist belt converts to utility belt with included accessories
SlipLock compatible attachment system for pouches, cases, and other accessories
18.50 x 7.09 x 18.50 in (47 x 18 x 47 cm)
According to the producers, they aimed was to create the most comfortable camera backpack on the planet. They wanted a design as comfortable as a bag for hardcore hikers and adventure travellers. They also wanted a streamlined, professional look that would not be out of place at a wedding.
The Tenba camera bag's materials provide extraordinary long-term durability with minimal weight.
Fits 1-2 mirrorless or DSLR cameras with 3-5 lenses
Fits a 10 in (25.4 cm) tablet
Fits a DJI Mavic and other compact drones
Secure rear camera access
Pivot fit airflow harness straps for a custom fit
1.45 kg (3.2 lb)
Peak Design and adventure photographer Trey Ratcliff teamed up to create one bag for your gear and lifestyle. It does not matter where you go or what you are carrying.
Thanks to its innovative design, this bag is for photographers, travellers, commuters, and everyone in-between. Moreover, no leather is used in the production of this bag, so it is vegan-friendly.
Camera divider inserts for a DSLR camera, 3 lenses, and accessories
A padded laptop sleeve that fits a 15 in (38.1 cm) MacBook Pro
Weatherproof and DWR-coated shell
Lifetime Warranty
The Thule Covert DSLR Rolltop Daypack scores high when it comes to organising your camera gear. It has an origami-inspired divider system that folds around your equipment of all sizes.
This camera bag is made from a two-tone Oxford material which is durable and water-resistant.
Fits up to prosumer DSLR body with an attached ultra-wide-angle lens
Fits drones up to 260mm x 200mm x 100mm
Fits a 15 in (38.1 cm) MacBook Pro plus an iPad
Customisable storage
A zip-out divider separates the top and bottom compartments
Spacious rolltop compartment for personal items
17.7 x 7.9 x 21.3 in (45 x 20 x 54.1 cm)
The motto of the Vanguard Veo GO46M Backpack is: always supported and always protected. It is well-padded for easy carrying and your comfort. It is also well-organised thanks to its dedicated pockets and the bright-coloured interior.
Its design is classic, stylish, and practical at the same time. It's super compact yet spacious inside.
Fits and supports all of your accessories, including Veo 2 Go tripod carry-along integration
Fits mirrorless/CSC/hybrid camera models
Holds a 15 in (38.1 cm) slim laptop
Transforms into an everyday daypack
11.4 x 5.5  x 18.5 in (29 x 14 x 47 cm)
In our opinion, a sturdy hardcase is inevitable if you are travelling (especially flying) with a lot of expensive gear. There is simply nothing that protects your equipment better. Pelican has always manufactured outstanding cases, and this one did not disappoint us either.
These kinds of equipment come in handy if you use medium format/large format cameras because they need extreme sizes.
Waterproof, crush-proof, and dust-proof
Strong polyurethane wheels with stainless steel bearings
Easy open double throw latches
Watertight with Automatic Pressure Equalisation Valve
Reinforced padlock protectors
Stainless-steel ball-bearing wheels
Single Layer padded dividers with Velcro adjustments
Conclusion
A camera bag is essential for protecting and organising your gear. It's important to invest in one that satisfies all your needs. Think about comfort, functionality, and durability.
If you have a chance, borrow a bag from fellow photographers for a day and see if it works for you. Or choose one of the top-quality best camera bags we listed for you.
Now that you have your new camera bag, it's time to get out there and create some jaw-dropping photography. Learn all the tips and tricks with our Photography Unlocked course.