In this article, we are going for the rough and rugged camera backpack. These are the ones you will want to be using for adventure and urban exploration photography. These are areas where you will face difficult terrain, and unforgiving weather.
On top of this, you also need to find a balance between sizes. Too big, and it'll get in your way and slow you down. Too small, and you won't be able to carry all the necessary equipment. Check out our five top picks for camera backpacks in course conditions.
NB: We are only looking at backpacks, as they are comfortable, and distribute the weight well, which is great for long distances and treks. Belt systems are also out as they are a little too close to what Kenny Loggins would call the Danger Zone.
Shoulder or messenger bags can be difficult to manoeuvre and become a pain to run with. I won't give you details, just trust me.


[ExpertPhotography is supported by readers. Product links on ExpertPhotography are referral links. If you use one of these and buy something we make a little bit of money. Need more info? See how it all works here.]
This camera backpack is as versatile as they come and custom fitted based on height and weight. It features heavy-duty zippers, which never get stuck or break. The side handle is great for off the back use, and the three top pockets will hold your valuables.
Perfect for tricky situations, and even better as there is a back entry system. This, combined with the rainfly, allows you to keep your bag and equipment protected while it is face down.
Origami folding camera divider system
Internal removable aluminium frame for stability
Hip belt for weight distribution
Fully removable Shoulder Harness
Made with highly durable water repellent materials for all weather conditions.
A built-in rainfly covers the pack in highly wet conditions.
Quickdraw pockets are sewn into the hip belt – Perfect for quickly changing a lens
Two tripod pockets with compression straps
Height (frame-in): 63 cm x 33 cm x 28 cm – Height (frame out): 55 cm x 33 cm x 28 cm
Weight: 6.7lbs / 3kg
We've all heard about Peak Design. Their photography products are well thought-out and not only look great but work great too. I have their Everyday Sling, which has worked perfectly for me since ownership.
The Everyday 20L is smart, sleek and very minimal. There are so many features about this bag which make it amazing to use. The straps hug your physique, their unique divider system 'FlexFold' is padded, slim and modular.
The bag isn't just waterproof – it repels water like a wizard. Just get it already.
Holds Full Frame DSLR & 3-4 Lenses;

Dedicated 15″ Laptop Sleeve;

Three Flexfold Dividers Protect Gear;

Built-In Expansion with Maglatch System;

Exterior & Sub-Divided Interior Pockets;

Either side camera and gear access;
Perfectly sized to fit the new DJI Mavic, with controller and accessories;
Four configurable tension straps let you carry large, heavy items on the outside of your pack.
Overall: ★★★★★

If your adventure photography experience involves swinging from the side of a mountain, you'll probably want something a bit more rugged than your average camera backpack. No one does crushproof better than Pelican.
Here, you'll find rigid front panels on both the bottom gear compartment and top accessory pocket. These make the bag a bit heavy at about seven pounds, but the tradeoff is protection. That is priceless.
It's waterproof, but the biggest selling point is that crushproof quality. This is great for equipment being thrown around and careless people tripping over themselves in excitement.
Large waterproof, crushproof case protects cameras and other sensitive equipment

Aluminum S-Curve spine offers ergonomic comfort and solid feel

Plush, molded EVA liner with moveable dividers

Generous upper storage area with tablet pocket

Hidden tripod attachment straps

Holds a DSLR, a flash and one or two lenses
Top Compartment Accommodates Tablet
Rigid Plate Protects Top Compartment
Padded Camera Gear Dividers
3 Interior Padded & 4 Exterior Pockets
Hide-Away Tripod Attachment Straps
Front-Loading Access, Rigid Carry Handle
Overall: ★★★☆☆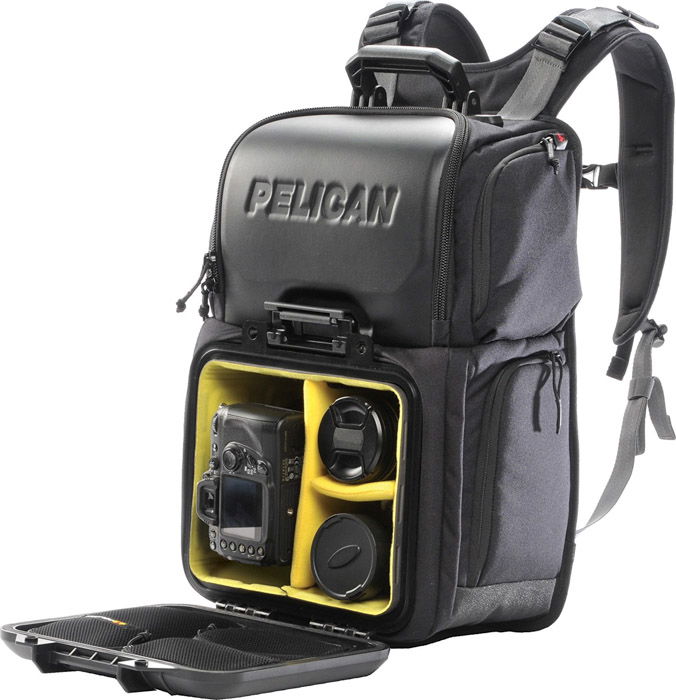 The CE706GR compact doesn't have a very creative name, but it is unique in the range of features it offers. It is compact, perfect for squeezing between small gaps. It offers side access. At no time do you need to put it down on the ground.
A big compartment on the top gives you space for other equipment, such as gloves, torch and keys. Smaller pockets at the bottom fit cards and batteries, keeping your photography going. The best part is it has space for 3 litres of water. This means you can stay out there as long as you need.
Fully padded camera bay and modular organization holds a compact DSLR and lens

Swing around access to camera bay offers quick access to equipment while on-the-move

Hydration compartment fits a 3 litre (100oz.) bladder

Tuck-away tripod attachments will hold a small tripod

Tuck-away rain cover

Holds a DSLR, 3 Lenses, Flash, Accessories
Camera and Lens Up to 7.75″
Excellent for Biking, FastPacking, Skiing
Padded Camera Bay
Accessory Attachment Points
Zippers and Pull Tabs/Hide-Away Rain Fly
Organizer Panel for Batteries, Memory
Overall: ★★★★☆

The Urbex is a big bag with a slim figure. This is perfect for good weight distribution, allowing you to fit through gaps while carrying a lot of gear. Having a laptop area, where others don't, allow you to work to and from the adventure.
The front allows you to stick accessories and cables to the outside. Lights, cables, and other gear for quick access. If you are the urban explorer, this may include goggles, gloves and the necessary gasmask. For adventures, well, whatever you may need in a flash.
Offers an expandable section gives you an extra 4L of space for personal items or more gear

Space for a 15" laptop, and 10" tablet

Dynamic HighRise floor vertically separates interior into two sections for superior organization

Lower compartment with zip side access holds GearBox

The modular GearBox zippered case can attach to the outside of the bag

The dedicated CradleFit compartment suspends and protects your laptop or tablet

The tricot-lined top pocket holds sunglasses, earphones, wallet or small items

Elastic side pocket securely holds your water bottle.

The in-harness Phone Pocket provides easy access and protection
Overall: ★★★★☆


There we have it. Five bags that will allow access to your photography gear while protecting them, during any and all adventure capturing. Each bag has its own advantages, disadvantages and price list. Get the one you need in your budget, and take your adventures to the next level.